Here Are the Best Hamburger Hacks and Recipes TikTok Has to Offer in Honor of America's Fave Food
National Hamburger Day is upon us, so we've rounded up the best TikTok burger hacks and recipes to celebrate this glorious day. We hope you're hungry.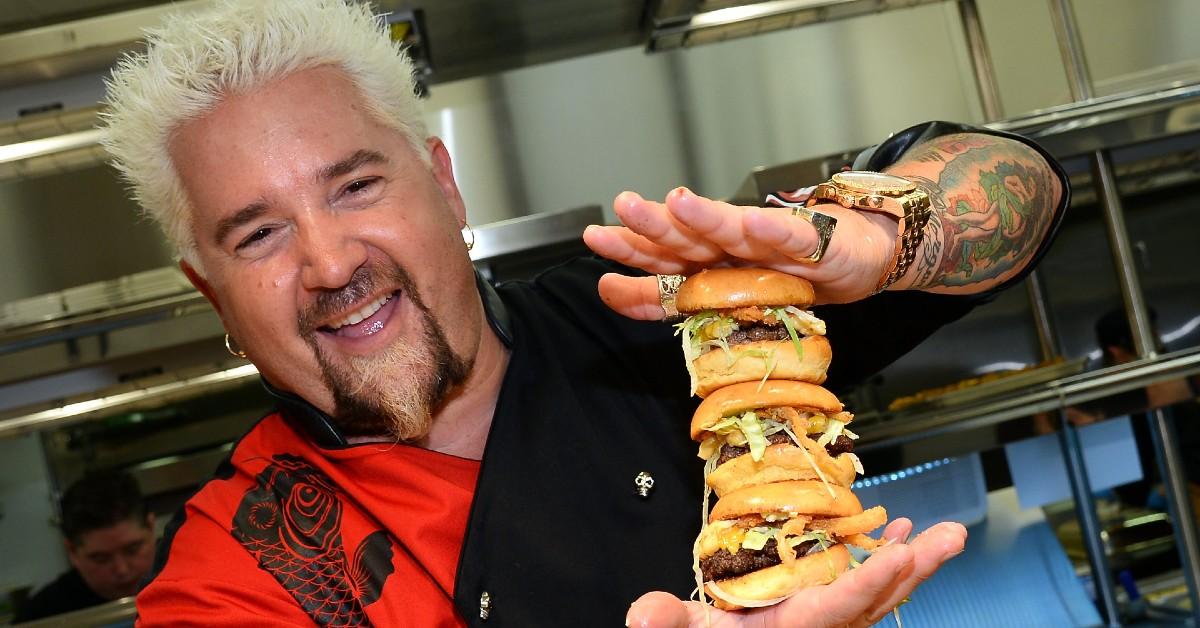 Sometimes we just need to put the zucchini noodles down and eat a fat, juicy burger. It's what God intended. And despite the modern hamburger's origin story being a bit fuzzy, we know that German Hamburg cows became scrumptious minced meat patties packed with garlic, onions, salt, and pepper — aka pricy Hamburg steaks — by the 19th century, per Parade.
Article continues below advertisement
Today, the hamburger has seen blasphemous toppings like peanut butter and jelly, and outlandish makeshift buns made of doughnuts and uncooked ramen. Listen, we're not here to judge. In fact, we're here to celebrate, as May 28, 2022, is National Hamburger Day. In honor of this blessed and totally-real holiday, we've compiled a list of the best TikTok hamburger hacks and recipes for your viewing and tasting pleasure. And don't worry, we've kept you vegetarians and vegans in mind. What are calories? Who cares!
These bone marrow burgers are the most delicious way to clog your arteries.
"Season up your bone marrow with salt, pepper, garlic, and get it on the Nomad at 375 [degrees] for one hour," TikTok user @burnt_pellet_bbq says at the start of his video.
You're in for an upscale treat. The BBQ demigod makes these burgers by grinding up top-tier quality steaks. That's right, no store-bought patties here. Featuring American cheese, chopped white onions fried with the cooked marrow, and extra bone marrow drizzled on top, we're practically drooling over these bad boys. Oh, and the steak he used was a whopping $150.
Article continues below advertisement
This grilling hack will prevent your burger patties from drying out.
Similar to Tiktok's ice cube burger hack, TikTok user @webergrills opted for something a bit tastier.
"Make an indent on the top of each patty, add a tablespoon of butter, flip when it's melted, and then you're ready to enjoy," she instructs in her video.
The idea is that the added liquid will soak into the burger, preventing the finished product from being dry and crumbly. We think Julia Child would approve.
Article continues below advertisement
This veggie burger with avocado crema is packed with plant-powered nutrients.
TikTok user @owen.han wants you to eat your vegetables, and he's going to make sure you do so via a tasty veggie burger. The proud Italian and Chinese chef makes his patties with roasted corn, carrots, green peppers, onions, fried mushrooms, black beans, and quinoa. Though they obviously won't taste like meat, these burgers aren't lacking in the flavor department.
Set on a lettuce bed and topped with a divine avocado and lime crema, pepper jack, sliced red onions, and crispy clover and alfalfa sprouts, these babies came straight from vegetarian heaven.
Article continues below advertisement
This uber-juicy oven-baked burger hack makes for a quick and easy family meal.
Are you a working parent looking to make an equally simple and delicious meal for your family? Or perhaps you're the type of person who just wants to gorge alone on a casserole dish full of meat and cheese (no judgement here!). TikTok user and supermom @lorafied shared her coveted oven-baked burger hack with her followers.
Article continues below advertisement
Being one of her "most requested meals," Lora starts by putting a layer of sliced red onions at the bottom of a glass casserole dish, followed by a layer of four seasoned raw burger patties, and sticks it in the oven at 400 degrees Fahrenheit for about 15 minutes. After that, she lays slices of cheese on top, and pops the dish back in the oven until the cheese has melted. Just use a spatula and serve each burger like you would a square of lasagna! So many juices.
Article continues below advertisement
This barbecue tofu burger is for vegans and open-minded foodies alike.
Calling all vegans, this one's for y'all. TikTok user @alexgharf uses a pastry cutter to get a perfect circle patty from a chunk of tofu, which he then seasons with oil, salt, pepper, and barbecue sauce. "Cook it on medium heat until a crust starts to form," he says.
To make the vegan ranch, Alex combines vegan mayo, apple cider vinegar, onion powder, and dill. Marry everything together with a bed of lettuce between two toasted buns and you've got a vegan dream come true. Tofu doesn't have to taste like soggy cardboard, folks.
Article continues below advertisement
These "greasy and fatty" smash burgers are worth the overabundance of calories.
"This might be the most beautiful burger I've ever made," TikTok user @thegoldenbalance announces at the start of his video. We're listening closely. To make "the perfect smash burger," Ahmad presses 150-gram balls of beef (about 5.3 ounces each) onto a cast iron skillet, topping them with finely sliced white onions while they cook.
Article continues below advertisement
To make the wonderfully fattening sauce, he blends lemon juice, one egg, Dijon mustard, and oil together before adding ketchup, buffalo sauce, sweet relish, smoked paprika, and a bit of salt. This sauce is truly the multiverse of flavor. With melted American cheese and jalapeños on top, we're jealous of Ahmed's hefty first bite.