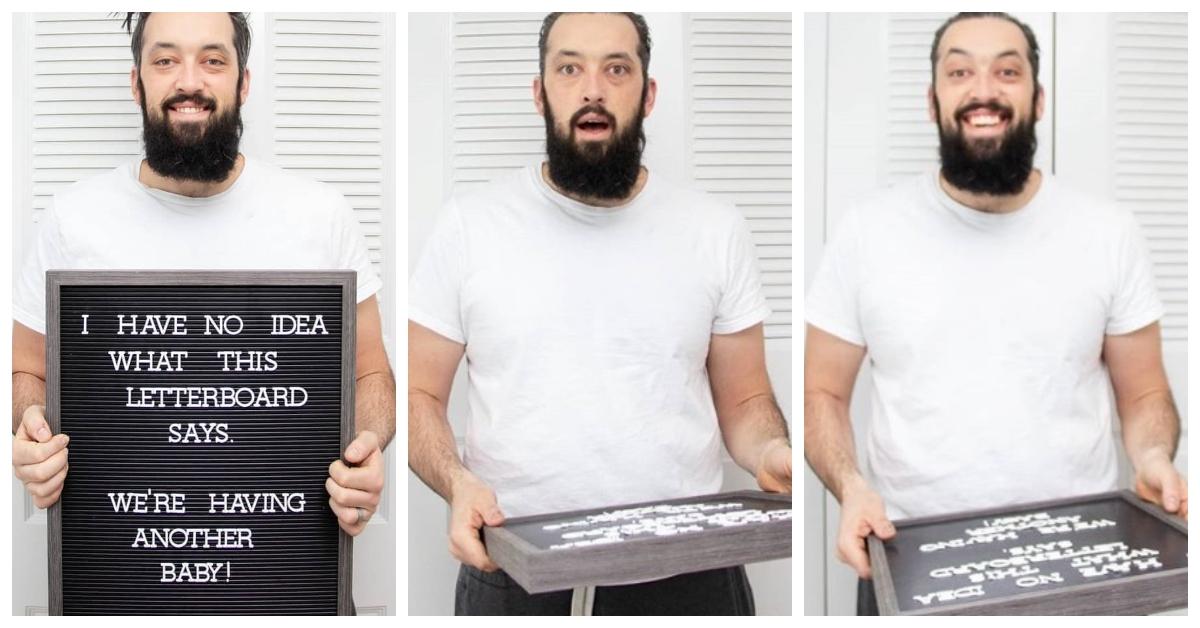 15 Pregnancy Announcements That Are Actually Adorable
The impending arrival of a new baby is easily one of the most exciting milestones in the life of a couple who wants to build a family. It's a joyous time worthy of celebration, and a lot of expectant parents express their joy with fun pregnancy announcements. While we've all seen our share of cheesy or even tasteless announcements, every so often someone really nails it, surprising and delighting family and friends (sometimes even their future coparent).
Here are the best pregnancy announcements we've ever seen, from the funny to the genuinely moving.
Article continues below advertisement
1. Surprise, daddy!
Bethany Rose, who blogs at Waves + Lilacs, decided for her third pregnancy to surprise her husband with the news and captured his genuine reaction (though she did order him to comb his hair after the first photo in this triptych. "The last 2 times he was right by my side and we both found out together. But the third time around I figured we'd have a little more fun with it," she wrote. Seeing that look of genuine surprise in the second photo, followed by the ecstatic smile in the third is priceless.
h/t Bored Panda
2. Settle in for a bumpy ride.
I appreciate a bit of subtlety — not so much that the point of the photo completely flies over your head, but just enough so that it's cute and playful. This photo is a example of how to skirt that line, with the hand on the stomach and, of course, that big speed BUMP warning in the foreground.
Article continues below advertisement
3. IN A WORLD... where two people love each other very much...
But I can also respect if you think subtlety it totally overrated and want to announce your first child the way one would market the next big summer blockbuster. I also like that the mom got the executive producer credit for this project because clearly she's doing the heavy lifting. The R rating is also pretty cheeky, touting "strong, crude sexual content, pervasive language, and drug use."
Article continues below advertisement
4. Accio baby!
It's always fun when couples tie their other passions in life to their announcements. Clearly these expectant parents are big Harry Potter fans, as they allude to the title character's Marauders' Map to let loved ones know they'll be welcoming a new future Hogwarts student to the fold —unless they turn out to be a Squibb! Clearly they're going to let their future witch or wizard and the Sorting Hat decide which house they'll rep, as the Hogwarts scarf is displaying all four colors.
Article continues below advertisement
5. Eating for two.
Chanel Smith and her husband, Carolina Panthers wide receiver Torrey Smith used a popular brand of pasta sauce to announce their big news. It's extra cute because of the wide-eyed expression of fear on Torrey's face, while Chanel is just going to town on a big bite of spaghetti and marinara.
Article continues below advertisement
6. Surprise, daddy *and* mommy.
Not every pregnancy is planned and long-awaited. Often — possibly most of the time, really — it's a bit of an accident or, to put a positive spin on it, a happy surprise. Kudos to this couple for embracing their oopsy with this announcement that says, "Maybe this wasn't the exact plan but we're super stoked about it."
Article continues below advertisement
7. A Fresh idea.
This looks like Will Smith has some very uncomfortable news for his wife, Jada, but in fact he's just helping a big fan make a very big splash with her pregnancy announcement. A friend of the couple shared this photo on reddit, which quickly went viral for obvious Men in Black star reasons. Emily here ran into Will in a coffee shop and had a brilliant idea. Why not use the serendipitous celeb sighting as an opportunity to tell friends and family her big news: She's expecting a baby who's only separated by one degree from the Six Degrees of Separation star.
Article continues below advertisement
8. Someone call Maury Povich!
It's obviously extremely rare for same-gender couples to have an "unplanned" pregnancy, which means they also have plenty of time to orchestrate the perfect way to break the news. This couple hopefully nipped any "who's the father?" questions in the bud by announcing who definitely isn't, because this kiddo's got two mommies.
Article continues below advertisement
9. Why should women get to have all the fun?
This reddit user's wife bought the flowing top above to wear for her baby announcement but it didn't fit. So instead of letting it go to waste, he decided to model it and pose for a photo of his own, cradling his food baby bump and wearing an adorable crown of flowers.
Article continues below advertisement
10. A gourd-geous baby on the way
I have to hand it to this couple for their pumpkin carving skills as well as their creativity in delivering the news of their upcoming special delivery. Extra bonus is the slightly smug look on the expectant papa's face.
Article continues below advertisement
11. Speaking of Halloween...
Honestly, I've seen this shirt a few times and every time it takes me a minute or two to figure out what's going on. This spooky, Halloween-themed selfie definitely ticks the boxes of being just subtle enough and a little big cheeky — the key ingredients of a perfect baby announcement.
Article continues below advertisement
12. Poor doggo.
It's often hard on only children when they learn they're not going to be the baby of the house anymore — even if they walk on four legs. In case you can't read the book in front of this unsuspecting shaggy dog, it's S--t No One Tells You: A Guide to Surviving Your Baby's First Year, so hopefully this means their pupper is in on the news and preparing for their little brother or sister.
Article continues below advertisement
13. They both have morning sickness.
As an emetophobic (that's somebody with a deep fear and anxiety about vomit), announcements alluding to morning sickness normally aren't my jam. However, the second image in this two-frame baby notice makes it worth it, as it shows this future father "reacting" to the news that his wife is expecting not one, not two, but three at once. Dude, if you think you're nauseous, imagine what she has to go through to bring them into the world!
Article continues below advertisement
14. The Fantastic Three
People who do work in the visual arts always have the best baby announcements. I love this old-school comic book themed illustration, reminiscent of 1960s pulp sci-fi book covers. After all, what is a baby but an alien parasite sucking the life out of its host for nine months? (Other than, you know, a miracle or whatever...)
Article continues below advertisement
15. Not the baby anymore!
This is definitely not the first "only child expiring" announcement for Baby No. 2, but what kicks it up from cute to priceless is the genuine expression of anguish on this soon-to-be older sibling. While it's just as likely she's crying because of one of the 23o982039482305 things toddlers find to cry about, it's funny to imagine she's just learned in this very moment that she will have to share her toys with somebody else for the rest of her life.