15 Rideshare Drivers Who Definitely Earned Five Stars
Rideshare apps like Uber and Lyft make it convenient to get from A to B, but these drivers are truly the best in the game. These 15 drivers definitely earned 5 stars.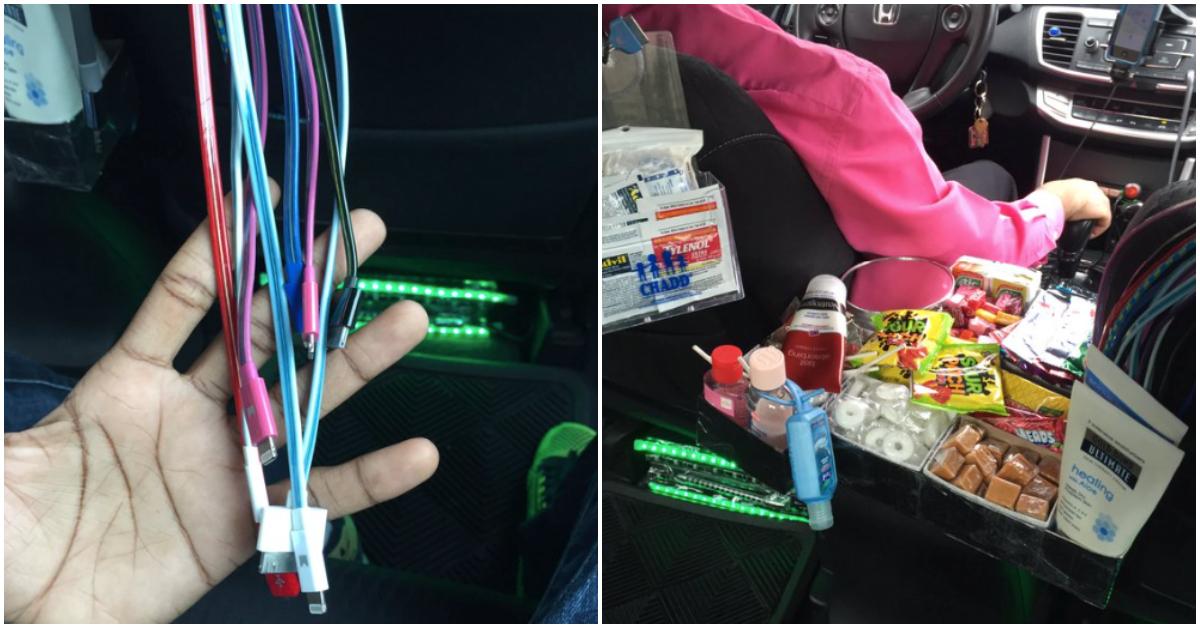 Whether you live in a big city or large suburb, rideshare apps like Lyft and Uber can be a godsend. They make it safer for people, especially single women, to get home late and they also prevent countless drunk drivers by providing convenient ways home after a night at the bar. Though there are a few bad drivers out there for sure, some of them are really going above and beyond the call of duty for their passengers.
These 15 rideshare drivers truly earned their five-star ratings, whether through innovative "perks" for riders and exceptional service.
Article continues below advertisement
1.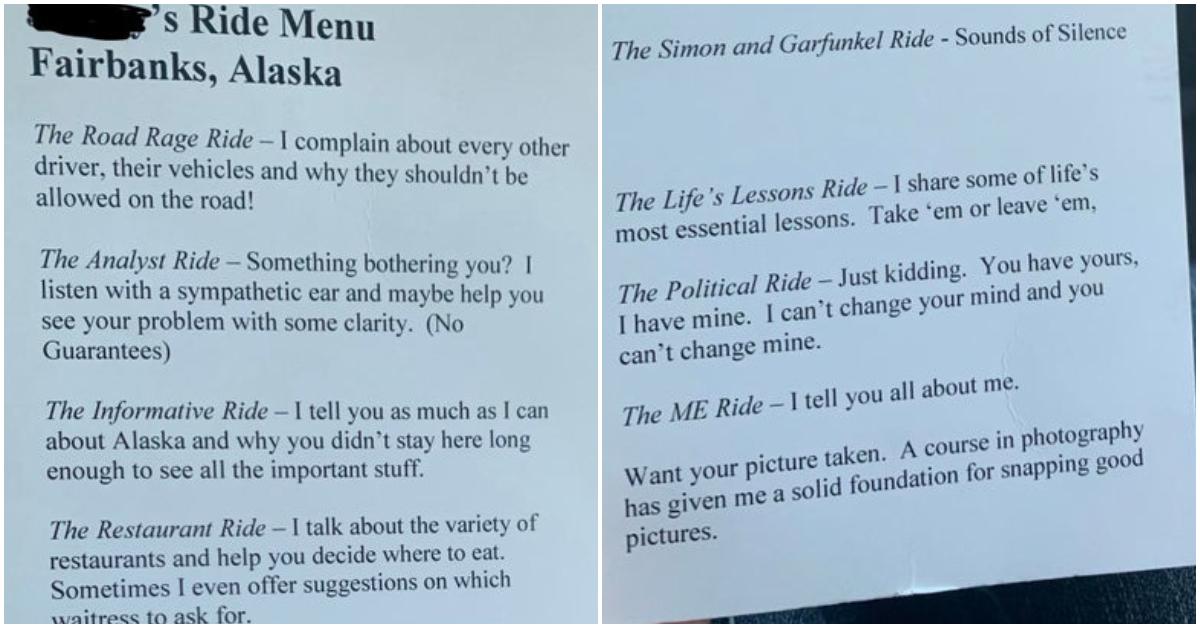 This driver in Fairbanks, Alaska provides a conversation "menu" for passengers to select from, with topics ranging from bad drivers on the road to the best local restaurants. The person who posted this photo to reddit later got permission to use the driver's name (blacked out above). His name is Jeffrey, and he's a Vietnam War veteran who finances his retirement as an Uber driver. The passenger, That1Girrl, says he also provided a "BEYOND immaculate car," and clearly "took his job seriously and wanted everyone to have a pleasant ride.
Although I most often opt for the "Simon and Garfunkel Ride," I kind of want to fly to Alaska, track him down, and work my way through the other menu options, because he seems like a wonderful conversationalist. Thar1Girrl says if you track him down, ask about "his famous 'monkey story.'"
2.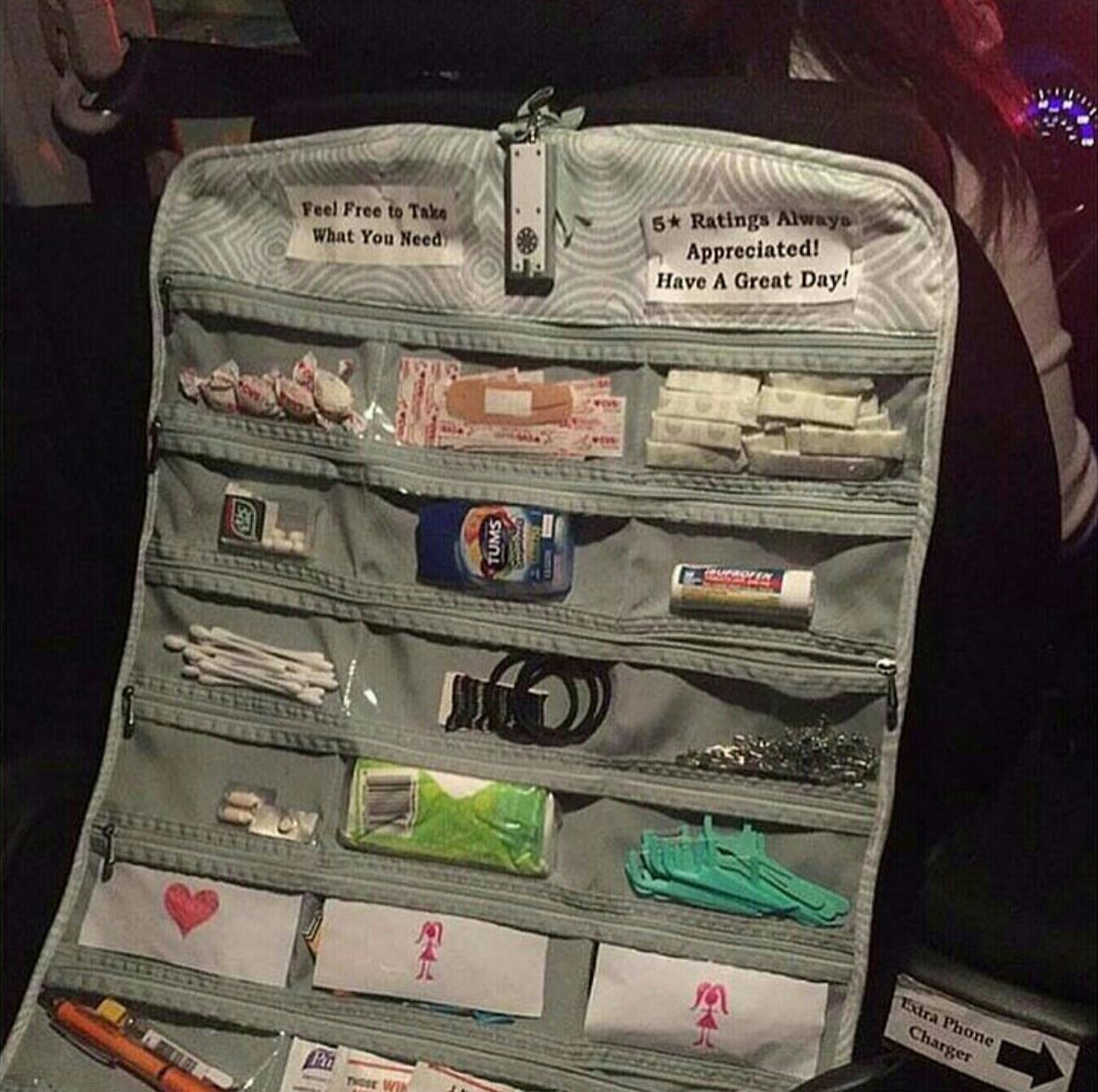 Wow, this chariot has everything — band-aids, mints, floss, gum, safety pins, even Q-tips! While I would not encourage passengers to use cotton swabs in their ears in the car — it's both gross and dangerous — they would definitely come in handy if you needed to do a little last-minute makeup application on the way to a date. And, if you're on the way back from a particularly bad date, there's even a pack of tissues. Add to that the best feature any driver can have — a phone charging cable — and it's clear this woman is pulling down some decent tips from the women who ride with her.
Article continues below advertisement
3.
Twitch investor Justin Wong encountered a gamer's paradise in a Lyft, when he found a Nintendo GameCube console so passengers can play Super Smash Bros Melee all the way to their destination. Though he didn't play himself — he says the lag on an LCD screen would have been too aggravating — it's clear from the well-worn controller that plenty other riders have taken this driver up on his offer.
Article continues below advertisement
4.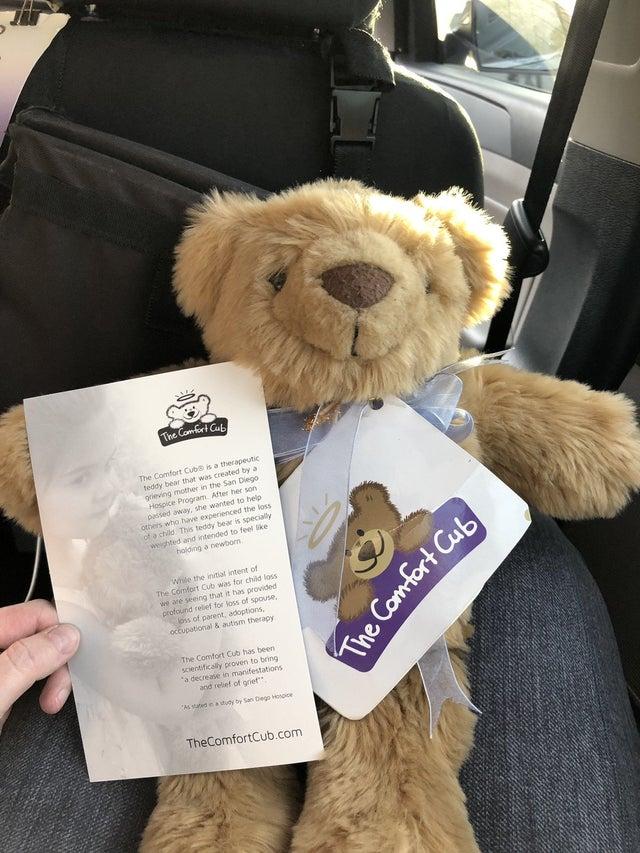 This Lyft driver had a child seat in the car with a therapy doll strapped in for passengers who need some comfort. The weighted stuffed bear is intended for parents grieving the loss of a baby, but I think it would probably work for anyone who feels the need for a snuggle during a rough time. Plus, this also means there is a child seat in this car, which is really helpful for young parents on the go.
Article continues below advertisement
5.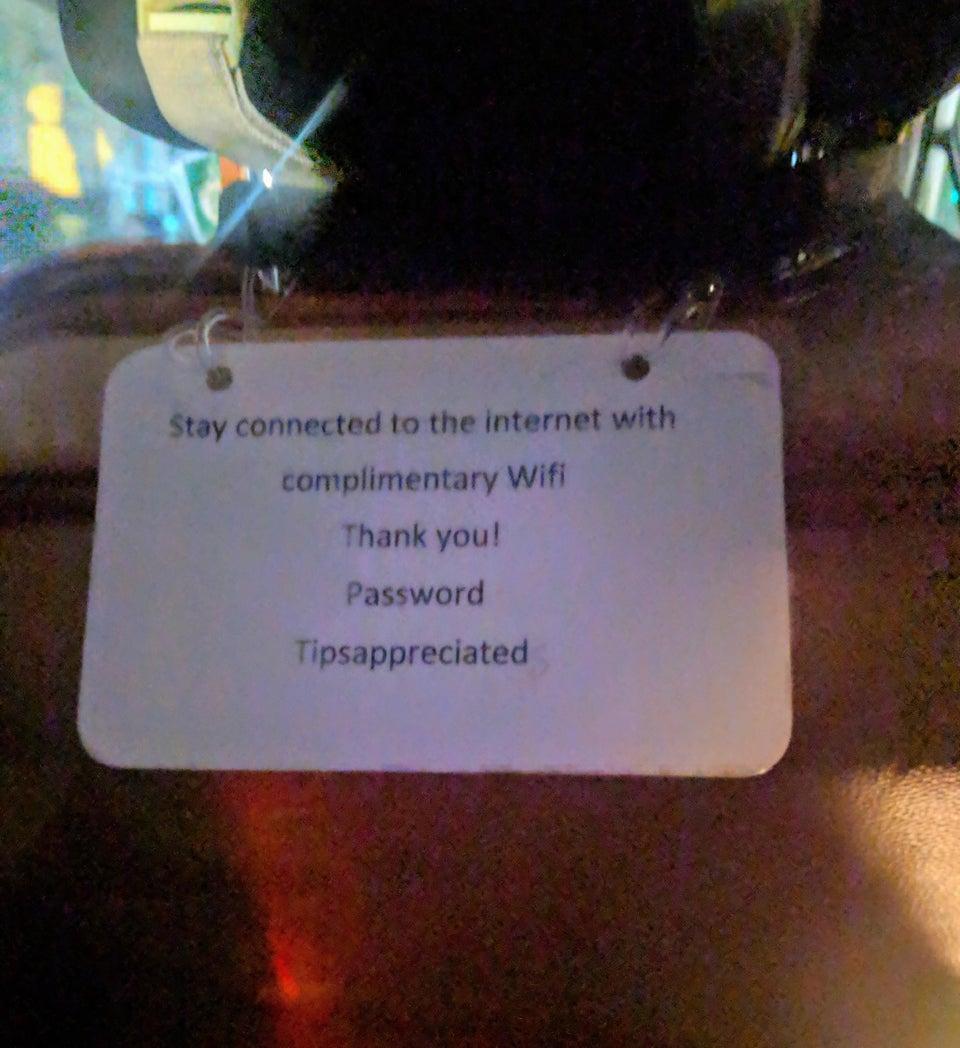 Ooo, this is clutch. First, free wifi on the go always makes you feel like you're in the lap of luxury, savin' that data and enjoying faster download speeds. And though it's complimentary, this driver knows how to hustle, which is why they made the password "tipsappreciated" as a gently reminder to passengers.
Article continues below advertisement
6.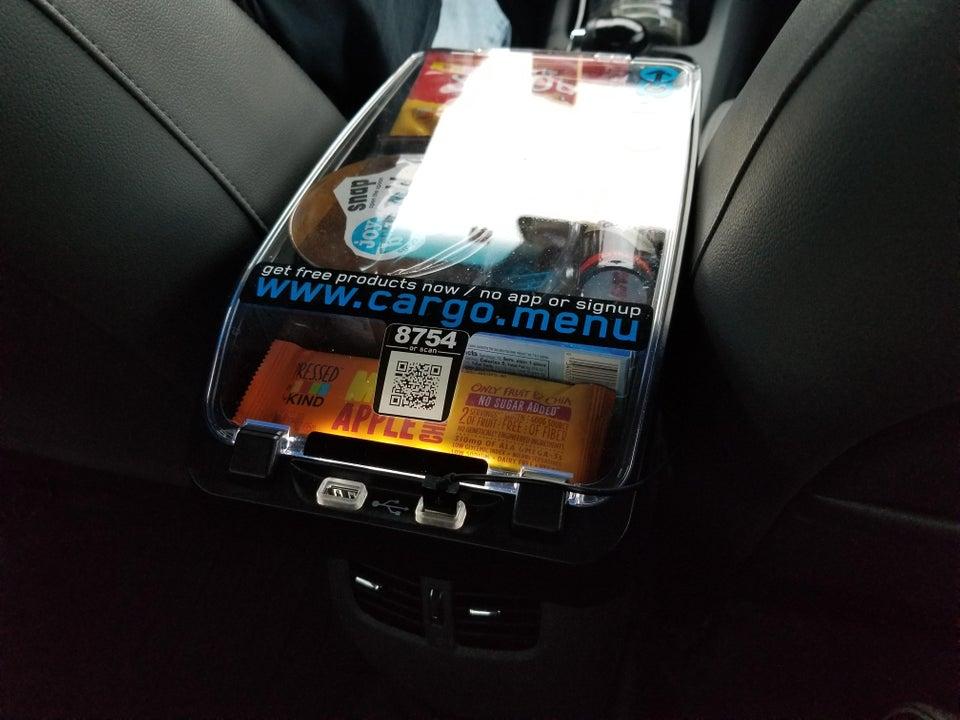 Cargo is a company that partners with rideshare drivers to essentially have little convenience stores right in the car you can shop from if you need a snack or other essentials. The best part is, riders who use them earn discounts on rides, which is crazy, since this ride home already saved you a trip to the corner store!
Article continues below advertisement
7.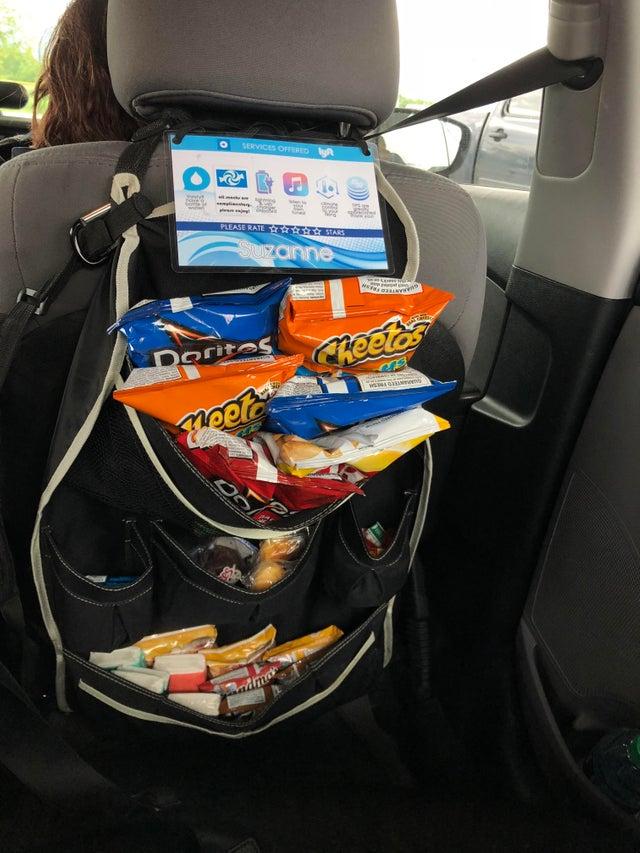 This full-service driver takes it a step further and gives way those snacks — and they're some premium stuff. I also spy some packs of Kleenex, which are always handy and appreciated. The service guide not only provide's Suzanne's name but the other services she offers, which include tailored music, temperature changes, and bottled water. All she asks is that you mash that 5 stars button!
Article continues below advertisement
8.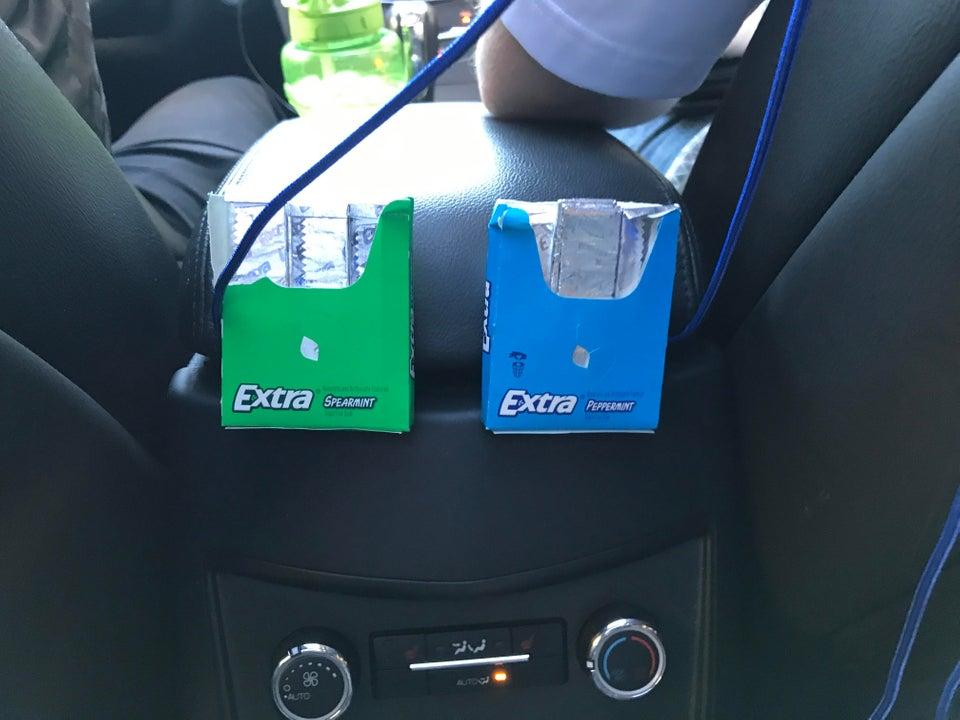 This is simple but gets big marks for understanding that there are two types of people in this world: those who like spearmint, and those who like peppermint. By providing both options for riders looking to freshen that breath, this driver is making sure 100 percent of riders can chew the mint of their preference.
Article continues below advertisement
9.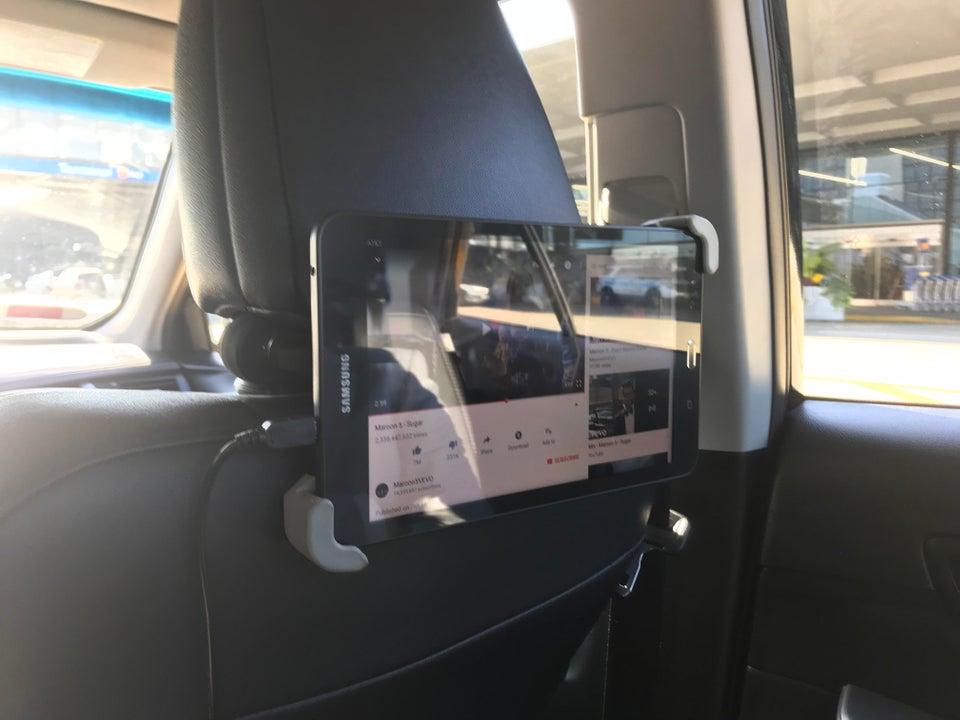 I wish to like and subscribe to this driver who outfitted his back seat with a tablet so riders can watch YouTube from the backseat. This is basically putting the first class experience into ridesharing, since it also enables riders to select music if they prefer an aural experience.
Article continues below advertisement
10.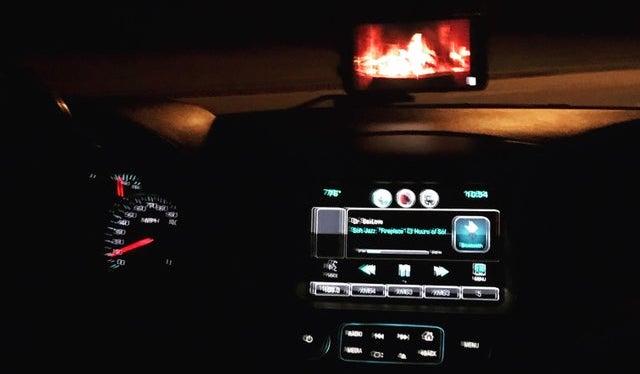 The winner of coziest Uber goes to this driver who set up a roaring fireplace video and some smooth jazz for his riders to unwind after a hard day of work or a disappointing night out. Even in bumper to bumper traffic, it's hard to imagine feeling anything but shill in this guy's backseat.
Article continues below advertisement
11.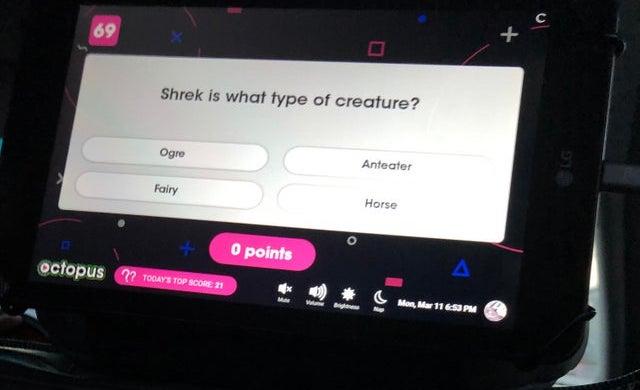 This is my actual favorite, though. An Uber with trivia?! If I ended up in a car that had this, I wouldn't mind so much if the driver took a longer route, which usually makes me so angry. But hey, more time for trivia! Also, in case you need the answer to the question above it's "Ogre." Shrek is an ogre. OK, I might want some slightly more challenging trivia on my ride.
Article continues below advertisement
12.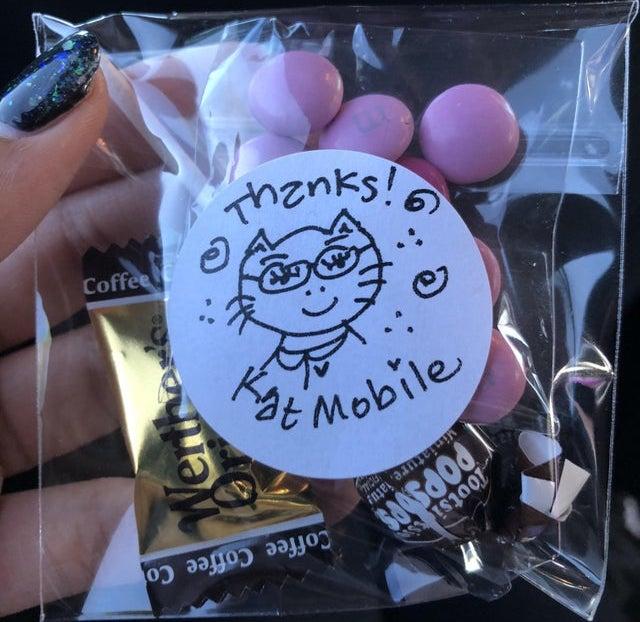 This driver who's definitely getting 5 stars gives out little treat bags to her passengers as a little parting gift slash reminder to give a good rating. The inclusion of a Werther's candy makes me think the driver of the KatMobile is an older woman, so in addition to your treat bag, you can also enjoy having a sweet surrogate grandma tending to you on your ride home. That sounds really nice.
Article continues below advertisement
13.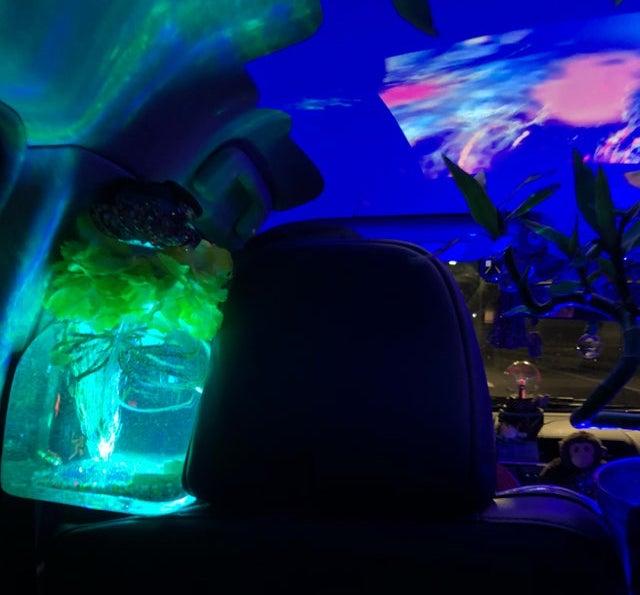 And if you're not ready to leave the club, this car is basically like a little afterhours party, with blue neon lighting and a literal fish tank, plus, according to the person who posted it, some very good EDM, so clearly he's catering to the kind of clientele who needs a ride around 3 a.m. and isn't quite ready to go home to bed yet.
Article continues below advertisement
14.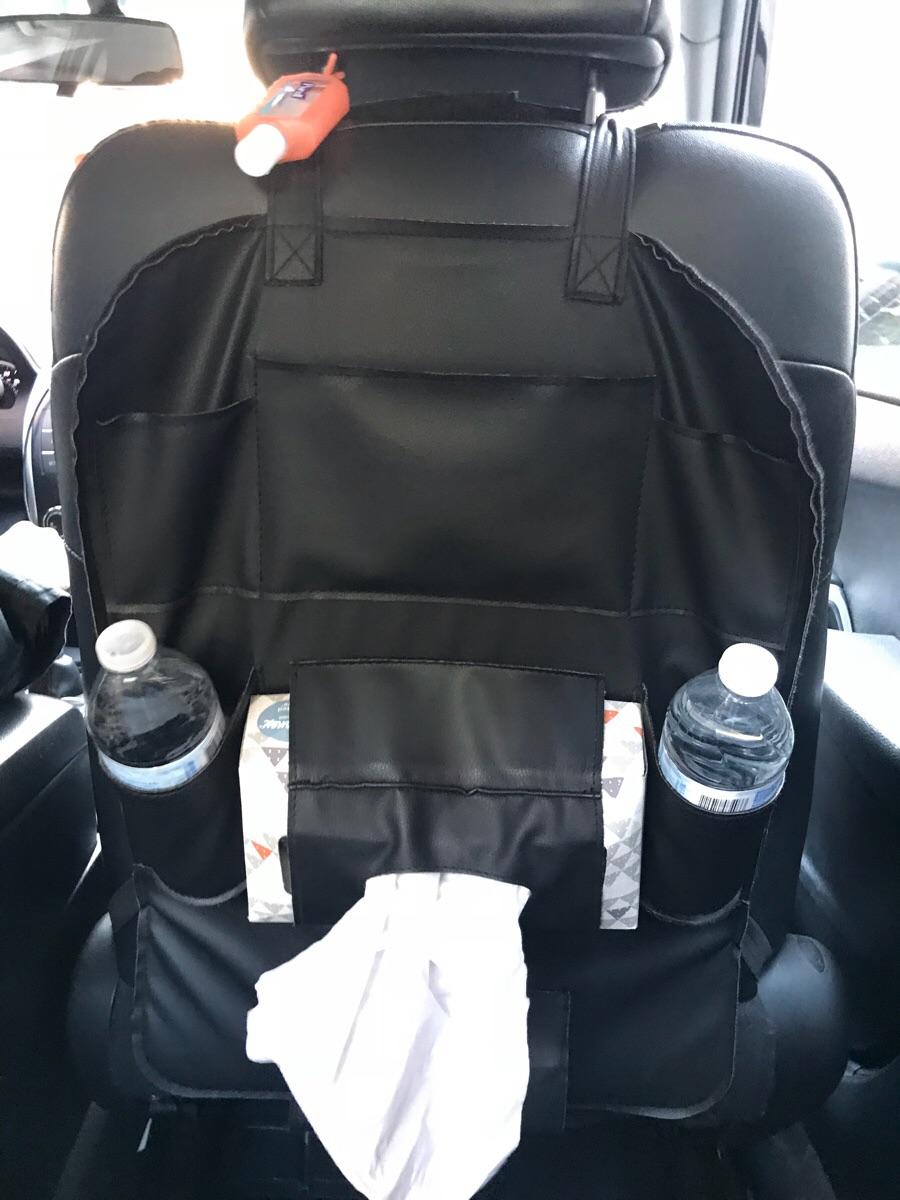 This is a simple set-up, but it has all the essentials from this New Yorker's standpoint. Water, check,. Hand sanitizer, super double check. Kleenex — check and thank you. Whether you're having a little cry or simply need to dab at the makeup melting off your face, this is all a girl needs in the summer when her driver arrives. Five stars all the way.
Article continues below advertisement
15.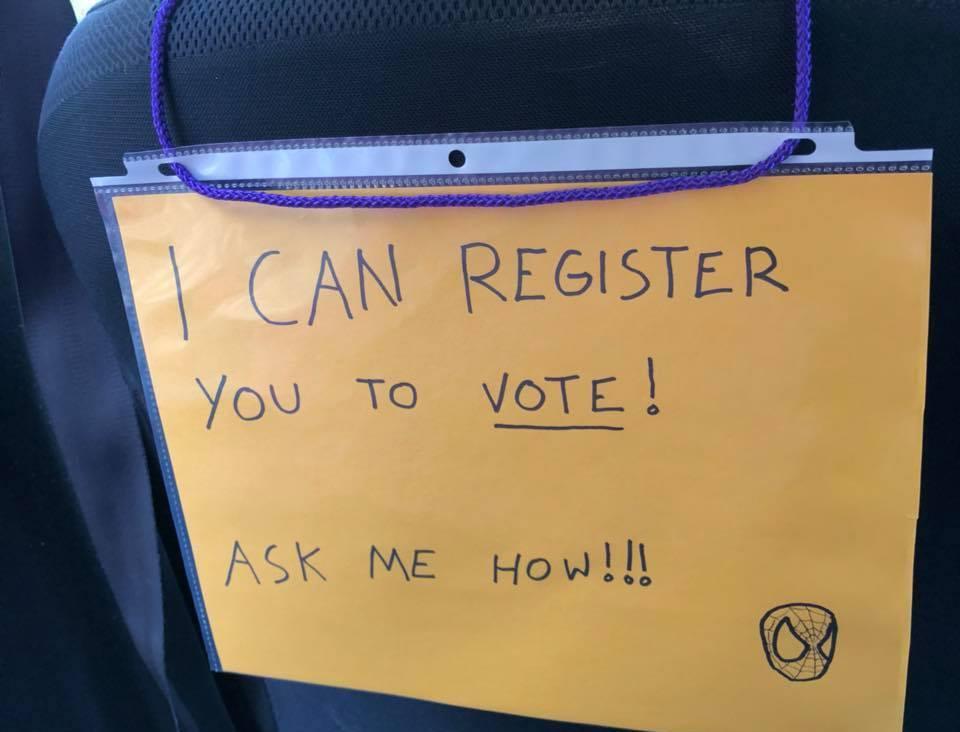 This patriotic Lyft driver is doing their part to ensure passengers who are citizens exercise their right and civil duty by helping them register to vote! Considering a lot of people register at the DMV when they obtain or renew their licenses, this is a smart move because it gets those folks who maybe don't own a car or have a license.