That Biden GIF Trump Retweeted Isn't Technically a Deepfake (but It Is Bizarre)
On April 26, 2020, Donald Trump retweeted a bizarrely manipulated image of Joe Biden. Some are calling it a deepfake, but it actually isn't one.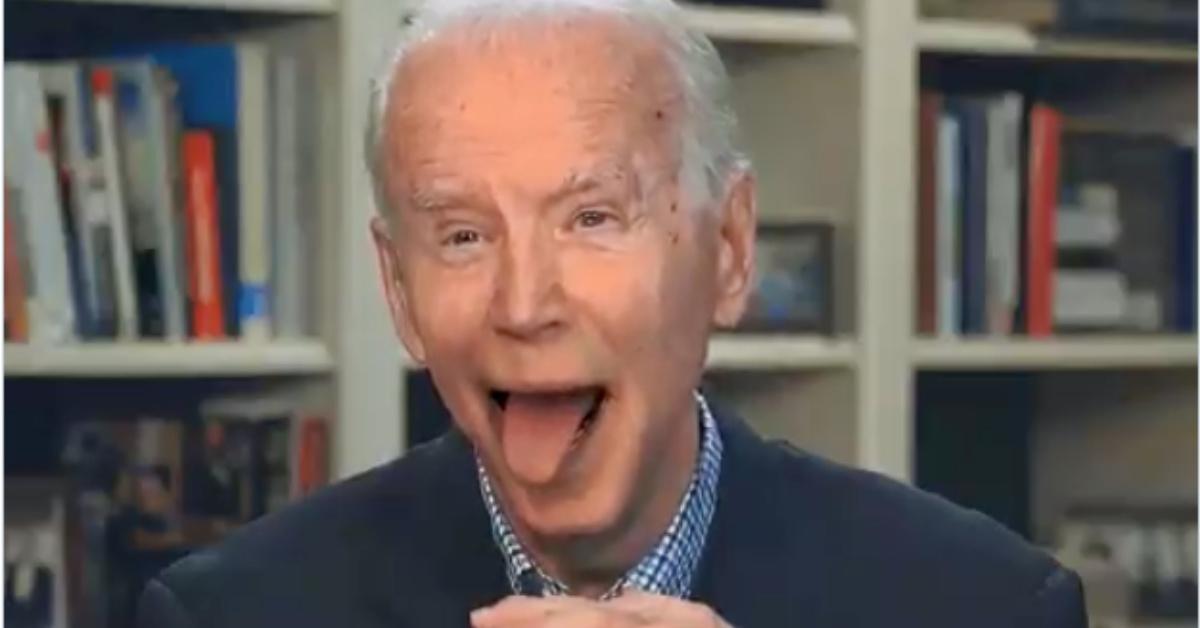 Most days, you can count on President Donald Trump to do something truly bizarre. Sometimes it's staring directly at a solar eclipse. Sometimes it's comparing himself to a disgraced sea captain. Sometimes it's telling people to inject bleach into their bodies. While literally everything he does is at least slightly bananas, Donald Trump's official Twitter account is where he really lets his freak flag fly. Most recently, he retweeted what people are calling a "Joe Biden deepfake."
Article continues below advertisement
As it turns out, the GIF Trump retweeted might not technically be a deepfake, but it is definitely unsettling and could still have some repercussions that the president did not see coming (perhaps because he is still dealing with the effects of staring directly at the aforementioned solar eclipse). Anyway, here's what's up with the Joe Biden deepfake you might be seeing all over your timeline.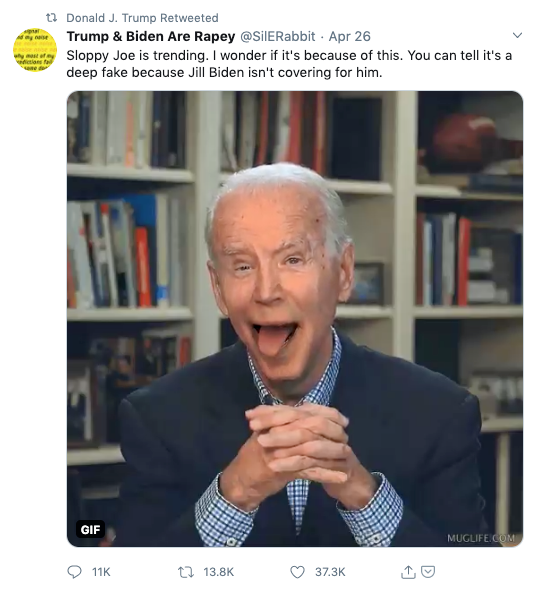 Article continues below advertisement
Trump retweeted the Joe Biden "deepfake" on April 26, 2020.
The original tweet is from Twitter user @SilERabbit. It features a GIF of a picture of Joe Biden that has been manipulated so that it looks as though Biden is sticking out his tongue and wiggling his eyebrows. The accompanying caption says, "Sloppy Joe is trending. I wonder if it's because of this. You can tell it's a deep fake because Jill Biden isn't covering for him."
(Here's a link to the moving GIF if you — for some reason — want to watch it.) Now, we could spend plenty of time speculating why Donald Trump retweeted this image (as well as what the caption means), but it's probably safe to assume that 1) Trump found the image at least vaguely entertaining, and thus 2) Trump retweeted the image. Sometimes (often) there's not really a deeper level to his actions.
Article continues below advertisement
Some people are calling the Joe Biden "deepfake" a threat to democracy.
When deepfake technology first came on the scene a few years ago, there was a lot of concern that it could be used to make compromising videos of politicians, especially in the lead-up to an election. (To be fair, deepfake technology — which involves replacing one face with another in a video — has been used in ways harmful to others, such as in the making of non-consensual pornographic videos.)
Article continues below advertisement
After Trump retweeted the GIF of Joe Biden, The Atlantic's David Frum wrote about how sharing fabricated imagery could pose a real threat to democracy. In David's opinion, this retweet (along with Trump's history of sharing deceptively edited footage) is a step beyond trolling and toward actively trying to deceive others. "Trump for the first time shared a video that had been outrightly fabricated," he wrote. "If it works, it may happen again — and in more cunning forms, closer to voting day."
Technically, the GIF of Joe Biden is not a true deepfake.
As VICE's Samantha Cole points out, the Joe Biden GIF isn't technically a deepfake. Deepfakes are videos, whereas the image the president retweeted is a GIF of a clearly manipulated image. In other words, there's very little chance that anyone who saw the image thought they were looking at real, actual footage of the former vice president. The watermark on the GIF reveals that it was made using a photo manipulation app called Mug Life.
Trump's retweeting the image could still have negative repercussions, but mostly, it's just really, really weird. Then again, "weird" is sort of par for the course when it comes to this particular Twitter account, so maybe we don't have to worry too much about this specific tweet. Goodness knows there are plenty of other things we have to be legitimately concerned about these days.