Black Kid Denied Restaurant Entry Due to 'Dress Code,' But a White Kid Wore the Same Thing
The host tried to tell her that they didn't allow "athletic shirts and shorts" in the restaurant, but a white boy wearing a very similar outfit to her son's ate there with no problem.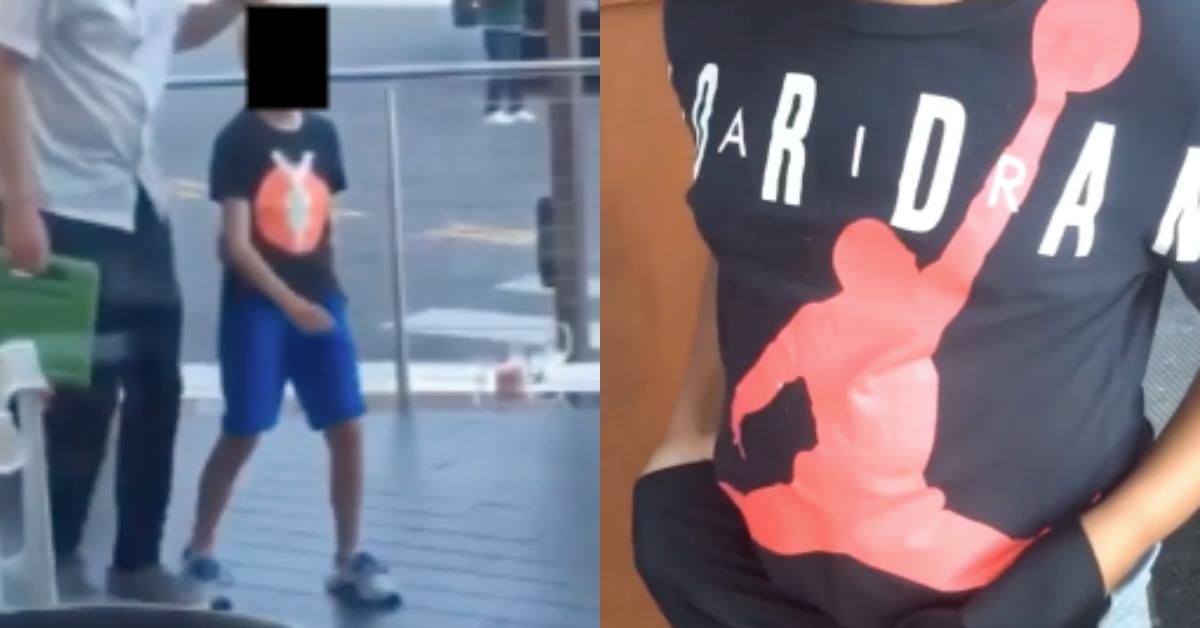 A recent viral video shows a mom and her son trying to get a table to eat at a restaurant. She is told that they cannot eat there because there is a dress code and her son is wearing an athletic t-shirt and shorts, which they don't allow.
Article continues below advertisement
When the mom points out that there's a white kid wearing pretty much the same outfit as her son, who is Black, she is met with robotic non-answers. She repeatedly asks for the restaurant's reasoning for this discrepancy to no avail.
Article continues below advertisement
"Unfortunately we do have a dress code," the restaurant host says to her. She pans across the restaurant to a white family where indeed, a young boy looks to be wearing a graphic t-shirt, athletic shorts, and sneakers, not unlike her son.
"But that white kid out there can eat here with his tennis shoes on and his athletic shirt," she says. The host tries to explain that they allow tennis shoes but not athletic shorts and t-shirts. However, the white kid who'd already eaten there with his family seemed to be wearing just that.
Article continues below advertisement
Instead of answering her directly, the host says multiple times, "I would love for you to come back and eat here." It's dismissive and condescending every time he says it.
The mom, who's filming, continues to ask for clarity and shows what her son is wearing. He's in black sneakers, black athletic shorts, and an Air Jordan t-shirt.
Article continues below advertisement
She repeatedly asks the host to explain to her why that white kid was able to eat in the restaurant but her son is not. "Why does he get to wear athletic wear and my son can't?" she asks.
Article continues below advertisement
Eventually he says that they don't consider the t-shirt the white kid was wearing to be an "athletic t-shirt." "Honestly, I did not get a good look, but it looked like a regular t-shirt to me," he says.
"I like how helpless he looked when she asked him to answer her question and not give her sympathy," one Reddit user wrote in reaction to the video. "Looked like his brain was working overtime to find a reasonable answer." I mean, look at the white kid's outfit that she caught on camera.
Article continues below advertisement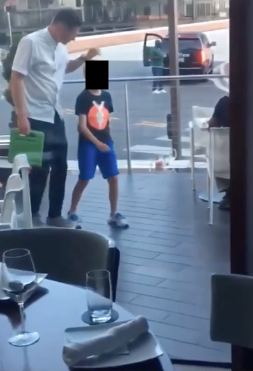 It really doesn't look any different from what her son is wearing. As many in the comments pointed out, there was a very easy and professional fix to this problem that could have been implemented.
Article continues below advertisement
One person wrote, "1. Whoever let that white kid in was wrong, that child also did not meet the established dress code, the staff will be spoken to about applying our dress code appropriately.
"2. Because of our oversight, of course you and your son are welcome to eat here as you are. I apologize that this happened. In the future, we will be making a better effort of enforcing the dress code universally (comp kid's dessert / or entire meal)."
Article continues below advertisement
Instead of letting this mom and her son eat there, this restaurant host was caught upholding a racist double standard. And now they've gone viral for letting the world know they'd rather turn away Black customers than let a child wearing an inoffensive athletic outfit eat in their restaurant.
Update: The Atlas Restaurant Group, which operates the restaurant in the viral video, released a statement condemning the treatment of Marcia Grant (the woman who filmed the video) and her son and apologizing for what they experienced.
Article continues below advertisement
"The difficult situation does not represent who or what Atlas Restaurant Group stands for," the statement reads. "While dress codes across Atlas properties are the result of ongoing input from customers, in no way are they intended to be discriminatory." They write that they'd "immediately revised" their dress code policy so kids will not be subject to the dress code at any Atlas property.
Article continues below advertisement
However, this is not the first time the restaurant group has come under fire for its allegedly racist dress code policies. In September 2019, writer R. Eric Thomas tweeted out the dress code policy of an Atlas restaurant called The Choptank. Thomas calls out the dress code — which prohibited things like "excessively baggy clothing" and "brimless headgear" — "blatantly discriminatory."
At the time, Thomas was blocked by the restaurant on Twitter, then mysteriously unblocked. According to The Washingtonian, the restaurant issued a statement saying their dress code was standard for the area, though at least one other restaurant they named claimed not to have a dress code at all.