Boss Takes Away Chair From Pregnant Woman, Forces Her to Work Standing All Day to Increase Productivity
A Redditor detailed how they reported their boss to the department of labor after he implemented a series of gnarly workplace practices.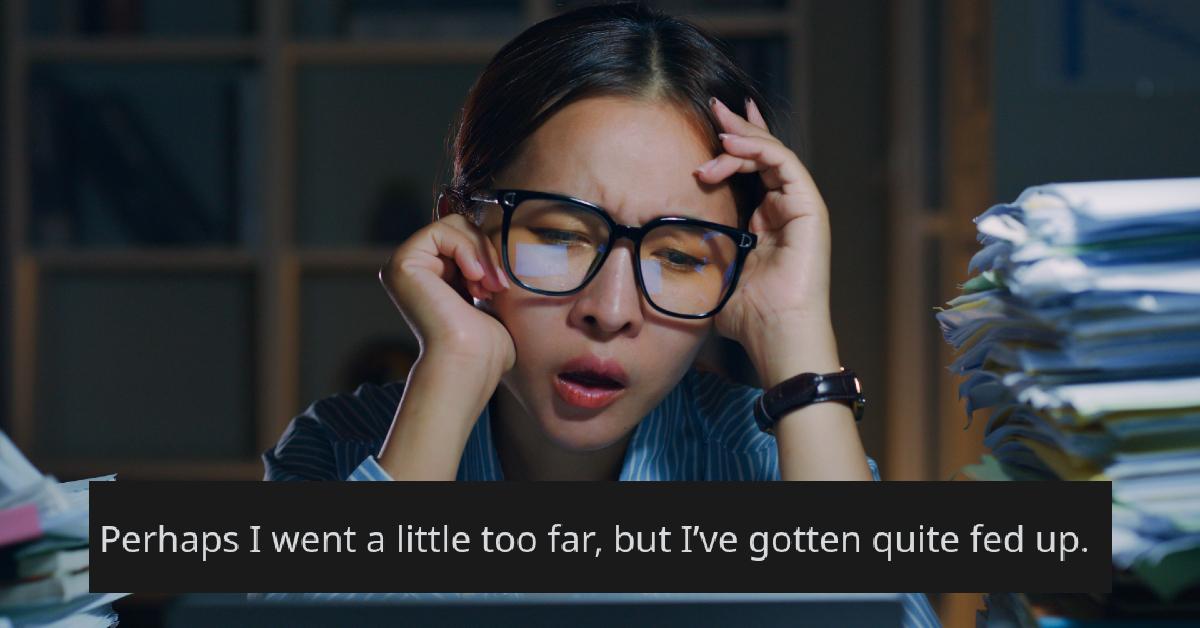 There's something undeniably gross and annoying about someone who's always concerned with being "technically correct." The same applies to folks who take advantage of certain rules and restrictions, skirting common courtesy and decency in the process.
And if what this Redditor says about their boss is true, then this manager is exactly that type of person.
Article continues below advertisement
In a viral post uploaded by Reddit's r/antiwork sub, user @proud_basic_b***h detailed how they'd had enough of their boss taking advantage of them and their co-workers, so they decided to report him to the department of labor.
They began their post by listing many grimy things their boss at the blood bank subjected them and their fellow employees to.
OP said that while they "have always really loved the company as a whole," this boss made working there a nightmare. Their shift in opinion about the company drastically changed after they switched departments to "better accommodate [their] graduate school schedule."
Article continues below advertisement

However, after they moved from collections to the lab, they said that their boss removed all of the chairs in the area "to optimize production." This is even though OP had a co-worker who was six months pregnant, meaning she would be on her feet for hours at a time.
Article continues below advertisement

Additionally, OP requested a fan to make their station area more pleasant to work in, however, the boss denied this request, despite the fact that OP fainted once while on the job.
Article continues below advertisement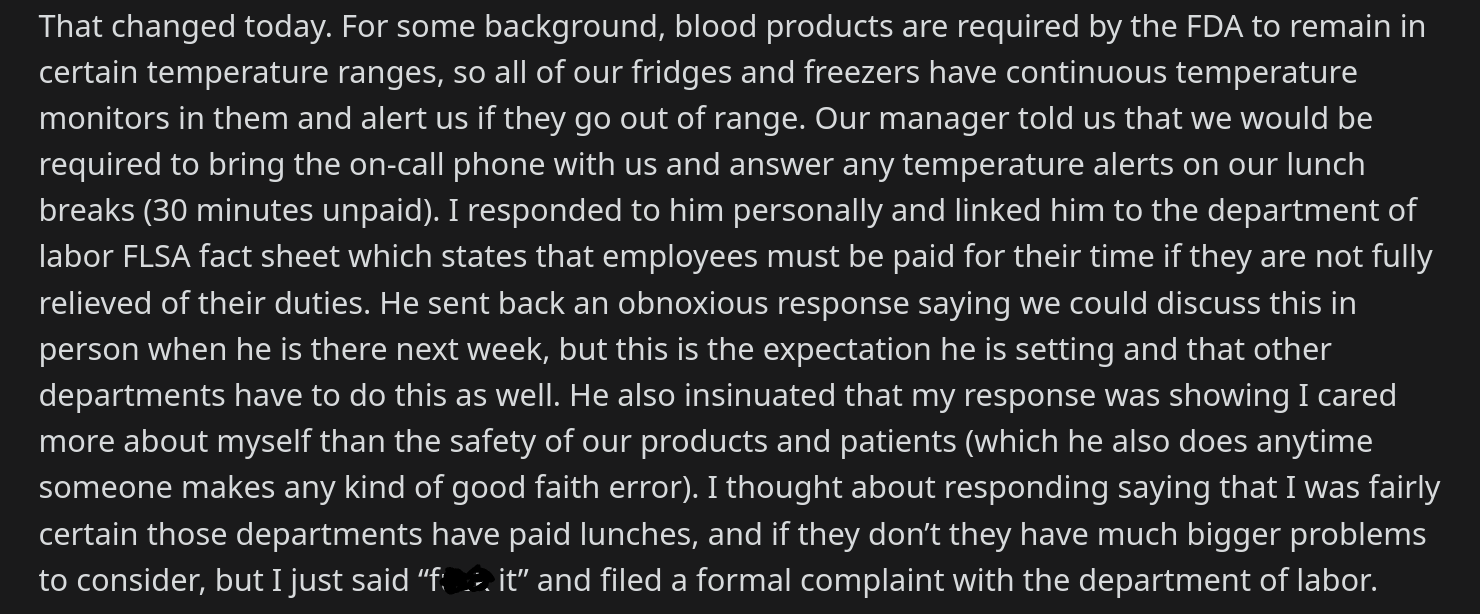 They said that while it was crumby of their boss to do this, and even though they submitted a "formal ADA request" pertaining to this incident, it was still perfectly legal of them to do so.
Article continues below advertisement

What wasn't kosher of their boss to do, however, was force OP and their co-workers to keep grinding even though they were supposed to be officially off the clock. Because they work in a blood bank they have to closely monitor any temperature alerts for the refrigerators that they place the blood samples into.
Article continues below advertisement

Their boss wanted the employees to keep their work phones on them during their 30-minute unpaid lunch hours in order to monitor said temperature alerts and address them if anything came up. OP responded to their manager by stating that this is actually against the law and even linked to FLSA guidelines delineating as such, to which their boss replied that they would speak with them in person about the matter.
Article continues below advertisement

To top it all off, OP's boss, in the reply, also said that it was grimy of the employees to care more about their lunch break than they did the integrity of the blood samples and safety protocols. OP decided to not argue with their boss about it, but instead decided to go straight to the department of labor about the issue. They said that they also planned to go to the company's Human Resources department to discuss the matter.
Article continues below advertisement

OP said that their boss ended up changing his tune after he took it upon himself to speak with HR directly, and the department agreed with OP: "Apparently he got nervous and talked to HR himself and (surprise, surprise) they agreed with me. We have now been instructed to stay on the clocks for lunches if we are scheduled by ourselves," the Redditor wrote.
Article continues below advertisement

OP added that their boss even instructed them to fill out paperwork so that they could be compensated for the break time they spent monitoring temperatures, as a few extra dollars on a paycheck is probably going to cost the company a heck of a lot less than any potential lawsuits/fines that could arise as a result of committing wage theft.
Article continues below advertisement

The Redditor added that while their boss ultimately addressed the issue, the Department of Labor complaint has already been filed and that they "look forward to seeing them [company upper management] sweat."
How do you think they handled the situation?