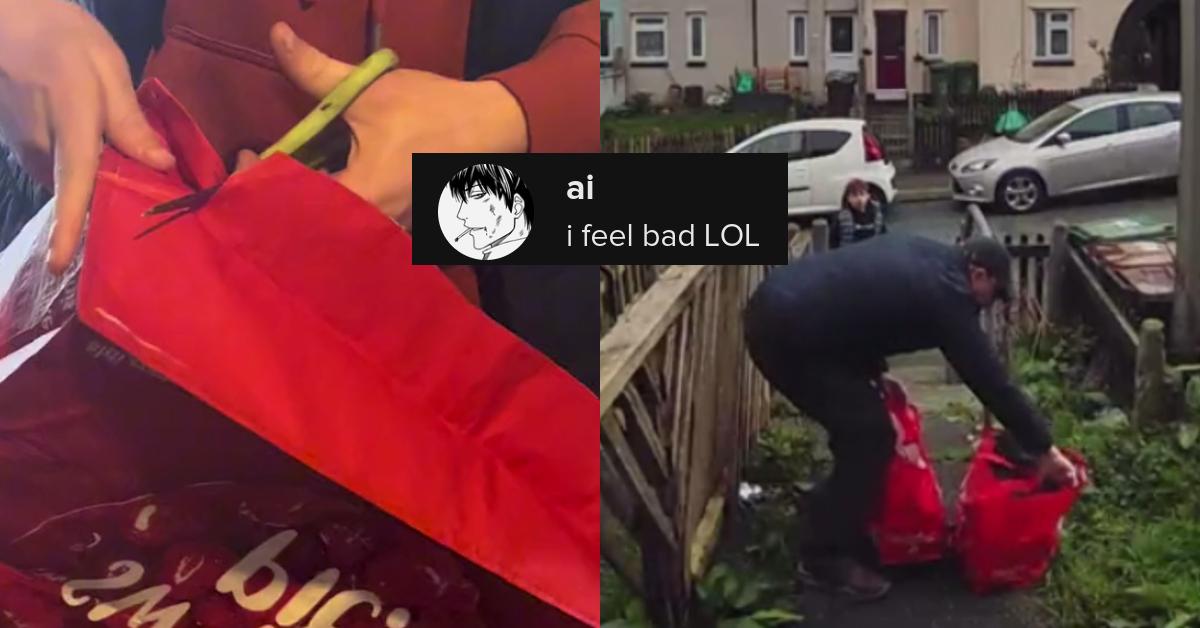 Woman Finds Petty Way to Get Revenge on Ex-Boyfriend When He Comes to Pick Up His Stuff
A mom showed off the troll-job she had in store for her ex-boyfriend, and things only escalated from there.
Calling it quits with a significant other can be tough, and it's only normal to go through the typical rollercoaster of emotions while processing a breakup until you're able to get on an even keel. Maybe you're left pining for that special someone and fighting the urge to constantly call or text them.
Article continues below advertisement
Or maybe you're maintaining distance and feeling completely fine, but then you see the same brand of lip balm that they liked to use on the ground while you're walking outside and start thinking that it's a sign from the universe the two of you should be together.
Perhaps, however, you're the type of person who starts to divine all sorts of revenge plots against your ex for the way that they treated you. You vilify them in your mind and want to think of ways to get back at them now that the two of you are no longer making it work.
Hopefully, if you are this kind of person, it's not the kind of revenge that'll make you the subject of a true crime podcast in a couple of years, just a story about pretty pranks.
Article continues below advertisement
That's what a TikToker by the name of Laura (@laurajayned) put on the record in a recent TikTok where she showed off how her mom got back at her ex boyfriend after the two of them decided to go splitsville.
Article continues below advertisement

She writes in a text overlay: "When your mum has split up with her bf so we leave his things on the doorstep for him to pick up."
You're probably thinking to yourself, well, that doesn't sound so bad, right? Pretty normal to leave someone's belongings outside of your house and arrange a time for them to come and grab them when you aren't home, yeah?
Article continues below advertisement

Well, Laura and her mom decided to cut the bottom of the bags they placed his belongings in, so when he goes to lift them up, they fall everywhere.
Article continues below advertisement

Laura added in the comments that their doorbell camera picked up the man attempting to get his stuff back, and it would seem that he wasn't too happy with what transpired.
Article continues below advertisement

She adds that he decided to get a bit of revenge of his own by bringing a trash bin to the front door and emptying its contents all over the floor.
Article continues below advertisement

A number of TIkTokers who viewed the post thought that the idea was hilarious and thanked Laura for the idea: "Thanks for the idea my mum has just split up with hers I will be dueting this," one person wrote.
Article continues below advertisement

Someone else wrote that they too engaged in petty troll retaliations against their ex: "Did something similar to my ex, he was holding my varsity lettermen jacket hostage"
Article continues below advertisement

Laura has promised to post the doorbell camera footage along with her mom's ex's trash can payback; it has yet to be uploaded to her TikTok account.