TikToker Slams "Double Standard" of Bosses Who Get Upset When Employees Clock Out on Time
A TikToker went viral after venting about bosses and coworkers who get upset at employees who leave right when their shifts end.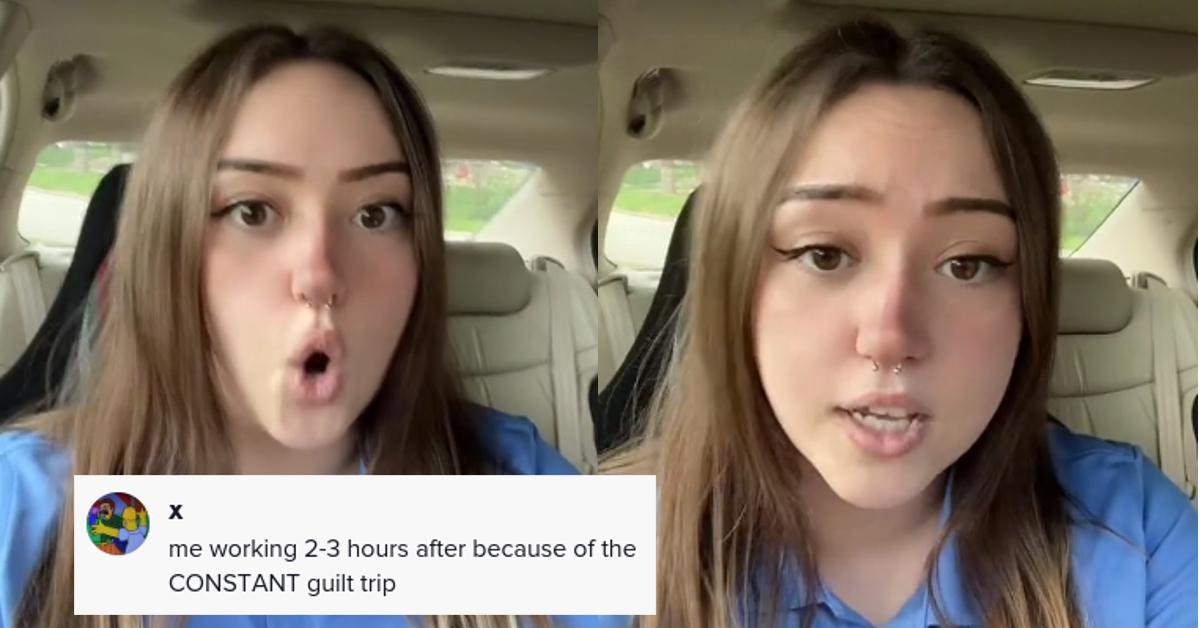 Article continues below advertisement
Which has led to many folks developing "antiwork" attitudes, or rather, expecting their employers to honor agreements with their workers. Namely, how many hours they're expected to work in a given day and being "allowed" to leave when their shifts are over without fear of backlash or feeling "guilted" into staying later.
Which is something that TikToker, Jules, @jvliabee posted in a now-viral TikTok about this workplace phenomena.
Article continues below advertisement
"Why are bosses and even some other coworkers so offended when you try to leave on time? Like literally the constant teasing and, 'Oh one thing about Julia she's gonna leave on time, right on the dot, you gotta leave right on the dot don't you?' Yes I do because you're sure to make sure I'm here right on the dot, don't you?"
Article continues below advertisement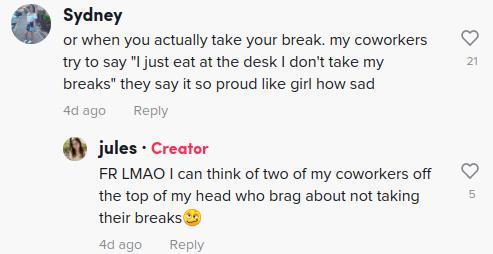 She continued in the clip, "God forbid I work my scheduled work hours and leave on time. My current job isn't as bad as my last one but Jesus my last one, my other boss, not you Valerie, would be like, 'you need to stay at least like 20 to 40 minutes after your scheduled time.' Um, no I don't, or schedule me that long or I'm leaving, like when I'm scheduled to leave what is the problem?"
Article continues below advertisement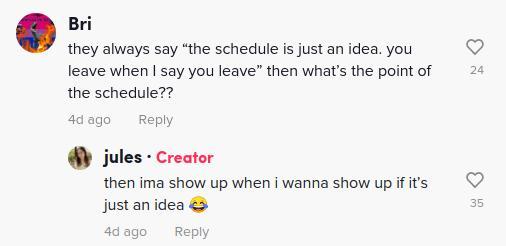 "And you might be thinking like, oh staying a few minutes later, that's a little extra money. What? 15 cents? No I have a life outside of work and I don't want to live and breathe and sleep at my job."
Article continues below advertisement

Her video ends on that note, and there were tons of folks in the comments section who seemed to agree with Jules' outlook on working. "Omg right! So I just got off my job. I was supposed to be out at 4, but my manager says "wait til the next person comes in" like that's not my job!" one user said.
Article continues below advertisement

Another wrote, "oh yeah my job will send out constant emails that you need to be at your desk working at start time not walking in. but leave at 5 and it's a problem."
"Also most people have obligations after work..." someone penned.
Article continues below advertisement

Some said it has more to do with "perception" as most of the coworkers and managers who are getting upset usually started working after you did. "Honestly it's jealousy cause usually the people who say that are there an hour or more after you."
Article continues below advertisement

Others stated that folks are tired of being "abused" in their positions and they value their personal time off of the clock: "the work force is sick of being abused. don't give them any more of yourself than what is absolutely necessary to survive. Life's too short!!"
Article continues below advertisement

A manager in the comments wrote that they made it a priority to ensure their employees get out of work on time: "nah my employees leave on time I make sure, it's not fair to keep them after the schedule."
Article continues below advertisement

What do you think? Should employees be more concerned about being a "team" and that their respective business is in good hands before they leave? Or should managers schedule them for slightly more time at the end of their shifts if they foresee needing the extra assistance?