Boyfriend Proposes With His Grandmother's Ring — Problem Is, It's Ugly
A woman took to the internet to ask people for their opinion on the ring her boyfriend proposed to her with.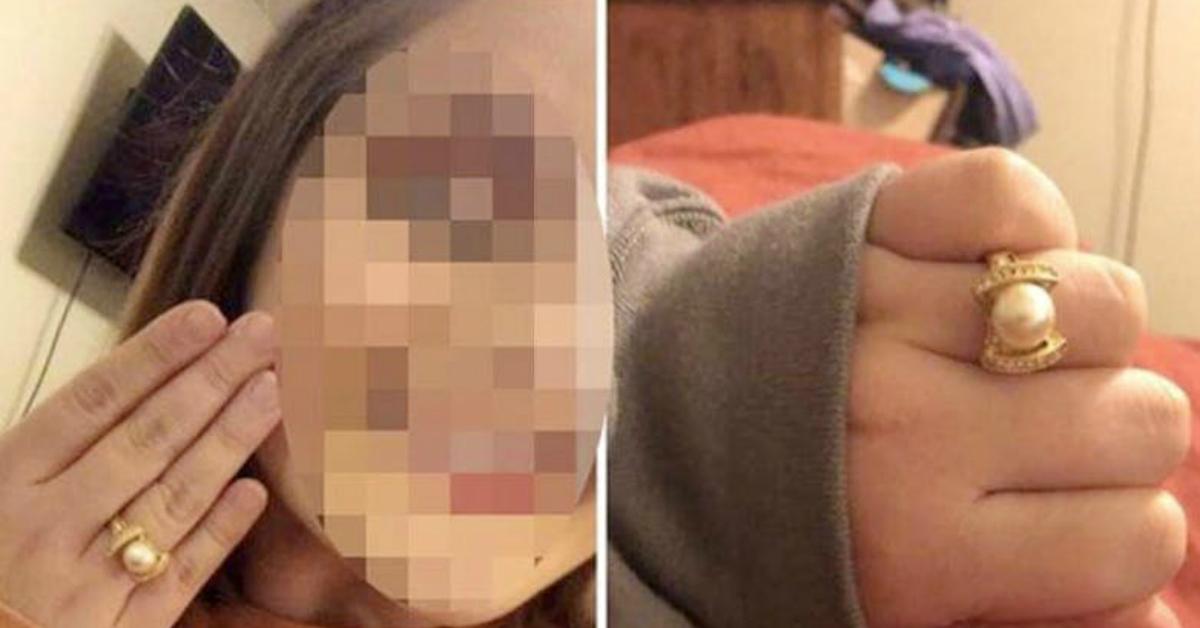 There's no shortage of "ugly engagement ring" stories on the internet, and they usually end up painting the woman who dislikes the ring in a negative light. Sometimes, there's nothing wrong with the ring, and the person who dislikes it just proves to have a severe character defect.
However, I don't believe the young woman who dislikes the "Granny Ring" her fiancé gave her is one of those people.
Article continues below advertisement
That's mostly because the ring is super ugly.
I usually couldn't care less about jewelry. I do understand that for, many, receiving that perfect ring is a big, big deal.
It's not everyday that someone gets down on one knee before you and makes a grandiose declaration of their love.
So if someone is vowing to spend the rest of their life with you hope with every fiber of their being that you feel the same, you'd probably want that ring to be something extra-super-special.
You probably don't want it to look like something that you'd find in a museum commemorating those who drowned on the Titanic.
Sadly, that's what this young woman received when her boyfriend proposed to her.
Article continues below advertisement
Some back story about the ring: it turns out it's a family heirloom. The ring belonged to his grandmother, and while I'm sure she was a nice lady and there are tons of beautiful emotions associated with giving and receiving such a thoughtful present, it's still important to remember an engagement ring is something she'll wear on a daily basis.
Article continues below advertisement
Idealists might say, "it shouldn't matter what the ring looks like, all that matters is someone loves you enough that they want to spend the rest of their lives with you!" But people have personal styles to consider.
I love my wife very, very much. But if she went out and bought me a bunch of sailor outfits to wear, I'm not going to feel very good rocking those day in, day out, just because she got them for me.
Article continues below advertisement
Try as she might to like the ring or come to grips with how it looks on her hand, the bride-to-bed didn't love it.
Article continues below advertisement
One might say it's pretty classless for her to turn to the internet to vent about her ring, but it's not like she could talk to anyone in her boyfriend's family or immediate circle about it. Word travels fast, and maybe the news spreading to her husband-to-be could really hurt his feelings, seeing as it belonged to his grandmother and probably means a great deal to him.
On the other hand, her story now has gone viral, so if the dude browses Reddit or other media sites, there's a good chance he'll recognize the ring and his girlfriend's blurred-out face.
The responses to her post varied. A lot of people thought she was being conceited and didn't deserve someone willing to make themselves so vulnerable by giving her a ring with so much sentimental value.
Article continues below advertisement
Article continues below advertisement
Others thought she wasn't at fault for griping about the ring, but thought she could've gone about it in a different way. It was probably best to have a private conversation with him rather than share her distaste for the ring with the rest of the internet.

Article continues below advertisement
Some commenters claimed there was a follow-up to the story, and the young woman was able to come to a resolution on the matter up with her fiancé. Some still thought she was ungrateful, however, and wanted her fiancé to bolt.

What do you think? Is this young woman at fault for wanting an engagement ring she's actually going to enjoy wearing? Or should it not matter at all as long as she loves this guy?
Personally, I wouldn't want to wear something like that every day of my life.