Bride Basically Asks Florist to Work for Free, Gives "Thumbs down" When They Refuse
Bride tries asking florist to work for free in roundabout way, doesn't like her response after she's told no.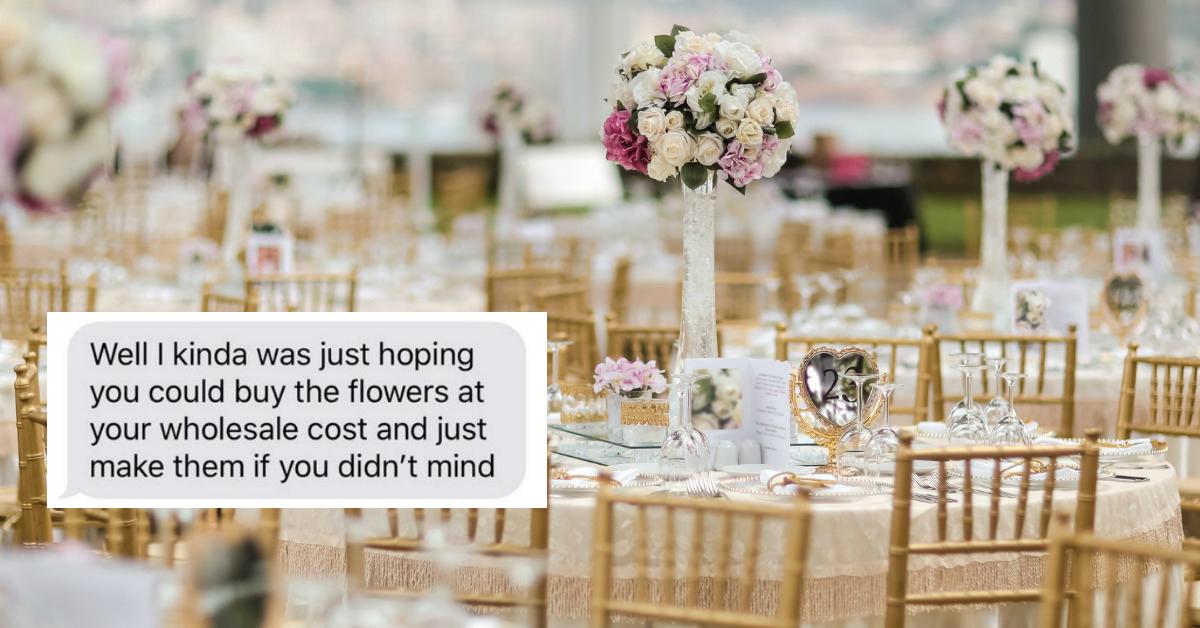 People are shocked at the brazen way this woman asked a florist to work for free so she could have flower arrangements for her wedding.
There's something about wedding celebrations that just bring the worst out of people. I think a lot of it has to do with the ungodly amount of attention and importance people put on the celebration and all of the boxes that need to be ticked in order for the event to be considered "successful."
Article continues below advertisement
Of course everyone wants their special day to be extra special, but I'm of the mind that if you're really in love with somebody, then you're going to want to plan a wedding with them that you can both afford and won't put you in the hole financially.
That doesn't mean you can't have a great wedding, but you're going to probably have to make a few compromises.
I'd argue that food and guest comfort are probably the most important parts. Make sure there's plenty of room to sit and the venue makes parking easy. It also helps if there's at least one pretty spot to take some photos, so maybe the couple's table can be decked out with a crazy centerpiece, and you can create some decent looking ones if you hit up a craft shop or dollar store on your own for guest tables.
But what almost always happens is people plan for weddings that are way out of their budget. Like this bride-to-be.
Article continues below advertisement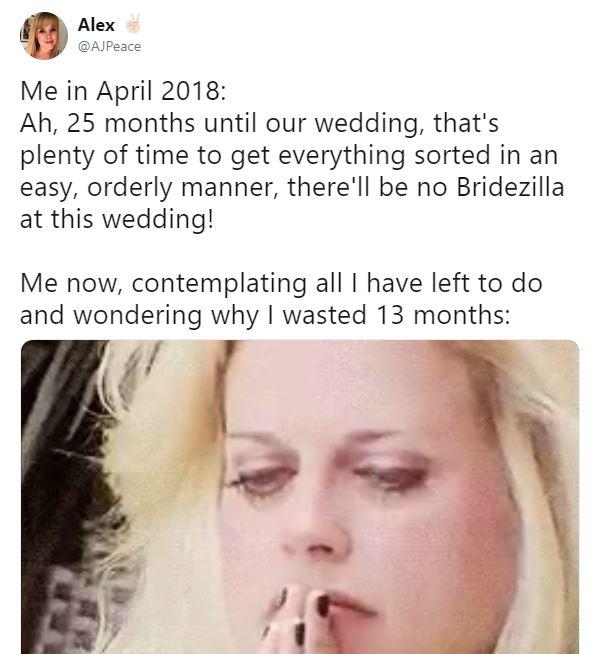 If there's one thing that can turn a wedding from "nice" to "niiiiiiiice" it's a lot of little touches, like beautiful flower arrangements placed all over your venue.
The thing is, preparing a flower arrangement takes time and effort, especially if you're using real flowers. This bride, however, seemed to disagree.
Article continues below advertisement
Since I really don't know that much about the flower game, I decided to check into it, and the general consensus is, depending on the type of flowers used, garlands tend to run about $10-$20 per foot, so while it seems like it's a bit on the high end, Mimi here is charging within a normal market price for work like this.
Article continues below advertisement
But the bride couldn't be bothered to Google that, or maybe she just wasn't interested in actually paying someone for their work in the first place, because her next ask is a bit shocking.
Mimi explains how she arrived at that price and the amount of work that goes into creating the garlands, which the bride seems to ignore completely.
Article continues below advertisement
The bride just straight-up asks Mimi if she could work for free and dedicate some 80 hours of work so this woman could have beautiful garlands for her wedding, without having to actually pay for them. The need to flex is real, I guess.
My favorite part, however, is when the bride employs the "exposure" angle. Like the few people who are going to look at photos of her wedding online are really going to somehow get her the fame and fortune as a florist that she desires.
Article continues below advertisement
Yes, you read that correctly, "I would be helping you if anything because that pricing is crazy..." Actually, the pricing isn't crazy, but hey, tell yourself whatever you want to avoid acknowledging that you just asked a professional to do their job for you pro bono.
Mimi must have the patience of a saint, because instead of telling this lady to go drown in a pit of quicksand, she actually offers to recommend other florists.
But this bride comes back sternly with terse little sentences and periods: "That's not what I asked. Let me know if you can help me or not. Thanks."
Then has the nerve to give a thumbs down emoji.
Article continues below advertisement
I seriously don't know who raises entitled kids that grow up into entitled adults like this, but whoever it is, can you please stop? Holy moly, this is infuriating, and there are tons of people on the internet who think so, too.
One commenter even pointed out how stupid it was for the woman, who was asking a florist for free flowers, to say, "Flowers is the last thing I want."
Article continues below advertisement
Some people are just hopeless.