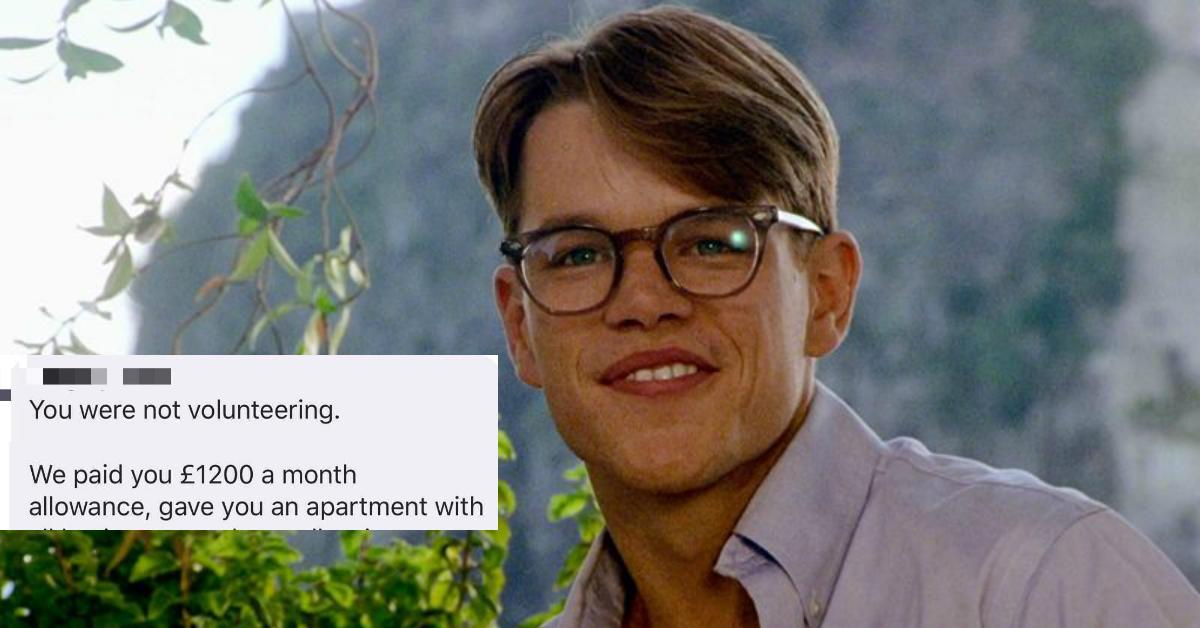 "Unpaid Volunteer" Begs Facebook Friends for Money Until Coworkers Out Him
An "unpaid volunteer" lamenting the fact that they should've taken a gig with a salary went to Facebook to ask friends for money, but got a little more than they bargained for when some coworkers chimed in.
We've all made some employment choices that probably weren't the best decisions for our short or long-term financial security. Maybe we accepted a salary that was a little too low, or perhaps we took a job that seemed like it paid well on paper, and then we were overworked into oblivion.
Article continues below advertisement
The responsible, adult thing to do in that situation is to either make a case for better compensation or look for work elsewhere. What is not a good solution is lying to your friends and telling them you're an "unpaid volunteer" to gain sympathy and donations to support your lifestyle. It appears that's what happened with the person responsible for this Facebook post.
Article continues below advertisement
In their plea, they claim to have taken on a 4-month, unpaid volunteer position in Israel and now have only $60 to their name. They regret not taking a paid gig and say they really just need some cash because they're "nearly stranded in the Middle East."
It could be an honest mistake by an altruistic young person, right? They wanted to do some volunteer work in a place with real need.
So perhaps they allowed their bleeding heart to be taken advantage of by some organization that stuck them in the middle of nowhere to figure out their own problems alone, or maybe the youngster underestimated what it would cost to live in the area. It's a nasty spot to be in, especially when you're so far away from home.
There's just one problem with this fellow's story, unfortunately. He made it all up. It turns out he wasn't a volunteer at all and actually had a pretty good set up.
Article continues below advertisement
After a post by one friend who genuinely felt sorry for him, someone in the know hopped online to clear the air. Not only was this "volunteer" on the payroll, it turns out that the lying beggar had a pretty sweet deal going. They cleared about $1,565 a month, not including the fully paid-for apartment he was provided, including utilities like internet, water, and electricity.
Article continues below advertisement
To top it all off, the poster didn't even have to spend money on dinner. The whistleblower says they got a meal at the end of the night and if anyone knows anything about Middle Eastern culture, it's that they definitely make sure you're well fed. He probably could've taken whatever leftovers from dinner and used those for breakfast and lunch the following day if he was in a real bind.
Article continues below advertisement
Another coworker came online to not only corroborate this story but point out this poor "volunteer" makes more money than him, and it's very disrespectful to the host family to insinuate he wasn't being taken care of.
Even if this guy was blowing half of his monthly stipend on leisure, travel, and small meals here and there, that still would've left them with a solid $780 at the end of the month.
What I will say is that Israel has a very happening party scene, and he probably could've ended up getting bottle service in an attempt to impress some beautiful women out there on leave from their mandatory military service and blowing off steam. That's just my assumption — either that or the guy just spends money like there's no tomorrow.
Article continues below advertisement
There is some validity to this person's claim, however, and it's that the cost of living per month in Jerusalem, without rent, is quoted at around $932 a month. But with so many basic necessities taken care of by his hosts, it's hard to imagine £1,200 (or around $1,500 USD) wasn't enough.
What do you think? Do you have a friend who's just like that? Or do you think that this person merely caught an unlucky break?