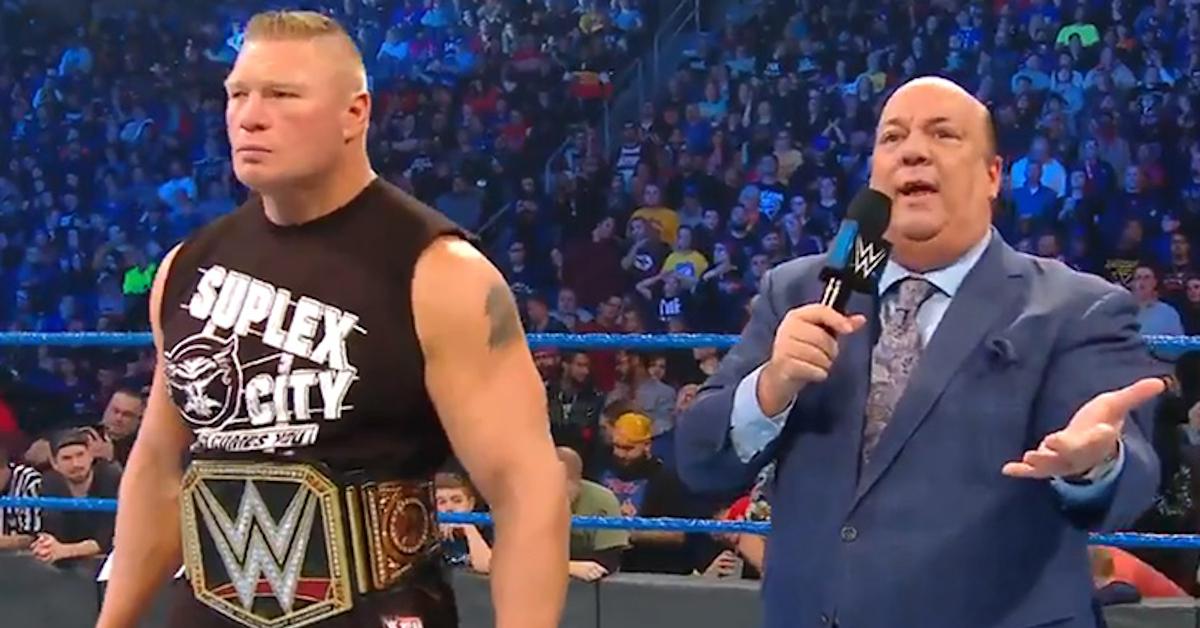 Wait a Minute, Did Brock Lesnar Just Quit Wrestling for the WWE Again on 'SmackDown'?!
Longtime WWE viewers know that Brock Lesnar is an on again/off again talent for the company, so the fact that he just quit SmackDown is no surprise.
Stop me if you've heard this one before: Brock Lesnar quit the WWE. "The Beast Incarnate" has a penchant for leaving the organization for other ventures, be that fighting in the UFC, or to retreat to the Canadian Wilderness to hunt and be a mountain man. Judging by the size of him, the dude probably eats a whole elk after he shoots it in one sitting.
But wrestling fans needn't worry, Brock didn't quit the WWE entirely.
Brock Lesnar just quit SmackDown.
Article continues below advertisement
Wait, so what does that mean? The WWE for a long time now has separated its stars into two main brands: RAW and SmackDown. The former program airs on Monday nights while the latter comes on Friday nights on FOX.
Each brand has its own set of champions and superstars that are assigned to them — think of them as different divisions or conferences in sports.
Brock Lesnar was a men's title holder on SmackDown, which was a problem.
Article continues below advertisement
That's because after Bray Wyatt, "The Fiend" won the Universal title during Saudi Arabia's Crown Jewel event, which ended up being a whole debacle for many superstars after they were left stranded in the country and unable to make appearances on an upcoming show.
So the leading pro-wrestler organization found itself with a big issue: its Friday night brand had two top stars rocking the two most prized titles. So what was going to happen to RAW?
Easy: all Brock had to do was waltz up to the ring with his "manager" and cohort, Paul Heyman, who began to wax poetically about Brock's Crown Jewel victory over Cain Velasquez and how the hulking superstar was struck by Rey Mysterio after his match with a chair.
Naturally, Brock wanted to return the favor against Rey, but couldn't because the luchador isn't a SmackDown wrestler.
Article continues below advertisement
So what was a vengeance-seeking, 6-foot-3, 283-pound former mixed martial arts and pro-wrestler who made a name for himself by being a no-nonsense, savage purveyor of ruthless beatdowns to do? What he's always done: jump ship to get what he wants.
Brock "quit" SmackDown then, so he could go to RAW and show Rey Mysterio that jumping on is a lot easier than jumping off.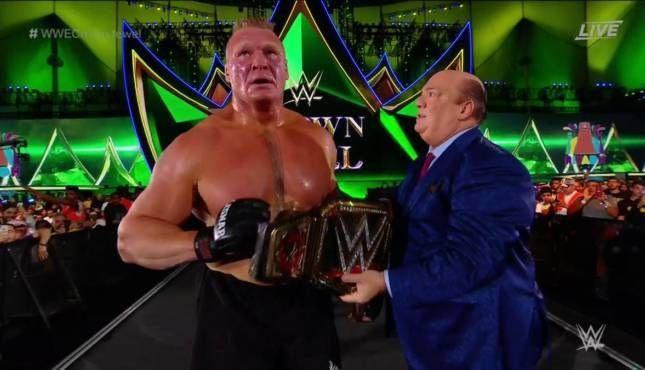 Article continues below advertisement
Why is Brock on RAW now?
While both RAW and SmackDown have their respective fan bases and pull in big numbers, the Monday night program has been a longtime staple of the WWE and is considered to be the "bigger" of the two shows to wrestle for.
Bray Wyatt is arguably the WWE's brightest and best "newer" star. His creepy appeal and distinct character, along with his twisted children's show style segment is cool too.
So it was only a matter of time before he was made champion of one of the brands, but Lesnar is still clearly the "top dog" for the WWE — Vince McMahon and co. have constantly made concessions for Brock Lesnar and have given him preferential treatment, namely because he is such a fan favorite and, quite simply, he puts butts in seats.
That was made exceedingly clear during the Crown Jewel event.
Article continues below advertisement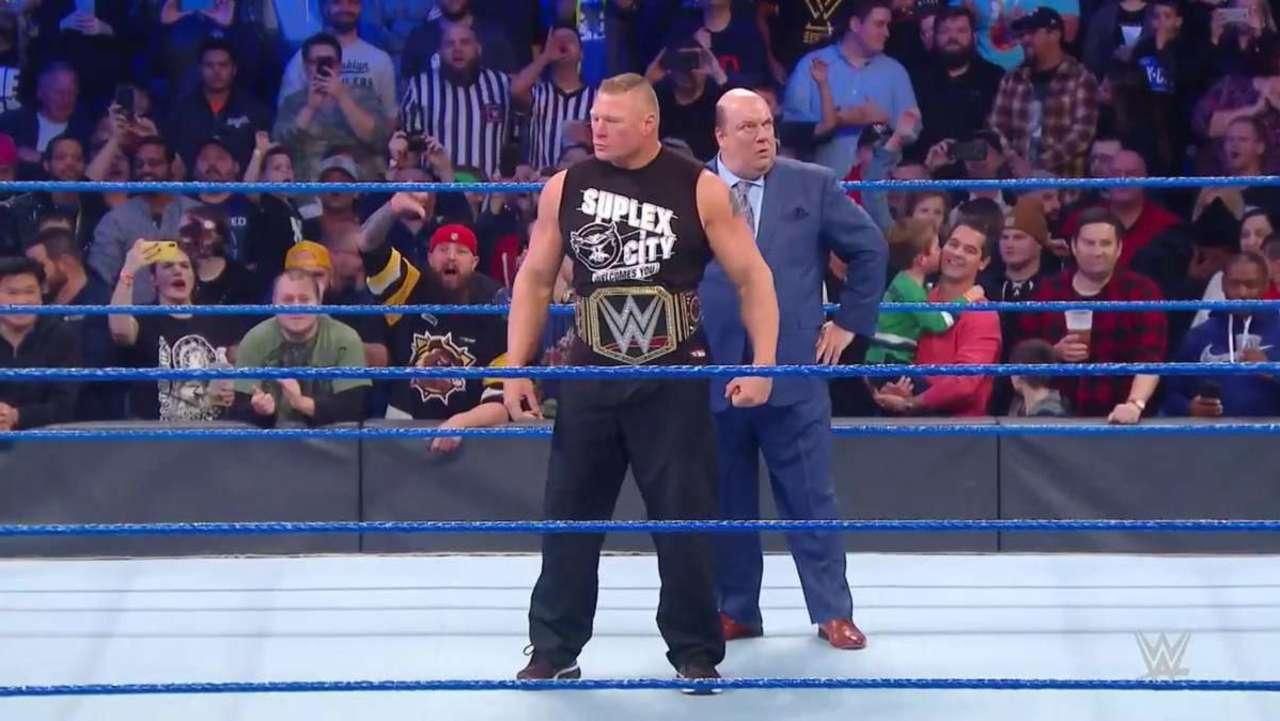 Living life on the road as a pro-wrestler is hard enough with all of the rehearsals, pressures in eating clean, getting your bodybuilding workouts in, and memorizing scripts/match idiosyncrasies to perform live in front of tons of people. But wrestlers who are starting out sometimes have to book their own flights and rely on less-than-ideal travel packages so they can make it to shows.
Article continues below advertisement
While Brock and Vince arrived on separate, private flights to Saudi Arabia, other WWE talent came on commercial flights and were stuck there. Some believed it was a retribution move on Saudi Arabia's part after Vince and the Crown Prince had a falling out regarding money. Not that any of the bothered Brock Lesnar, who came in on a private plane because, well, the man's got a net worth of around $22 million and can roll like that.
It seems like all of the Saudi Arabia drama has cleared up and the superstars are back home, wrasslin' right where they need to be, Brock Lesnar included. So if seeing him "quit" SmackDown got you worried that he'd go and have another UFC fight, or maybe do his best Solid Snake impression in the wilderness, don't you worry, Brock Lesnar's here to stay for a while in the WWE — just on RAW to get after Mysterio.