Photographer Bryant Eslava Confirms He Solicited "Racy" Pics From Aspiring Model
Bryant Eslava exposed for exploiting an aspiring model? The photographer confirmed via Twitter that he solicited "racy" pics from girls back in 2012.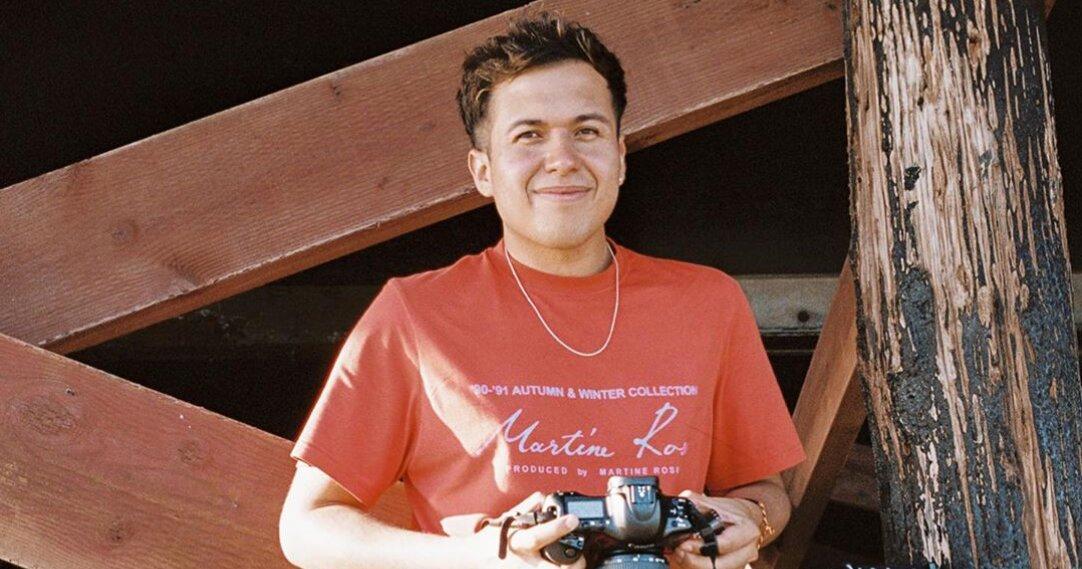 Photographer Bryant Eslava, who's close friends with many TikTok and YouTube stars, has been accused of soliciting nude pictures from an aspiring model.
On June 21, a Twitter user with the handle @watssuptho claimed that Bryant convinced her to send naked images of herself via Tumblr in 2012. Though he promised to show them to his "agency connections," the girl stated that she never heard from him again after he received the X-rated photos.
Article continues below advertisement
Bryant Eslava confirms he solicited "racy" pics from girls on Tumblr.
Following the accusations made against the photographer, Bryant took to Twitter to address and apologize for his previous actions. In a lengthy statement, he revealed that he was a teenager at the time who was looking to get into the fashion industry. When his Tumblr following started increasing, he admitted that he liked the attention he was receiving, especially from girls.
Article continues below advertisement
"I did ask girls to send me racy photos," he wrote, before apologizing to the women he hurt. "I'm not proud to admit it, but it took me a few years to realize how inappropriate and wrong this behavior is."
He continued: "Although I am disappointed in myself and my past actions, I am proud to say that they are not a representation of who I am today."
Bryant Eslava was exposed for exploiting girls on social media.
In a series of tweets, some showing screenshots of her messages with Bryant, the model explained that she reached out to the influencer early in his career after he expressed interest in photographing his followers.
Article continues below advertisement
Once she revealed that she was 6'3" and had been "trying to find a modeling agency that would want someone so tall," Bryant eagerly asked her to send a few pictures of herself posing in just a black bra and black underwear.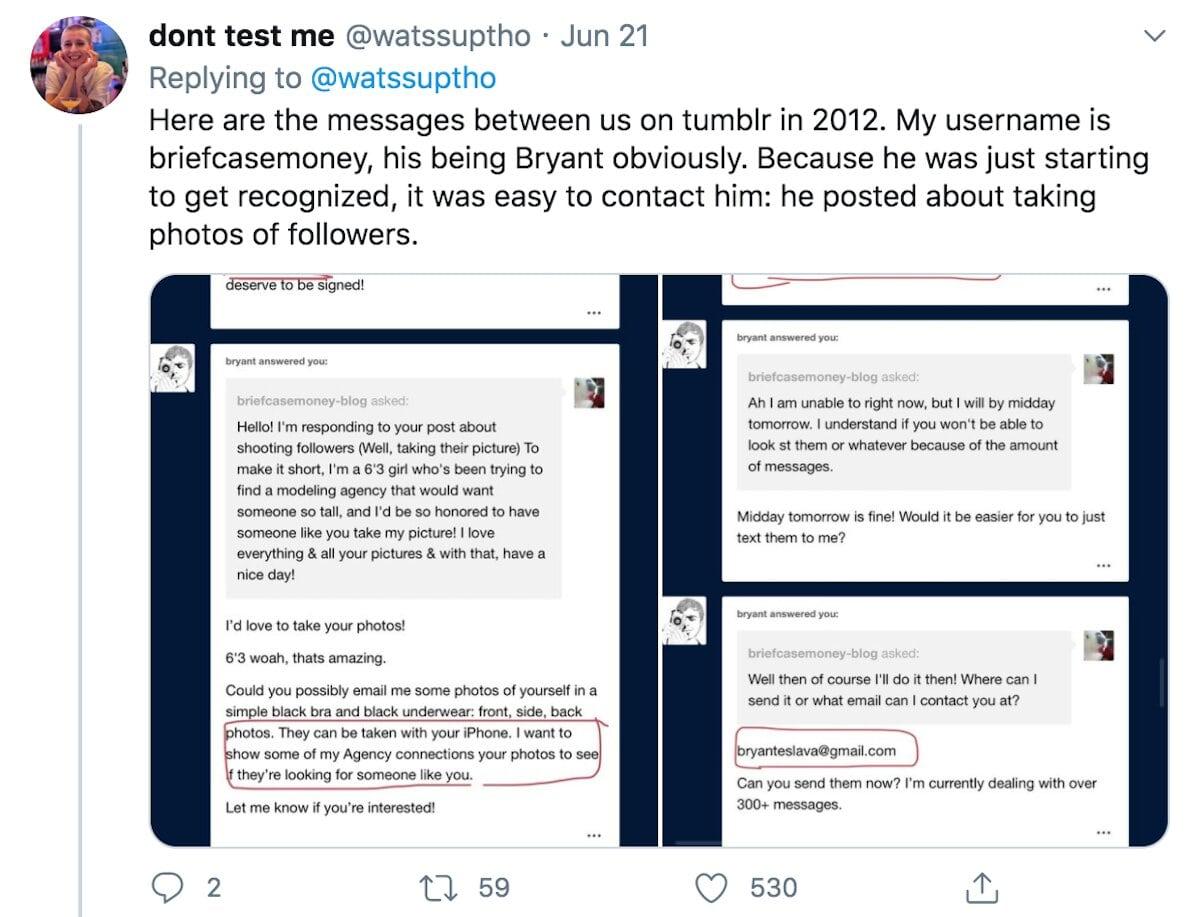 Article continues below advertisement
When @watssuptho admitted that she felt "uneasy" taking the scantily clad pics, Bryant responded, "Agencies typically want to see photos like these because they want to see your body figure and height. At this point it is necessary."
After texting him the images in her underwear, @watssuptho alleged that the social media celeb asked her to take a couple of naked pictures, claiming once again that they were for the "agencies" to look at. "Once he received the nude photo, I never heard back from him, regarding modeling or anything at all," she tweeted. "He never asked my age, or confirmed it."
The internet personality has yet to respond to the accusations publicly, though fans are calling on the 27-year-old to address the situation ASAP.
Article continues below advertisement
Bryant Eslava reportedly had a falling out with The Dolan Twins last year.
The California native used to be great friends with siblings Ethan and Grayson Dolan, but Instagram users noticed in September that the brothers had stopped following Bryant on the platform.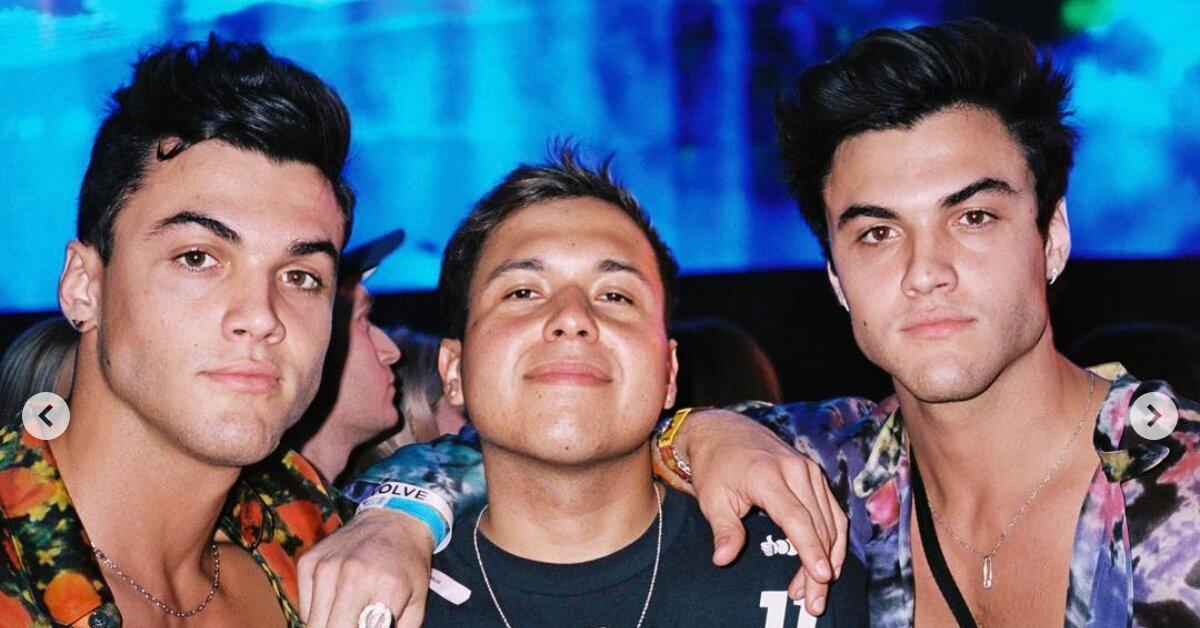 Article continues below advertisement
They were also absent from the cameraman's big birthday bash, an event the twins had planned for him just one year earlier. Though Ethan and Grayson never spoke about the rumored feud, many fans believe that a pair of cryptic tweets posted shortly after Bryant's birthday were directed at him.
"Do what you gotta do to be content with yourself when you go to sleep at night," Ethan wrote on Sept. 14, four days after Bryant turned 27. "You know when you've made the right decisions and you'll be proud of yourself for doing so. You can't control what the people around you are doing so just take good care of yourself."
A few minutes later, Grayson tweeted, "Don't let bad people make you a bad person. IT'S HARD, but you just gotta worry about you. Keep up the positivity and spread that s--t. You'll get what you deserve."
It'll be interesting to see whether the twins have anything to say about the allegations leveled against Bryant — or if more stories about the photographer start to surface.