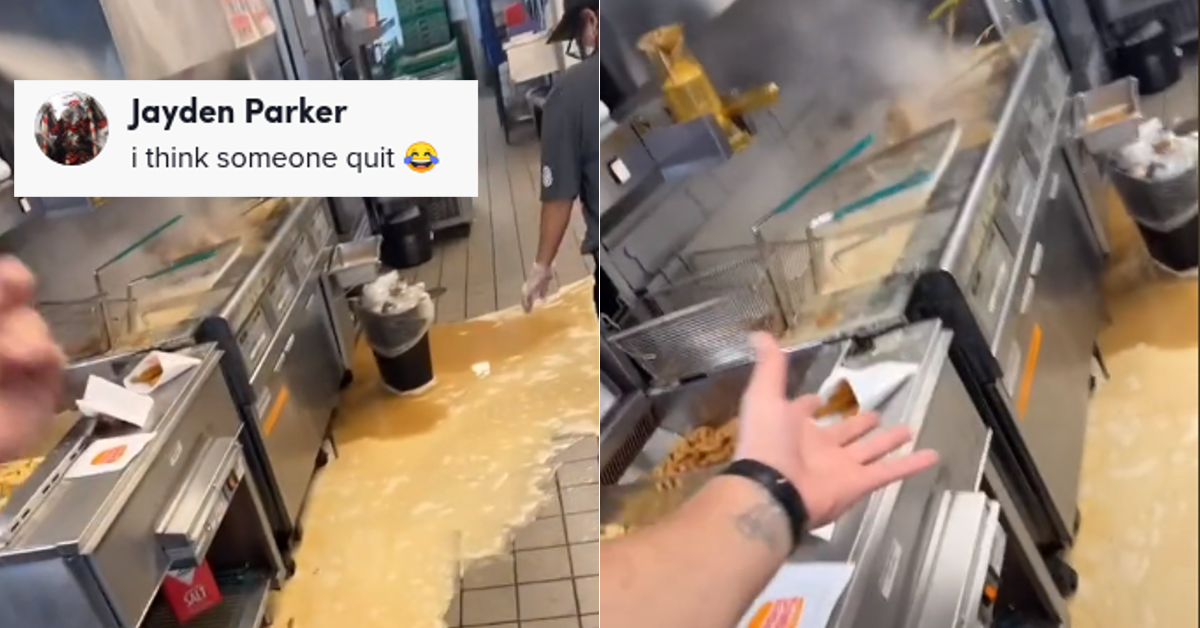 "This Is What Happens When Kids Run a Restaurant": Burger King Oil Fryer Disaster Goes Viral
While fast food gets a bad rap for being castigated as unhealthy as compared to sit-down and fine dining restaurants, research indicates that when it comes to kitchen cleanliness, there really isn't any comparison: fast food spots are generally way more sanitary.
Article continues below advertisement
Most of this could very well be chalked up to the fact that there's a homogenization of food and clearly delineated corporate protocols when it comes to the storing/processing of said items that are usually neatly pre-packaged from franchise suppliers. Every piece of equipment, more or less, is designed to prepare pre-set menu items without too much deviation.
This means that there is generally much less waste, but that doesn't mean that sometimes accidents don't occur. Very messy accidents, like the one TikToker @palmmtree_93 (Joshua Michael) recorded and uploaded online that shows what happens when an oil fryer overflows and spills hot oil all over a Burger King kitchen floor.
Article continues below advertisement
There are several ways that oil fryers can spill over like that, and it's an extremely messy and time-consuming process to properly clean it up.
TikTok user @john_g445 wrote that this can sometimes happen when folks "put water in the oil while it's cold and being changed and when they get hot they overflow."
Article continues below advertisement

Another user with the handle @idk420_06 served up another solution for cleaning up the oil: "former fast-food worker for many years DUMP ICE ON IT GO SMOKE THEN THANK ME LATER. Turns the grease into hard like playdough cleaning up WAY EASIER."
Article continues below advertisement

There were several people who blamed the mistake on teenage fast-food workers not caring about the job enough. Off-camera laughter can be heard right before another employee cautiously approaches the mess, and there were tons of commenters who blamed the spill on immaturity.
Article continues below advertisement

"Teenagers and fryer oil don't mix well these days I see," @Mrbeast_cookies wrote. The content creator who published the TikTok however responded, saying, "Wasn't a teenager, get your facts straight."
Article continues below advertisement

The person recording the video (presumably Joshua himself) can be heard saying on camera: "this is my resignation letter right here" while gesticulating towards the mess.
Article continues below advertisement

Other commenters joked that the oil fryer accident was no "accident" and was the result of an employee attempting to get out of work early by causing an intentional catastrophe.
Others thought that it was an insurance play: "They Tryin to burn that place down to get extra money from the company," Mackenzie Holcomb joked.
Article continues below advertisement

Cool Mom Eats shares their own method for cleaning oil fryer spills. The blog recommends first dabbing the excess oil with paper or old dish towels and stresses not to "wipe" as it'll only further spread out the oil.
After doing that, then you're supposed to cover the oil spill with corn starch and wait ten minutes and if you don't have corn starch, then baking soda should do the trick.
Article continues below advertisement

Vacuum the corn starch/baking soda, and then wash the area with a bit of liquid dish soap and the water. The starch/power supposedly soaks up the oil, which allows for easy vacuum cleaning.
Have you ever had to clean up an oil fryer spill? Is it as not fun to clean up as it sounds?