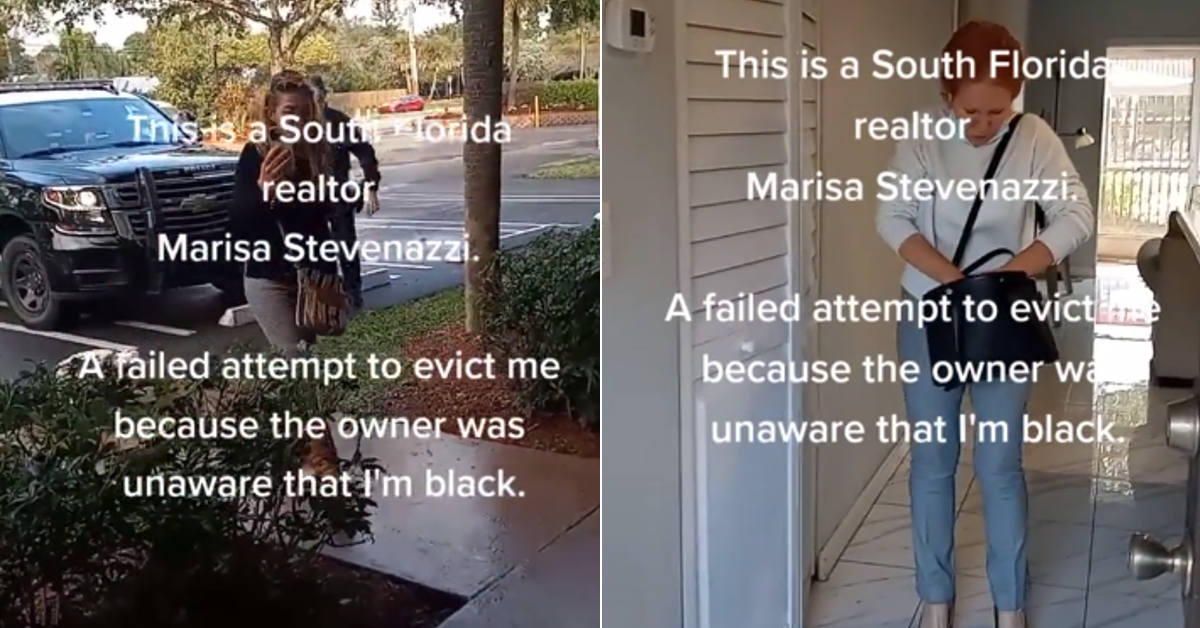 TikToker Claims Landlord Tried Evicting Her Without Notice After Living There 4 Years
The cost of housing in the United States is steadily increasing, which creates a lot of housing conundrums for folks looking to afford a place to live. It's a pretty brutal cycle: many people go and get degrees and/or pursue vocations with "safe" salaries that ultimately get them enough money so they can have a place to live and enjoy particular creature comforts that, on paper, make them happy.
Article continues below advertisement
But when all you're living for is the ability to afford a mortgage/rent, then life can get pretty miserable. And while there are more and more Americans living in mobile/tiny homes as a means of actually saving money instead of living paycheck to paycheck, 36% of Americans rent their own homes and apartments.
This means that there are millions of people who rely on tenants' rights and laws to ensure that they have a place to live and that they just can't be extricated from the premises whenever the property owner decides to kick them to the curb.
TikToker Julissa Escobar lived in a Florida apartment for the last four years. Her roommate, who held the lease to the place, had recently passed away.
Article continues below advertisement
In a now-viral clip, Julissa can be seen recording the realtor and a police officer on the premises. She says in the clip, "Don't be trying to do things to people just because you think that you're the boss because you're a homeowner."
Article continues below advertisement
Julissa then asks to speak to the police officer in the video and tells the realtor that she has no interest in speaking with her. The impetus for Julissa's ire towards the woman, she alleges, is because the homeowner wasn't aware of the fact that they were renting an apartment to a black woman.
Article continues below advertisement
Julissa called the realtor's visit a "failed attempt" at evicting her due to the color of her skin. In the video, she also shows several pieces of mail with her name on it: "That's why I have mail here, I've been here for four years."
Article continues below advertisement
In the clip, Julissa is brusque with the realtor, telling her several times to "get the f*** out" of the apartment. Julissa also accuses the realtor and homeowner of invading her privacy, adding in the TikTok, "This is why I'm getting ready to put this online so people can see what kind of homeowner you are."
Article continues below advertisement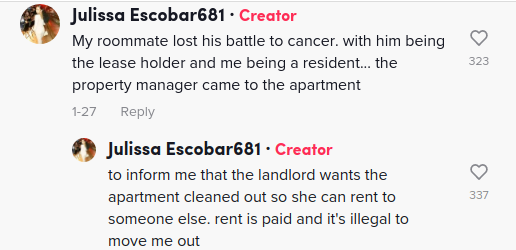 It appears that the initial point of contention, however, began when Julissa came home to her apartment only to discover that she was locked out of it. The manager of the property then spoke with Julissa, stating that they talked with her late roommate's sister and that they were working on getting the place cleaned to be ready to rent out again.
Article continues below advertisement

In the comments section for the video, Julissa said that she lived with her roommate while he was undergoing cancer treatment. Unfortunately, he was unable to survive his illness and he passed away.
Article continues below advertisement

Julissa went on to say that she called the Florida State Board of Realtors but that the entity couldn't find a license number associated with the Realtor Julissa says attempted to evict her from the apartment.
Some users in the comments section alleged that the realtor in question actually had her license revoked in North Florida, while others said that this incident was a clear-cut case of housing discrimination.