Woman Texts Dead Sister's Number, Receives "Cold" Response from Business — "Please Stop Texting"
A TikToker who texted the phone number of her dead sister received a cruel response from a local business and people are furious.
People deal with grief in different ways, especially when it's over the loss of a loved one who played a huge part in our daily lives. You'll never be able to hang out with that person again, or vent to them about your problems, have meals with them or share memes and text back and forth.
Article continues below advertisement
We all have those special people in our lives that we want to share everything with, and sometimes it's a gut reaction to just fish our phone out of our pocket and immediately start messaging them. Once that person is out of our lives forever, it can be difficult to re-wire ourselves to get out of those happy habits that used to give us so much comfort.
For TikTok-er @faithsidman1, one coping mechanism she developed in the wake of her sister's death was to text her phone number to express how she was feeling.
To her surprise, she discovered that the number was reassigned to someone else, a local business.
Article continues below advertisement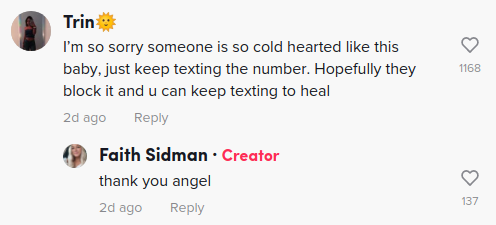 Faith shared a screenshot of a text convo she had with the new holder of her departed sister's phone number. In a message dated Saturday, July 2, 2021, she wrote, "Thinking about u lots today. I love you" followed by a heart and butterfly emoji.
Article continues below advertisement
Some 13 days later, the new number responded, "You have a wrong number." Faith expressed her dilemma, writing, "I'm sorry, my sister passed away 2 years ago and I still text her from time to time, I thought the number was out of service, I won't text anymore."
Article continues below advertisement

The new number recipient responded back with, "This was a business. Please stop texting."
Faith shared screenshots of the interaction on her TikTok account as a green screen, with a video of her exasperated expression at the bottom of the text screen.
Article continues below advertisement
The video went viral, with tons of commenters urging Faith to reveal which business it is. Many thought that the response was "cold" while others called the "cruel" reply as grounds for blowing up and exposing the business online, presumably with exhortations to others to boycott the company.

Article continues below advertisement
One TikTok user, @jordonbraun, wrote, "How could someone be so cold like that. I'm sorry hun."
Another wrote, "Time for them to go out of business."
"I just know your heart dropped seeing her name pop up…I'm sorry baby," @calydollabean wrote.

Article continues below advertisement
"Girl.. if you dont search up that number on safari and out what business it is so we can go after em," @haileyadely replied.
In an interview with Daily Dot Faith said that the text, "was really hard to see. After losing my sister I was devastated and I had a hard time accepting she was gone, but it was a nice release to be able to text her number as if she was still here. After getting that text it just made her being gone feel even more real, and the person being completely unsympathetic didn't help."

Article continues below advertisement
As for whether or not she's going to out the business in question, Faith expressed that she didn't have any intentions of doing so. "I don't think it's necessary to expose the business because although un-moral, they were right. It isn't her number anymore. I also don't feel comfortable releasing the number for the same reason but also because even though it isn't, to me it still feels like that is her number."

What do you think? Do you believe the business should be "outed?" for not handling Faith's text message with a bit more grace?