Two People Have Come Forward About TikToker Caleb King's Predatory Past
In the past week, two people have spoken up about Caleb King's (@alaskan_boii) predatory behavior a few years ago. Here's what happened.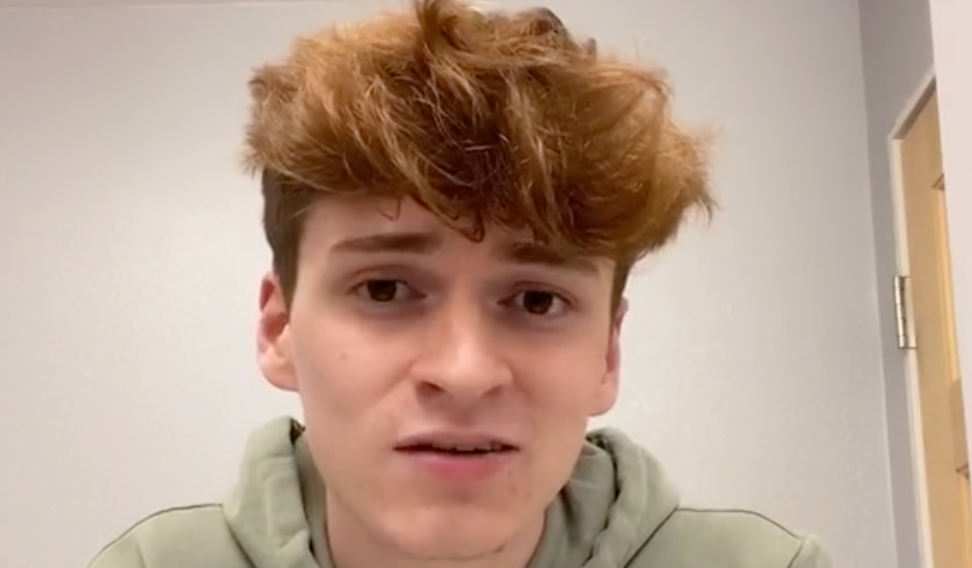 Recently, two people, Luke and Ben, accused TikToker Caleb King (@alaskan_boii) of past predatory behavior. Luke tweeted his account, along with text message receipts to show the conversation that happened several years back. Ben tweeted his experience as well. Although King just posted an apology on TikTok, announcing his departure from all social media platforms for the "foreseeable future," his TikTok fans are still extremely shocked and disappointed.
Article continues below advertisement
What to know about the Caleb King predator accusations.
On June 30, Luke (@lilicebox_) bravely spoke up about his previous experience with King, saying he "drunk texted me when i was 13 and asked if I was a virgin, top or bottom and asked if I wanted to hangout [sic] and if i reached puberty."
Article continues below advertisement
On July 7, Ben (@akbendav1s), replied to Luke, tweeting, "thank you for sharing luke, i'm not going to accuse him of anything but that displays predatory behavior... when I was 14 years old, Caleb King got "drunk" and asked me to sit on his face. along with continuous flirting and messages saying 'yum' and [emojis] and more."
Article continues below advertisement
Ben added, "going after young and developing boys is wrong and manipulative. Caleb King has almost 1 million followers throughout his social media platforms. please be aware of who you are choosing to support."
Article continues below advertisement
When somesone responded to Ben, saying "he said on tik tok that y'all consensually sexted when he was in high school - is that true?" Ben stated, "completely untrue. we never sexted at all. plus even let's say we did.. he was 17/18 at the time 'sexting' with a 14 year old. i never expressed interest in him. infact [sic], you can see from this that when he was flirting, I shut it down." He also posted a screenshot of the conversation.
Article continues below advertisement
The reason why some people are questioning Ben is because King commented in some of his TikToks telling his fans that Ben's accusations were taken out of context and that they "consensually sexted." Luke tweeted the screenshot.
Article continues below advertisement
On July 8, King posted an apology to his TikTok page, explaining that, as a victim of sexual assault, he has an unhealthy relationship to sex, and although it doesn't justify his predatory behavior, he claims that it's what led him to believe it was okay to ask nudes from someone much younger than him. He said he holds himself accountable, and told fans they can unfollow him if they want (as of now, King has just over 757k followers on TikTok).
Article continues below advertisement
Today, July 9, King posted a written apology on TikTok. "These events were 4 and 5 years ago — since then, I have grown, changed, and developed into a more mature and aware person, and I will continue my growth journey away from social media as Ben and Luke requested. These posts will be up for a few days then I will be deactivating for the foreseeable future."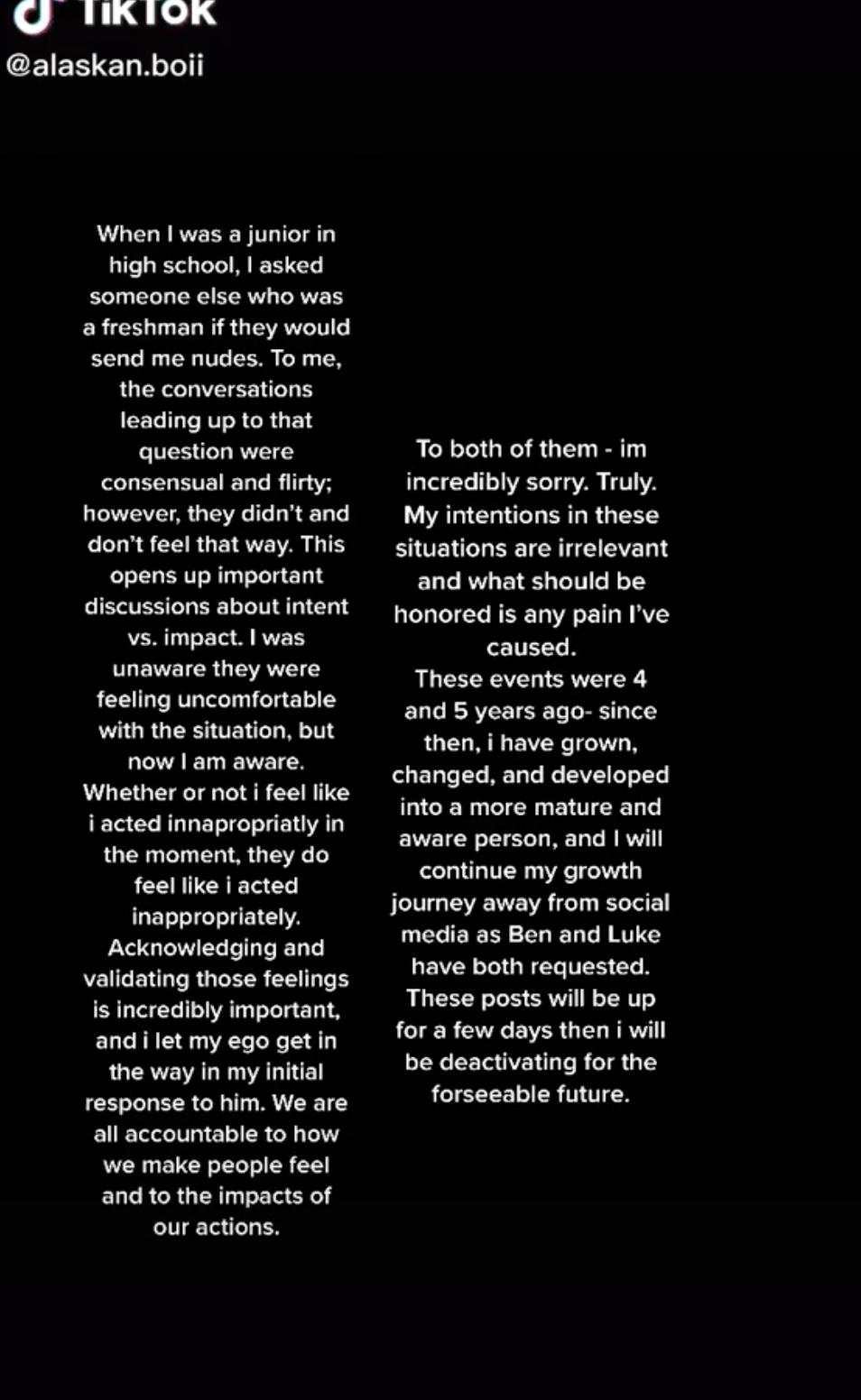 Article continues below advertisement
Hopefully, King truly takes this time to work on himself and truly process the damage his behavior has cost others. And more importantly, we hope that Luke and Ben get the care and resources they need to heal.
If you need support, The National Sexual Assault Hotline is available 24/7 at 1-800-656-4673. You will be connected with a trained staff member in your area. Or visit RAINN.org to chat online with a support specialist at any time.