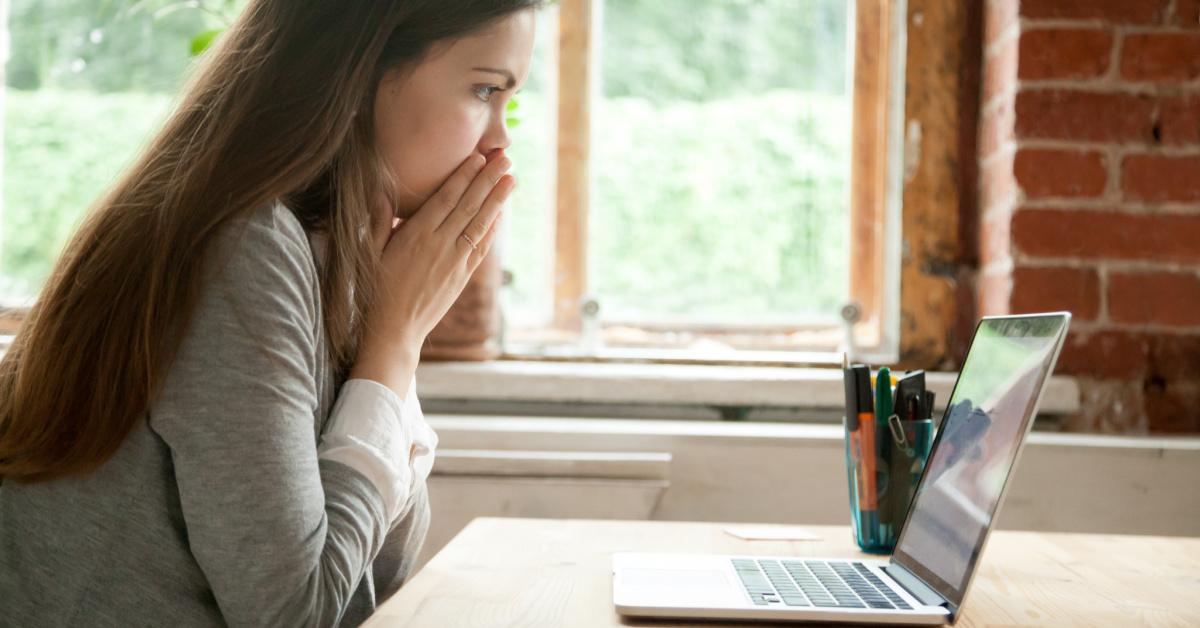 Wait, Can My Teacher See My Screen When I'm Logged Into Zoom?!
2020 has definitely been the year of making adjustments and being flexible (and that's probably not going to change anytime soon)! One of the biggest changes many people had to make was the shift to online, virtual learning rather than attending in-person class. Students as young as preschool age are now logging into Zoom for class, and seeing their teacher and fellow students solely through a computer screen.
Article continues below advertisement
Naturally, there are also some benefits to attending class virtually. For instance, you can wear pajamas and no one's the wiser! Also, you are connected to the internet, which is filled with all kinds of entertaining info … and, most likely, all of the answers to whatever test you're taking. Can teachers see your screen when you're logged into a Zoom class? Here's what you need to know.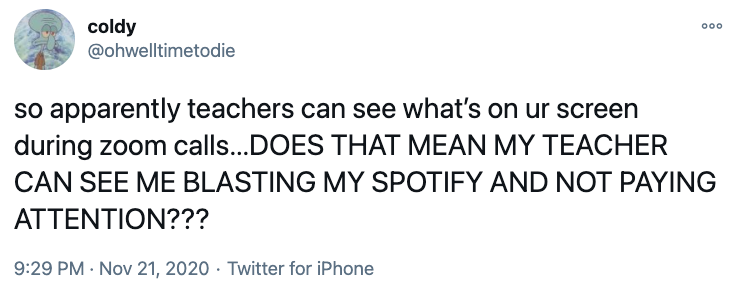 Article continues below advertisement
Can teachers see your screen on Zoom?
Whether you want to use your computer screen to Google test answers or just to scroll through something a little more interesting than a lecture (sorry, profs!), you definitely want to make sure that you're not going to accidentally give yourself away to your teacher or fellow students.
Apparently, some professors are telling their students (particularly unsuspecting freshmen) that Zoom allows them to see their students' desktops and whatever else may be pulled up during class. If you're worried about getting busted by your prof, you can relax: Zoom software does not allow your teacher (or anyone else) to see your own computer screen unless you actively engage the "Share My Screen" feature.
Article continues below advertisement
But don't go opening up a bunch of Reddit threads just yet! If you are using a computer or other device that is owned by your school, it may have software installed that does allow your professor or teacher to see what you're doing. The same goes for if you are using a device owned by your work.
Article continues below advertisement
To be on the safe side, you should treat any activity you do on a device owned by someone else as though it is taking place in a classroom or workspace. If you wouldn't do it in front of your teacher or boss, then you shouldn't do it on a school- or company-owned computer.
For the first few weeks of the COVID-19 pandemic, Zoom did include something called an "attention-tracking feature," which allowed for teachers using the app to see if a student didn't have the Zoom meeting in an active window for more than 30 seconds. However, the company announced in a blog post from April 1, 2020 that they had permanently removed that feature (much to the relief of virtual learners and workers everywhere).
Article continues below advertisement
Can Zoom hosts read your private messages?
There are also some rumors going around that teachers are able to read private messages that students send to one another within the Zoom client. Once again, that is false. Your private messages are safe — although, again, it's probably best not to send them using a device owned by your school or another organization.
At the end of the day, it's just a fact that you can get away with a lot more in virtual learning than you would be able to in a physical classroom. However, it's definitely worth considering that you may only be hurting yourself in the long run if you choose to cheat on your non-open-book test or skip a lecture.