Canadian Mom Says Inflation's So Bad She Crosses Border to Montana to Buy All Her Groceries
A Canadian mom said that grocery store prices are so insane in Canada that she can't afford to shop locally, travels to US to buy food.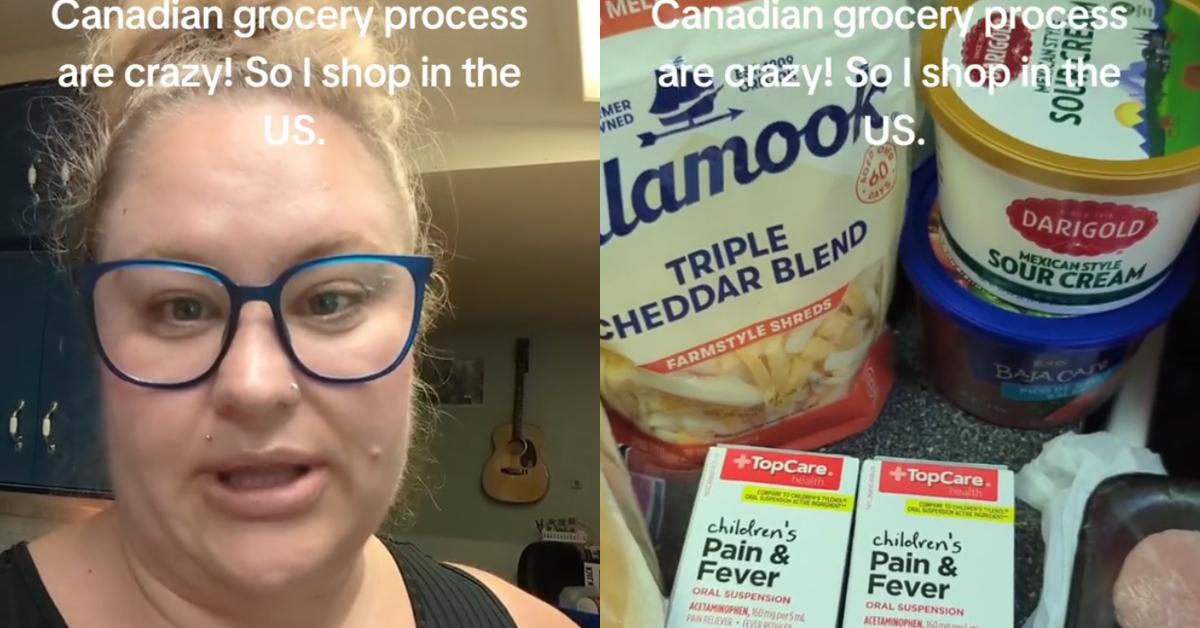 Article continues below advertisement
Article continues below advertisement
Now, Brandi Dustin (@kade1613), a mother who resides in Roosville, British Columbia, says that she travels out of her native country of Canada to cross the border into Montana because she saves around $300 in groceries a month.
Article continues below advertisement
Brandi, in a viral TikTok she posted to her account that's garnered over 720,000 views, writes in a text overlay of the clip: "Canadian grocery [prices] are crazy! So I shop in the US"
She says in her video: "So everybody keeps talking about grocery prices in Canada, and I wanted to make a video on that." In her clip, Brandi delineates that she's a resident of the Great White North who lives about 45 minutes away from the nearest "grocery station."
Article continues below advertisement
But because she lives closer to the US border, where the nearest grocery store is only 15 minutes away, she says that she shops there and ultimately saves money, even with crumby exchange rates digging into her ability to get the most bang for her buck on food.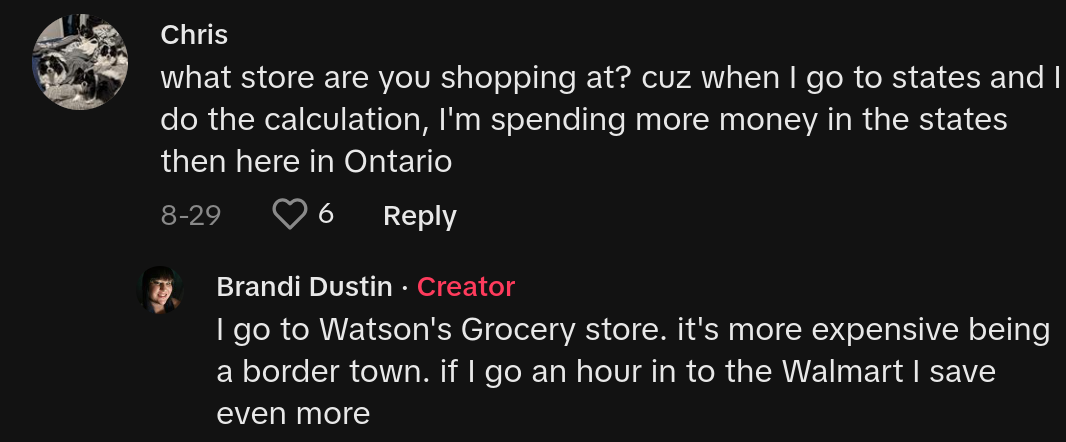 Article continues below advertisement
She highlighted a few of the items she purchased, but stated that some of the biggest savings came with the children's pain reliever she got in Montana at 2 bottles for $5. Another big saver was full-fat cottage cheese that she bought for $6, she says in Canada just a single tub would've cost her $8.99 each.
Brandi also said that the "meat prices" in America are "insanely cheap" when compared to Canada, showing off a package of pork chops she bought for $4.76, a container of ground beef for $6.90, ground pork sausage for $3.74, and a variety of produce, snacks, and cheese.
Article continues below advertisement
Her grand total for the haul came out to about $84, which she compared to what she would've paid for the groceries in Canada had she purchased the same things at a "comparable brand and price."
After explaining her calculations and how she stacked up the comparable brands, including the alcohol she purchased in the states, Brandi said that she would've spent around $160 Canadian for everything she bought in Montana.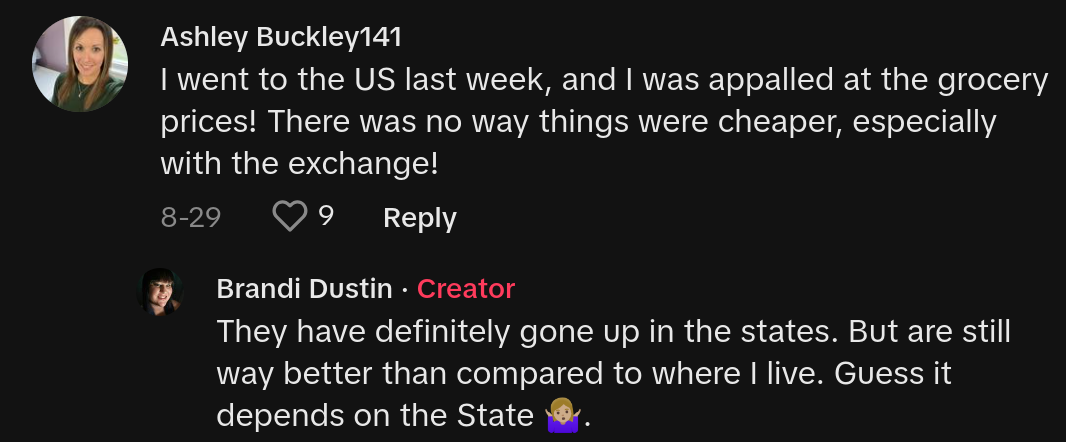 Article continues below advertisement
The $84 she spent in the United States came out to about $117 Canadian, which she says still makes more financial sense for her to do then drive an extra 30 minutes just to spend more money.
"I know they say support local, but right now everybody is suffering hugely, we're all trying to make it and it's so much cheaper for me to go next door than it is to shop in my own country.
Article continues below advertisement
Towards the end of her video, Brandi adds that US prices have also gone up significantly, and even with the increased rates of inflation in the States, it's still much cheaper for her and her family to get their groceries south of the border than it is for her to visit supermarkets in her native Canada.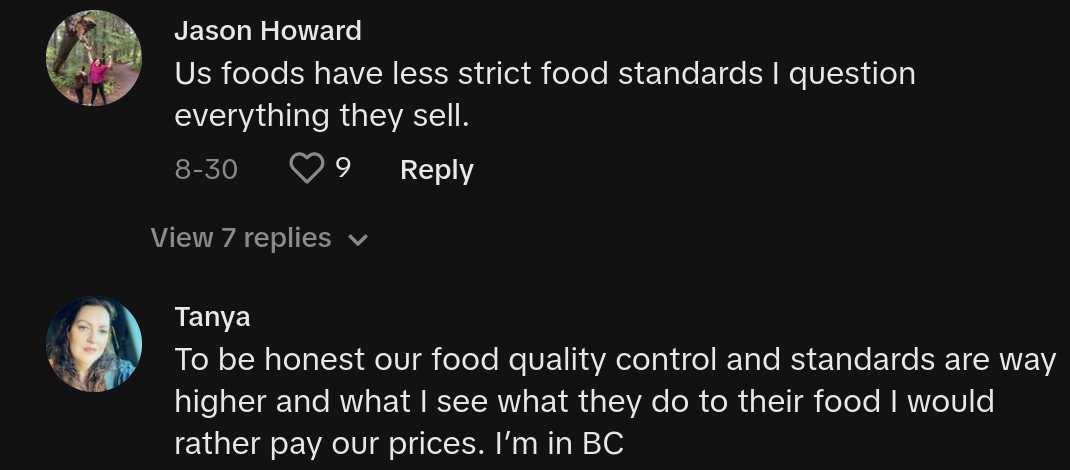 Article continues below advertisement
One commenter who saw her post remarked on the dichotomy of goods, and highlighted how both Canadians and Americans are utilizing their respective countries in order to take care of their basic needs: "Canadians are driving to the US for food and Americans are driving to Canada for affordable prescriptions."
Another penned a comment that seemed to support Brandi's assertion that it was much cheaper for her to buy groceries in the US: "The meat would be like $23-25 each in Canada"
Someone else said: "It's all cheaper. Gas included. What a rip off," while another wrote: "2 FOR FIVE DOLLARS??? just one of those pain relievers would've been $7 in Canada"
Article continues below advertisement

And then there was another viewer who replied that there are throngs of Canucks who head South to get their shopping done: "Lots of Canadians are driving to the US to grocery shop. It's getting too expensive in Canada and the portions of food has also gotten smaller."