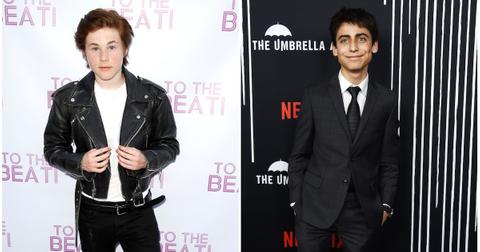 Did Casey Simpson and Aidan Gallagher Have Drama on Their Nickelodeon Series?
By Shannon Raphael

Updated
Though he's only 16 years old, Umbrella Academy actor Aidan Gallagher has already been embroiled in several controversies. In May of 2020, Aidan was "exposed" online for a slew of alleged messages to fans and followers that were insensitive to mental health struggles and that appeared to question the concept of consent. He later denied posting any such comments.
Before he played Number 5 on Umbrella Academy, he got his big break as one of the quadruplets on the Nickelodeon comedy Nicky, Ricky, Dicky & Dawn, and one of his on-screen brothers hinted that there was more than just family drama on set.
What happened between Casey Simpson and Aidan Gallagher? Keep reading to find out why one of Casey's TikTok videos went viral, and if Aidan has responded yet.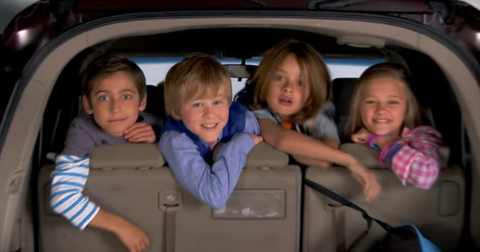 What happened between Casey Simpson and Aidan Gallagher?
Aidan and Casey were co-stars on Nicky, Ricky, Dicky & Dawn, which ran on Nickelodeon from 2014 to 2018. The series focused on the Harper siblings, a set of pre-teen quadruplets. Aidan played Nicky, while Casey starred as Ricky.
Though there were no public rumors of drama on set while the show was airing, Casey took to TikTok on Aug. 9 and hinted that Aidan wasn't the easiest co-star to deal with.
The 16-year-old posted a clip of him lip-syncing to the song "Bulletproof" by La Roux, and the text he placed over the video caused quite the stir online.
"U think u can hurt my feelings? I was on a show for kids literally called Nicky, Ricky, Dicky, and Dawn with an actor named Aidan Gallagher 🙈," he wrote over the video. He doubled down on the post by captioning it "Did I lie."
While the post does indicate that Aidan and Casey may not have shared any loving brotherly relationship on set, the two have never previously discussed having a feud. The two do still follow one another on Instagram as well, so there is every chance that Casey was joking in his post. Because Aidan's reputation has been questioned in recent months, the video did go viral.
Casey has not elaborated on the post. Aidan has also not commented on it, though he has continued posting on his Twitter feed. The other actors who played the Harper quadruplets, Mace Coronel and Lizzy Greene, have not publicly commented on Casey's video either.
What happened to Aidan Gallagher with Lauv?
In addition to being a Netflix star, Aidan has also been promoting his singing career on his various social media accounts. During an Instagram live in March of 2020, Aidan sang his unreleased song "She" for his 3.3 million followers. In one section of the lyrics, Aidan sings the word "love" over and over again.
"By love love love love / By love love love love / By love love love love/ By love," one verse reads.
Many viewers were quick to point out that Aidan was pronouncing the word "love" like "lauv," and a multitude of memes and tweets soon followed. The sound was also used in the background of TikTok videos.
Fans joked that the Umbrella Academy actor had penned a love song to singer Lauv, and some joked that they only learned who Lauv was because of Aidan's song.
Others were confused because they thought that Aidan was singing the word "loaf."
While Aidan got some ridicule online for the way he sang the song, YouTuber Lyric Slaughter posted a cover of "She" online and it has since been viewed more than 380,000 times. A snippet from the cover also made its way onto TikTok, and people soon began to discuss how Aidan was a talented songwriter — many just didn't like his voice.
If you've ever seen videos of Aidan flooded with comments about "lauv" or "loaf," it's because of that now-infamous Instagram live session. Aidan himself has limited the comments section on his own Instagram account, but it's unclear if it's because he was getting spammed with jokes about his singing pronunciation.