Drive-Thru Worker Schools Woman Who Tried to Shame Her in Viral Video — "If You Don't Like Your Job, Just Quit"
A cashier went viral on TikTok after they clapped back at a TikToker who tried to shame them for saying they didn't know how to properly order.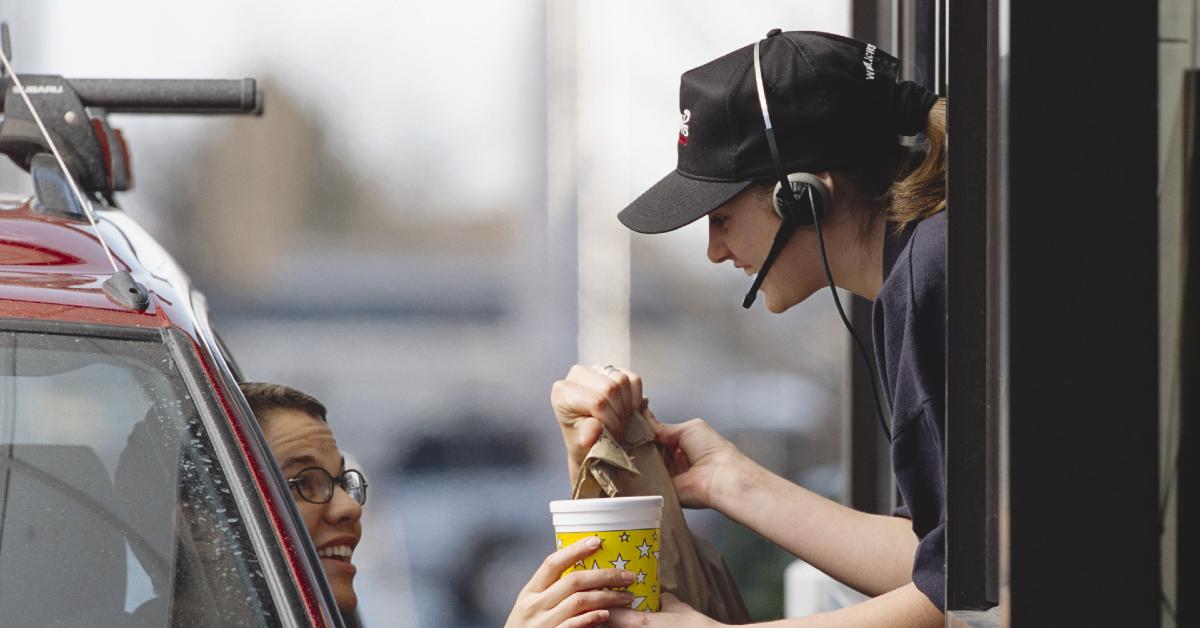 A viral TikTok from @nostalgicqueen777, a popular account that routinely uploads "freakout" interactions, is making the rounds on Reddit. In the video, which appears to have been removed by the original poster, a TikToker records their attempt to shame a drive-thru employee for the manner in which they spoke to the customer.
Article continues below advertisement
However, the drive-thru employee speaks matter-of-factly, clearly explaining why they said what they said about the customer.
Employees in the food service industry have reportedly become more at risk for heightened levels of stress, COVID contraction, and fatigue in the wake of government mandates being lifted post pandemic.
Numerous reports suggest increased levels of rudeness among customers in America's since the onset of COVID-19. It also seems many folks deliberately try to capture people behaving badly on camera so they can attain some type of social media clout or build a court case against them. The latter may have played a part in what was going on in the clip below.
Article continues below advertisement
Or it could very well be an instance of a customer sincerely believing they are always right. Here's how the video goes down:
Worker: "Hi how are you today?"
Customer: "Who was talking to us back there?"
W: "Do you have a question? A different question?"
C: "About somebody say you don't have to be this difficult?"
Article continues below advertisement

W: "You didn't have to be that difficult to order a sandwich. There's a way to order it and it just confuses the cooks in the front."
C: "So if I don't want my sandwich with everything on it, we're not allowed-"
The employee then begins to inform the TikToker of the way orders are processed at the restaurant.
Article continues below advertisement

W: "You simply say that at the beginning, because when they put it in, it already prompts up to the front, everything you say back there goes all the way up to that front...it just confuses them, so they start making it with everything on it, then you say you don't want it, you just want bacon, so it confuses the cooks."
Article continues below advertisement

C: "OK, but there's a nice, a nice way-"
The employee then cuts off the customer by rattling off an example of a correct way to order.
W: "Order a sandwich that's plain, add bacon."
C: "OK but there's a nicer way to say stuff."
W: "And there's a proper way to order food."
The two begin talking over one another before the customer accuses the cashier of disliking her job.
C: "If you don't want your job, just quit."
Article continues below advertisement

W: "Ma'am if you don't know how to order food, then go somewhere else."
C: "Don't play with me."
W: "Ma'am don't play with me." The employee then hands the card back over to the customer and speaks into the headset and tells the kitchen staff to cancel the order.
Article continues below advertisement

W: "I'm not gonna go ahead and pay, go ahead, take your card please. Thank you sir, have a great day."
The employee then shuts the window as the customer begins to comment to whoever is in the car with her about the worker's behavior.
Article continues below advertisement
While the TikToker wasn't too thrilled with the drive-thru worker, many Redditors applauded the employee for the way she handled the situation.
"'Do you have a different question?' lol! Gonna keep that one for later."
"She knows every question and answer in this quest. She's speed running the interaction."

Article continues below advertisement
One person explained the worker's no-nonsense approach: "Drive-through cashiers are timed, and they average them all out to ensure they serve people in a short time, like 3 mins. She is a pro at this."
Other Reddit users mentioned they had seen the flip-side of this interaction and witnessed how grateful some employees are when customers treat them with kindness and patience.

What do you think of the interaction? Is being brusque, with evidence, considered poor customer service? Was the employee wrong for saying a customer was being difficult with their order? Or was the TikToker wrong by her own logic as the drive-thru worker seemed to have a valid response for every point she was bringing up?