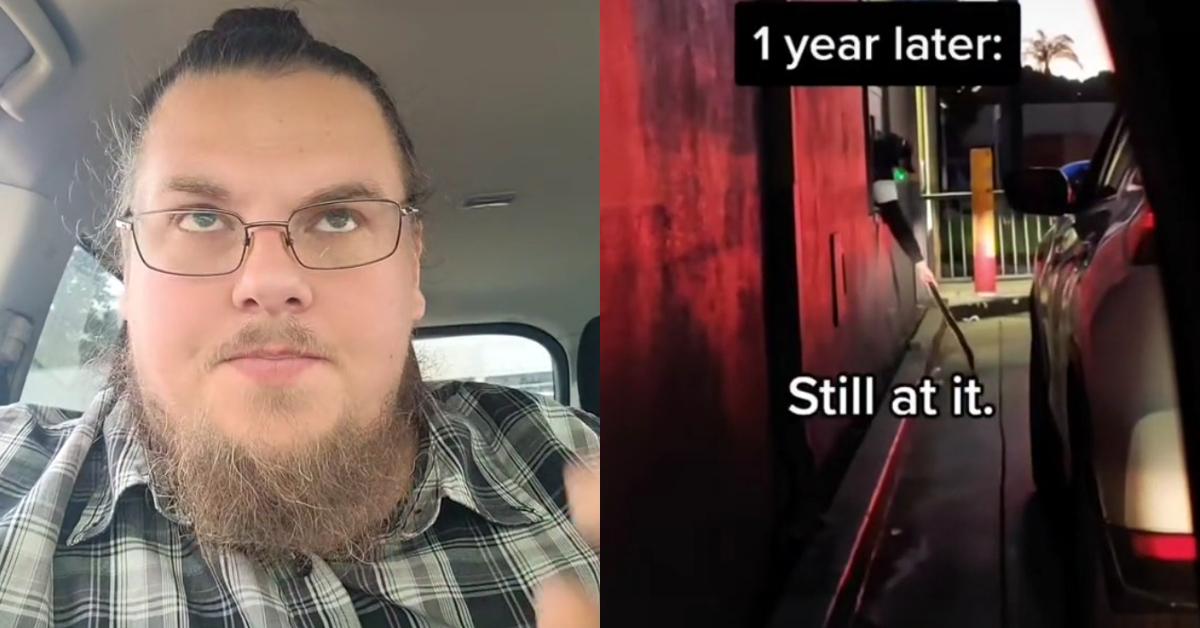 Man Reveals "Hack" Drive-Thru Workers Use to Get Back at Corporate — "You HAVE to Cheat the System"
A TikToker explained why you'll see some fast food workers hang metal sheets out of the drive-thru windows they're working.
It's no secret that there is often a disconnect between the logic that's implemented when corporations develop swooping policies versus the day-to-day real-life operational scenarios. This phenomenon, unfortunately, occurs in a wide variety of different industries and organizations in both the public and private sectors.
Article continues below advertisement
If you were to ask teachers about curriculum and protocol developed by their respective district Superintendent's office, they'll probably tell you that some of these edicts aren't directly suited to serve the needs of their particular school's student population and don't equip faculty members with the tools they need in order to perform their job functions at a high enough level.
The same could be said of massive fast-food franchises that incorporate policies in a "vacuum" of ideal circumstances. Like customers who don't ask too many questions, are ready for their orders at all times, and order a certain amount of food. At least that's what TikToker @the_knight_danger says must've been the thinking when "corporate" factored in a 20-second food hand-off time for folks getting their orders through a drive-thru.
Article continues below advertisement
He explains that in an effort to counteract these expectations, some fast-food workers have resorted to taking a sheet of metal and then placing it outside of the window of a drive-thru in order to mimic the physical movement of a car passing by.
Article continues below advertisement

The way it works is simple: there's a detector that accounts for the amount of vehicles that pass in and out of a drive-thru. These counters take vehicle metrics and measure them against an average wait time for the amount of cars that have passed through a location's drive-thru.
Article continues below advertisement

In order to space out the metrics and "fudge" the numbers so the location doesn't get flak from corporate for spending too much time serving their customers, employees will place a metal sheet outside of the window to give them "more cars" to work with. So once that total time is divided by the number of cars, they hit a number closer to what corporate is looking for.
Article continues below advertisement

Some TikTokers commented that when they worked fast food jobs they incorporated different methods of "fudging" drive-thru analytics.
Article continues below advertisement

Some said that their managers would take it upon themselves near the end of a shift to get in their car and circle in and out of the drive-thru several times in order to fool the detector's raw data collection.
Article continues below advertisement

Others mentioned that they and their coworkers would hop in their cars in order to take care of business this way, with many commenting they've never even heard of seen the metal sheet trick before.
Article continues below advertisement

SCGWest writes that the average drive-thru wait time is roughly 4 minutes and 50 seconds, with KFC beating that average time by seven seconds at 4:43. The firm writes: "Consumers have become concerned with the speed of fast-food service and the accuracy of their order. In order to decrease the service time in a drive-thru and improve accuracy in every order, restaurants have taken crucial measures to achieve both demands."
Article continues below advertisement

It continued, "For example, Chic-Fil-A has turned to the capabilities of technology to cut service time. Chic-Fil-A team members take drive-thru orders outside of the restaurant with iPads compatible with the computer system in the kitchen."
Are there some drive-thrus you've noticed that handle consumer traffic better than others? What are some of your favorites for speedy food delivery?