Manager's Angry Text to Employee Asking Them to Work on Day off Gets Blasted Online
A Redditor shared the text messages they received from their manager when they said they could only work for an hour on their day off.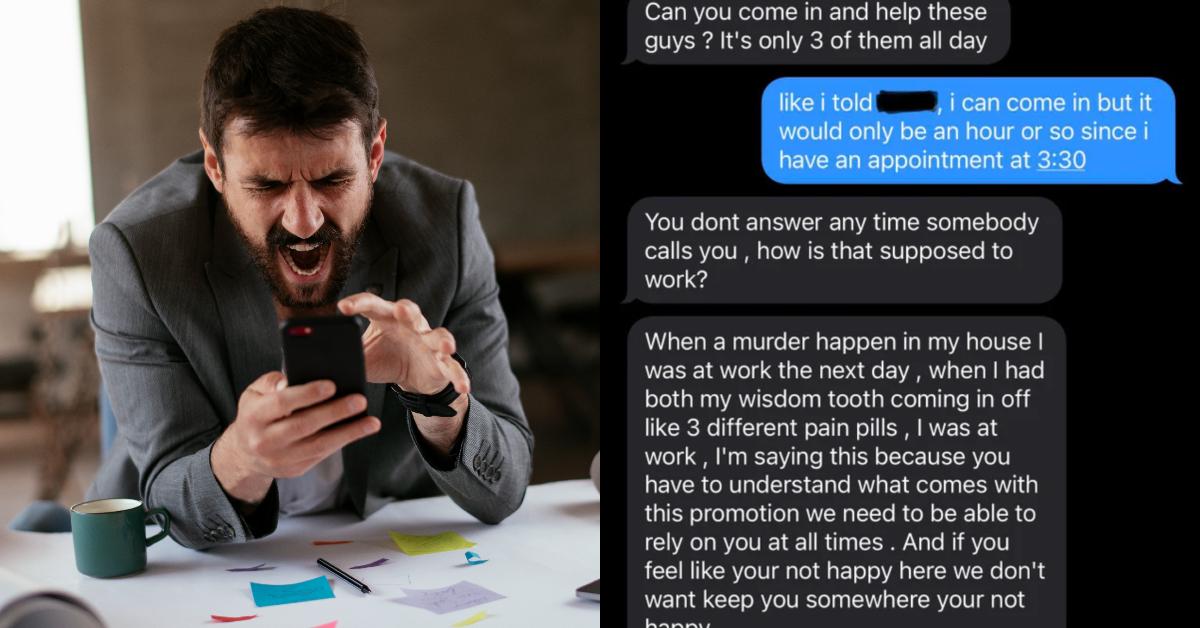 Reddit's popular antiwork sub is filled with anecdotes from folks who have "had it up to here" with arbitrary management/employment policies that almost feel as if they're designed to give employees a hard time.
A lot's been written about US workers becoming "disillusioned" with their jobs which is a huge part of the phenomenon that is being dubbed "The Great Resignation."
Article continues below advertisement
In July of 2022, CNBC reported that 40% of surveyed Americans stated they were planning on quitting their jobs within 3 to 6 months of taking said survey. The census included some 6,924 Americans and 13,000 people globally. For many, it's understandable why their faith in America's current economic structure is waning: the country has hit a 40-year inflation high, which has significantly increased the costs of goods and services nationwide.
That, coupled with gasoline being pricier than its ever been, and the shocking fact that it was easier to purchase a home during the Great Depression than it is as of this writing, and it's not a stretch to sympathize with someone who's constantly clocking into a job that doesn't seem to value its employees enough to pay them wages that they believe are fair.
What appears to make matters worse for Redditor @spicekebabb is a manager's response to not being able to work more hours on their day off.
Article continues below advertisement
OP uploaded a screenshot of a text conversation between them and their boss. The text exchange reads as follows:
Manager: "Can you come in and help these guys? It's only 3 of them all day."
OP: "like i told you [redacted], i can come but it would be only an hour or so since i have an appointment at 3:30."
Article continues below advertisement
OP's manager didn't seem to like that response and wrote:
Manager: "You dont answer any time somebody calls you , how is that supposed to work?"
Their manager continued by writing, "when a murder happen in my house I was at work the next day , when I had both my wisdom tooth coming in off like 3 different pain pills , I was at work..."

Article continues below advertisement
OP's manager went on, 'I'm saying this because you have to understand what comes with this promotion we need to be able to rely on you at all times . And if you feel like your not happy here we don't want keep you somewhere your not happy."

Article continues below advertisement
Redditors largely lampooned the manager's response to OP's rejection of being able to work a full day off, and what appears to be their boss' ire that they wouldn't answer their phone immediately.

Article continues below advertisement
Some remarked that the manager was a "loser" for still showing up to work despite the fact that an individual was murdered in their house. Others said that they probably shouldn't have come into work when they were "on 3 different pain pills" while others mentioned that just because a manager or business has an emergency, doesn't mean that the employees are expected to share in the onus of addressing said emergency.

Article continues below advertisement
"An inability to have a life beyond wage slavery on their part does not constitute an emergency on yours."
@spicekebabb also provided further context on the situation, stating that the only reason he declined the manager's call was because he was driving and his smartphone automatically ended the call.

Article continues below advertisement
"unrelated to my last post. another store's manager texted me asking me to come in because they were short staffed and got upset that i was unavailable on a day of the week i'm always unavailable. also mad my phone auto declined his call because i was driving.
who the f--- comes into work the morning after someone's murdered in their home?"

Article continues below advertisement
A lot of Redditors were also shocked at they ended up going to work after a murder occurred in their home and wondered aloud what emotional collateral damage their family was undergoing as a result.
"Someone needs to tell this fool that there isn't going to be held a parade for them for neglecting themselves and their loved ones over a f------ job. People needed them, especially after whatever murder in their house or whatnot. Where were they?"
They continued: "At work with a bunch of people who doesn't give a s--- about you, slaving away for an owner who only cares about what you can do for them. If that's the owner they are just an a------ expecting people who do not see a return on their efforts as they do to give up their life for them.
Either way, f--- this kind of thinking and f--- whoever espouses it. Unless what you do actually makes the world a better place, I don't want to hear it. Even then you need to look out for yourself, your loved ones and your health."