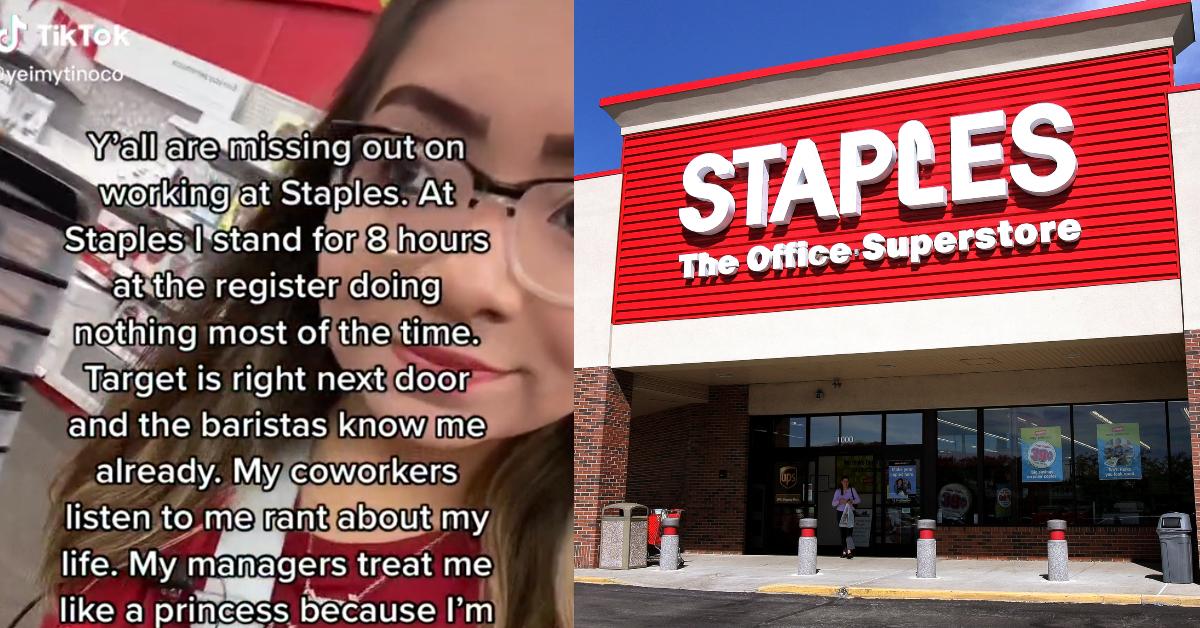 TikToker Says "Princess" Treatment She Receives at Staples Makes It a Great Place to Work
The Great Resignation may have taught a lot of Americans, like Inc. says, that the "grass isn't [necessarily] greener" at another position.
And while this phenomenon of people not being in a rush to get back to work, or leaving jobs that they aren't thrilled about working has apparently pushed many brands to increase the hourly base rate of their employees in order to entice more people to come to work, there are some jobs and positions more alluring to potential workers than others.
Article continues below advertisement
Although CNBC has a list of businesses that are the most desired/best places to work for, missing from that list are companies that are looking to onboard employees in a relatively quick turnaround time, like many popular retailers or places that would be willing to hire/train workers with little to no on-the-job experience.
TikToker Yeimy, who posts under the handle @yeimytinoco posted a now-viral clip urging folks not to overlook Staples, as she says she loves working for the retailer.
Article continues below advertisement
Yeimy writes in a text overlay: "Y'all are missing out on working at Staples. At Staples I stand for 8 hours at the register doing nothing most of the time. Target is right next door and the baristas know me already."
Article continues below advertisement

She continued, "My coworkers listen to me about my life. My managers treat me like a princess because I'm the youngest one."
In the video, she records herself walking through a Staples location while in uniform, the camera then cuts to a view of the store's interior as she continues to walk past shelves lined with what appears to be printers and other office supply products.
Article continues below advertisement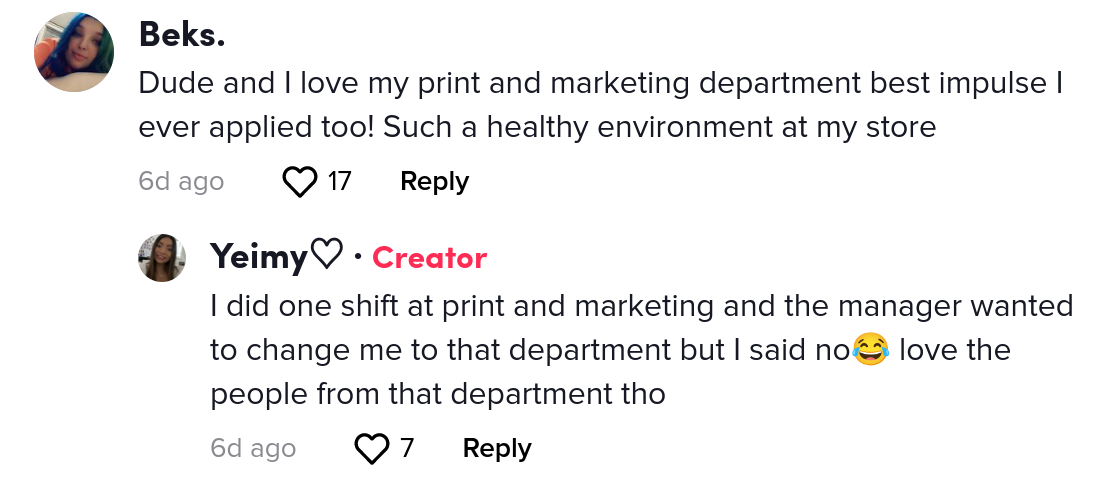 According to Indeed.com's employee satisfaction rankings, Staples clocks in at 3.4 out of 5 stars across 13,945 total reviews.
One user who gave the company 3/5 stars wrote: "For copy and print department not paid enough for what you have to do. Expect you to know things fast, don't want you to ask the managers for help. Very stressful department."
Article continues below advertisement

An August 7, 2022 review from a former cashier based out of Indianapolis, Ind., wrote, "Very well managed, very good training, with very supportive managers and employees. All around 8/10 fast-paced job for someone new in the job world."
Article continues below advertisement

A current Michigan employee who gave the company a 5-star rating wrote: "Wonderful people, Management is decent*, need to be good at multitasking, We get nice bonuses and have interesting customers. Not great pay for what we do but the experience is nice to have and you will learn a lot behind the Print desk. If you're looking for a printing/retail job fresh out of college, I highly recommend."
Article continues below advertisement

Staples locations are corporate, not franchise owned. In 2017, Sycamore Partners, the same company that owns Talbots, Hot Topic, and The Limited, acquired the brand for $6.9 Billion.
Article continues below advertisement

According to Indeed.com, the average staples Cashier's hourly rate varies from state to state, in New Jersey, folks can expect to earn around $15.07 an hour, which is reportedly 33% higher than that of the national average.
Article continues below advertisement

TikTokers who say Yeimy's post had differing opinions on her Staples love. Some people agreed that it was a great place to work, citing its laid-back atmosphere as a great incentive for prospective employees to consider. Others remarked that the pay and benefits at the store could be improved.
Article continues below advertisement

And then there were those who said that they didn't have the best experience with their managers/supervisors while working there. Judging from the comments section though, it seemed like the only time of the year that the store isn't a "chill" place to work is when the brand launches its back-to-school sales.
Article continues below advertisement

Have you ever worked at Staples or know someone who has? What was your/their experience like being employed by the brand?