Cat Steals So Many Shoes That His Owner Created a Facebook Page to Return Them
Jordan the cat loves stealing people's shoes, and his owner can't stop him. He has created a Facebook page to return the shoes Jordan steals, however.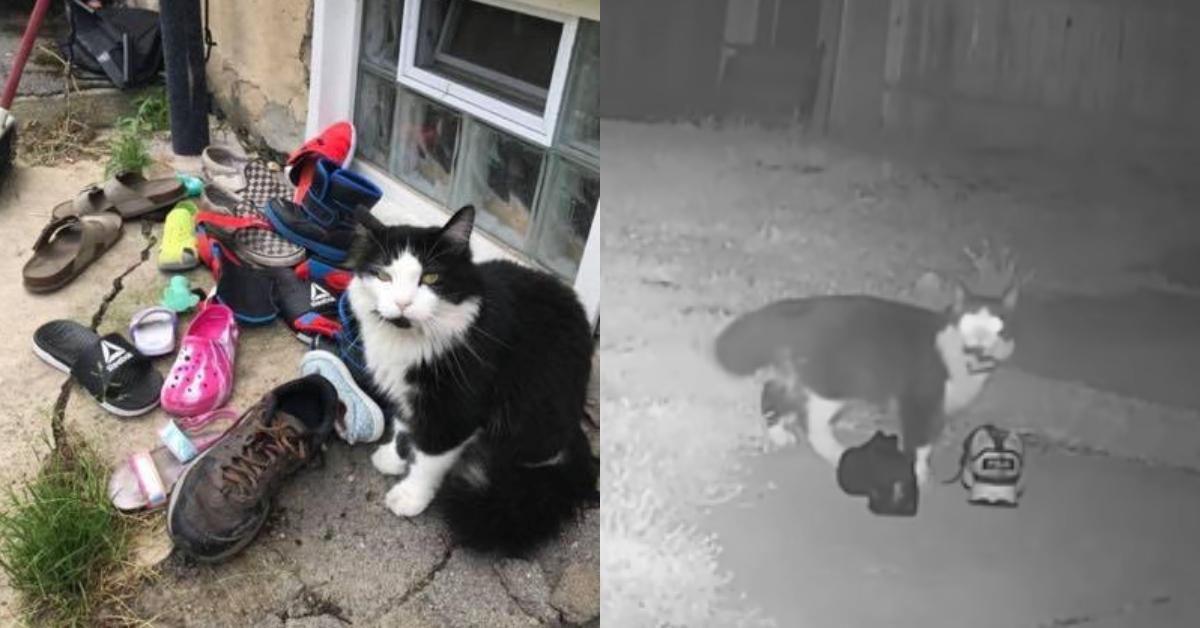 Some cats chase mice. Others go after birds. But Jordan the cat (who has a perfect name because human names for animals are hilarious) has a different victim. Shoes. He loves them. He takes them, no matter whose they are. And he makes them his own.
Article continues below advertisement
In fact, Jordan has stolen so many shoes that his owner had to create a Facebook page, called Jordan the Feline Cat Burglar, in order to post pictures of the shoes Jordan pilfers to find their rightful owners.
Article continues below advertisement
Jordan may look like a normal, adorable cat, but he's really a sneaky shoe thief. Jordan is a wanderer. He walks miles and miles all around town looking for his precious loot before taking his haul back home to the house of BJ Ross and her family.
In an interview with WTAJ, BJ says that they started to notice that Jordan would bring home shoes when he returned to their house. Eventually, it became clear that these were probably shoes that actually belonged to people in the area. So, she set up the Facebook page so people could claim their suddenly missing shoes.
Article continues below advertisement
"In the morning I would find three or four shoes," BJ said. "Well, now we started keeping them because they obviously belong to somebody." Two months after BJ started collecting the shoes that Jordan brought home, they have over 50 shoes. Jordan is not messing around.
Article continues below advertisement
Once BJ realized what Jordan was doing when he went out every night, she put a GPS tracker on his collar and set up a camera outside their door. And sure enough, she saw that Jordan traveled far and wide around the entire neighborhood to search for and pick up his loot before bringing it back to home base.
Article continues below advertisement
"Some nights he'll walk seven to eight miles, some nights three to four. But in three days, he has walked about 26 miles," BJ said of Jordan's trips. And as for that camera in the backyard, it has captured Jordan bring home boots and shoes several times now. He carries them in his mouth while he hops over the fence.
"He's carrying the shoe, dropping it, and then he kind of looks around like, 'Did anyone see me?' and I don't know he wants recognition or if he's just trying to be sneaky," BJ said. Something tells me Jordan is very proud of his shoe haul.
Article continues below advertisement
Jordan has become somewhat of a celebrity for his crimes. He's the Bonnie and/or Clyde of the cat world. Nearly 14,000 have joined the Facebook page to get updates about the items Jordan steals from his neighbors in the middle of the night. People love him.
Article continues below advertisement
And it seems like Jordan is branching out. Most recently, he brought home what looks like a very nice Timberland work boot and a neon green workman's glove. The next night, be brought home the other glove in the pair. He's clearly getting bolder with his crimes.
One commenter wrote, "Jordan seems to be saying, 'Y'all catching on to my shoe habit... I need to change up the routine tonight." He's one smart and devious and frankly adorable thieving cat.