Man Thinks His Cat Jumps Into His Hammock to Cuddle...But It's Definitely Not a Cat
Aaron Reynolds explains how he realized the gray lump in this hammock was not his cat but a raccoon...and what he did next.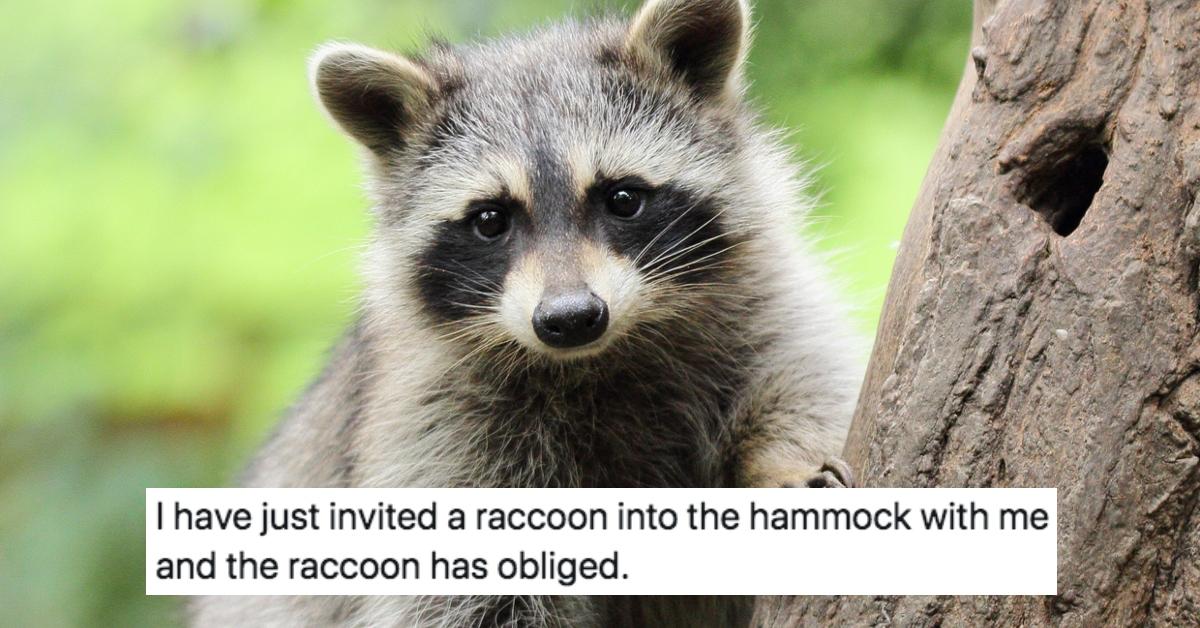 This is a cautionary tale. If you are going to spend your evenings outside, and especially if you have bad eyesight, you should make sure that the creature you're coaxing up into your hammock to cuddle with you is actually your pet. Because if it's not... Well, at least you get a viral Twitter thread out of it, like Aaron Reynolds did.
Article continues below advertisement
Aaron explains that he's started a lovely new ritual. He leaves all other technology inside and takes his walkman out to his hammock in the backyard to relax and listen to an album from start to finish. Honestly, this sounds like a dream.
The only thing that could possibly make it better would be if you had a pet to curl up in the hammock with you to cuddle. Aaron's been trying to get his cat to come with him up in the hammock with him. And on this particular, it seemed like his cat was into the idea!
Article continues below advertisement
The cat climbed up into the hammock! Or, that's what he thought. Apparently, the cat didn't climb up in "a very cat-like way." What does that mean? What else could be gray and cuddly and in his backyard? What else could Aaron have possibly mistaken for his cat?
A raccoon. He let a raccoon into the hammock with him. Ahhhh! What do you do when you've invited a raccoon into your hammock, the raccoon says, "Sure!" and then you realize it's a raccoon.
Article continues below advertisement
As cute as raccoons are, they are wild animals. They're unpredictable, not to mention, potentially riddled with disease. Aaron has to do something. But what? He's on a hammock. Hammocks are hard enough to get out of gracefully, let alone when you're trying to escape a bold raccoon.
As he starts to take his weight off the hammock with his feet on either side, the raccoon starts to slide down the hammock toward him. Specifically toward his crotch. This is terrifying.
Article continues below advertisement
At this point, Aaron can't help but laugh. The situation is ridiculous. But the raccoon doesn't like the laughter! He gets scared and tries to climb back to his end of the hammock, but now it just looks like Aaron is straddling this wild animal in his backyard. Not great. It's clear at this point that neither Aaron nor the raccoon want to be in this position.
At this point, Aaron really had no choice. He had to get off of that hammock and away from that raccoon. He ended up falling on the ground (which, who doesn't when they're trying to get off a hammock?). But the raccoon? The raccoon stayed on the hammock. That hammock now belongs to him.
Article continues below advertisement
Maybe that raccoon didn't climb up on the hammock to cuddle with Aaron. Maybe he climbed up there to fight him for it. Either way, the raccoon won.
This isn't the first run-in Aaron has had with wildlife posing as his cat when he couldn't see very well. (I know.) In a follow-up tweet, he recounts an insane incident: "I came home from an eye exam and they put in the drops where you can't see for a few hours and I thought I was letting in the cat but I let in a groundhog who ate all the cat food and wouldn't leave. He came back to the door every day for a week and I never told my wife why."
Aaron. Friend. It might be time to stop trying to identify animals when you can't see them. Maybe start with the assumption that it's a wild animal, and then, really make sure it's the cat before you let it in your house or onto your hammock with you.