15 Very Good Dogs Who Are Protesting for Black Lives Matter
OK, so maybe it was their owners who wrote their signs, but you can tell they really believe in the cause.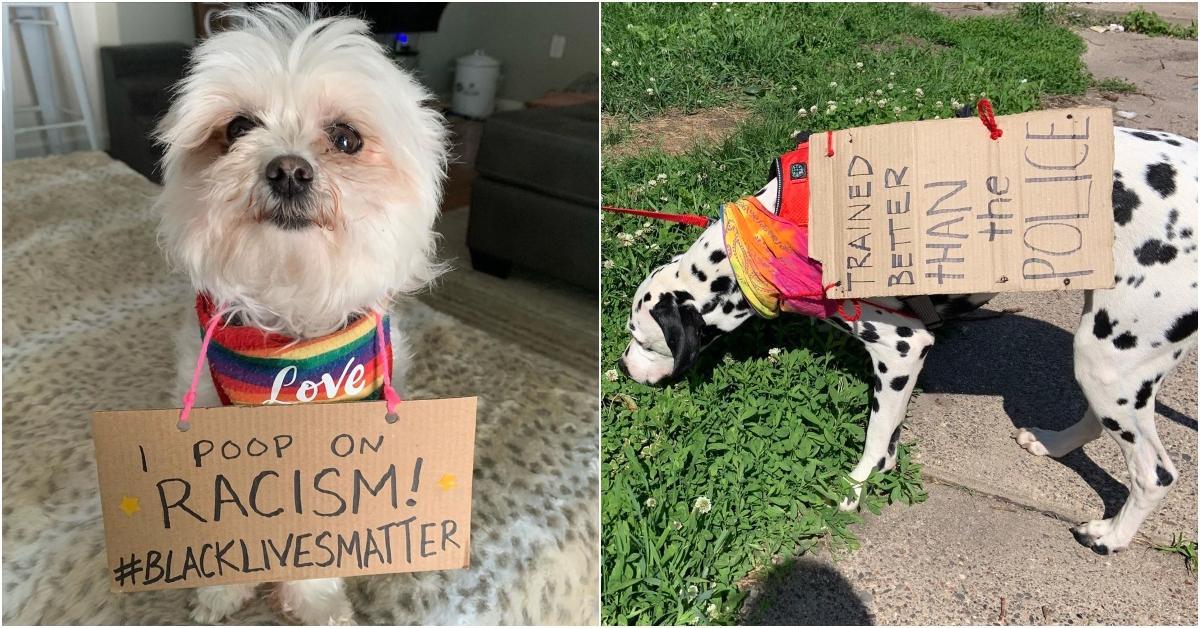 We can and should be taking the work of protesters and the Black Lives Matter movement seriously. Especially if you're white, now is the time to not let up, to keep examining your biases, to continue to do the work to become antiracist and fight for the rights of those who experience racism every day. That being said, it's important to take a minute for joy. And dogs are the most joyful creatures in the world.
Some pups (most likely with help from their owners) are hitting the streets and protesting for Black Lives Matter. And you deserve to see pictures of the cutest ones. So, without further ado...
Article continues below advertisement
Look, really look, into this dog's eyes. You can feel his soul, and you can understand that he really believes the sign he's holding. He's ready to fight for what's right.
She might still be a puppy, but you've got to start the antiracism education while they're young! "Sit. Stay. Stand against racism. Good girl!"
Article continues below advertisement
This pup is out there representing for his kind, and he takes that job very seriously, as you can probably tell. He recognizes the power of this moment.
This adorable family of dogs is driving around to show their support. Well, their owner is driving around. They're in the back seat. But you can tell they're still in charge.
Article continues below advertisement
Police violence is out of control, disproportionately used against Black people, and even this dog knows that it's beyond time for it to stop. At this point, any being who denies the problem is willfully ignorant.
I have to say that I love everything about this but I specifically cannot get over the proportions of this dog's body. His head... It's so big. How does he hold it up?
Article continues below advertisement
Leave it to this pup to know exactly when someone behind her is taking a picture of her. She's got to get that pose in, but she also wants to make sure you can still read her shirt because that's where the important message is.
This dog doesn't have opposable thumbs, so there's not a lot he can do to make sure the cops who killed Breonna Taylor while she was sleeping are brought to justice. Luckily, you do have opposable thumbs, so you can visit this website to sign the petition, make calls, send emails, and do the work this pup cannot.
Article continues below advertisement
This dog may be adorable, but that doesn't mean he's not aware that the police are needlessly militarized in this country. Police forces don't need assault weapons and tanks and riot gear. This only serves to foster a harmful idea that police violence is ever justified.
The police are responsible for responding to way too many types of situations in the United States, many of which they do not receive adequate training for. If we defund the police, the billions and billions of dollars that are spent on police departments every year could be used to bolster community services and allow for individuals trained in specific areas, like mental health, to respond to emergency calls instead of untrained police officers.
Article continues below advertisement
These two pups are not playing games, and they don't have patience for the haters out there. If you don't stand with Black Lives Matters, you can't be friends with them, and who doesn't want to be friends with a dog who wears goggles?
One of the best ways for dogs to speak out against racism is to poop on it. They can't make calls. They can't email. They can't donate (most of them don't have jobs.) But oh boy, can they poop.
Article continues below advertisement
Bully breeds (like pit bulls and bulldogs) don't think the police should be able to take advice from their name. Bully Police are not OK!
This pup is smiling because he knows he's on the right side of history. It's beyond time to make sweeping changing to our institutions to root out racism.
As Hazel's owner so succinctly puts it in their Instagram caption, "All dogs are good dogs. All cops are bad cops. Thanks for coming to Hazel's TED Talk."