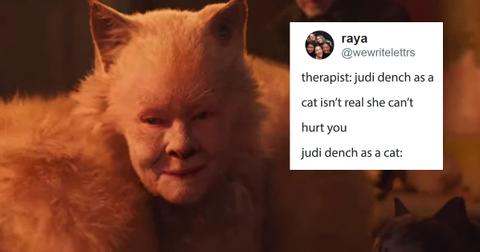 People Got a First Look at the 'Cats' Movie and They Have Strong Opinions
By Mark Pygas
Cats is one of of the most popular musicals in the world, first premiering 38 years ago. And after being translated into 15 different languages, it was probably only a matter of time before the musical got a live action remake.
But on Thursday evening we received our first looks at the Cats movie in the form of a trailer posted to social media. You can check it out for yourself below.
Unsurprisingly, the interesting choice in costume design has led to some mixed opinions. I mean, just look at what they've done to Dame Judi Dench...
The memes make themselves.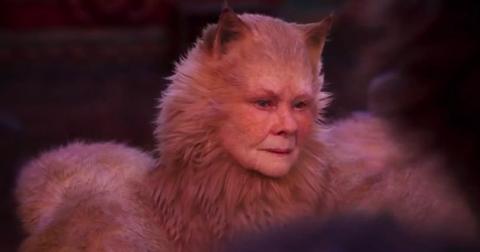 One Twitter user wasn't very kind in his assessment of the trailer, writing: "I don't know why you're all freaking out over miniature yet huge cats with human celebrity faces and sexy breasts performing a demented dream ballet for kids."
Others users were freaked out by the size of the cats, which seem to be a lot smaller than actual cats.
One Twitter user imagined what other actors might look like if they made it into the movie.
Other Twitter users seem to think that this is the stuff of nightmares, writing:
"therapist: judi dench as a cat isn't real she can't hurt you
judi dench as a cat:"
And yes, this is how theatre looks to people who don't watch theatre, as this user suggested.
This is really the stuff of nightmares.
While one Twitter user noticed that James Corden's character looks a lot like Cat in the Hat.
Is Taylor Swift in the Cats movie?
Taylor Swift plays Bombalurina in the Cats movie, and we got are first look at her as the character in the trailer. In the musical, Bombalurina is a flirtatious and confident female Jellicle cat with a distinct red coat. According to IMDB, Taylor Swift will perform in at least five of the musical's iconic songs.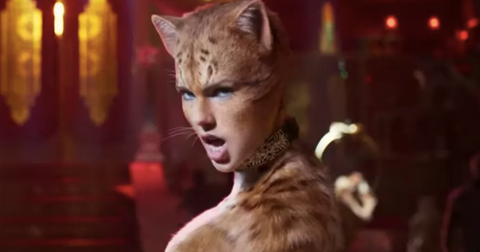 Will the Cats movie be released in 2019?
Cats the movie is currently set to be released in theatres on the 20 December, 2019. The star-studded cast including Taylor Swift, Jennifer Hudson and Idris Elba.