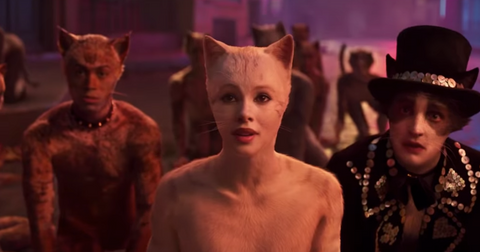 Before You See 'Cats' in Theaters, Here's the Rundown of Its Complicated Plot [SPOILERS]
By Jacqueline Gualtieri

Updated
Let's face it: the new Cats musical will either be a massive flop thanks to rather terrifying and unsettling CGI or it'll be the breakaway hit of the season. While we're all still a little confused about the movie's feline design (are they human-sized? Cat sized? What's up with the human parts or lack thereof?) we're also more than a little confused about what the movie is even about.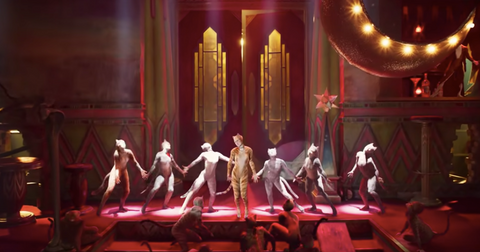 Cats is based on a T.S. Eliot poetry collection.
In 1939, T.S. Eliot published his collection, Old Possum's Book of Practical Cats. In 1981, Andrew Lloyd Webber used the poems as inspiration for his musical Cats. Most of the songs in the musical are inspired by individual poems from the collection, except for the iconic "Memory" which is based on another of his poems, "Rhapsody on a Windy Night".
The book is a good place to start when trying to understand the plot of the show and it may also explain why some believe that there's no set plot, as the story follows the poems. But what Andrew did was take the basis of the poems for this music and fill in the plot around it.
The musical follows a tribe of cats looking for a better life.
One of the poems that the musical is based on is "The Song of the Jellicles." The Jellicles are a big part of what the show is about. We follow a tribe of Jellicle cats who come together once a year under the Jellicle moon to pick which cat will be reborn to a new life and ascend to the Heaviside Layer.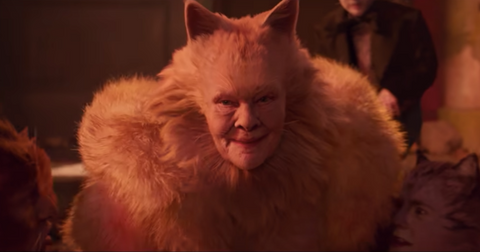 Throughout the show, we meet different cats who are all competing to be reborn. They tell their stories through music numbers and performances as they try to convince Old Deuteronomy (Judi Dench), who is in charge of all of the cats, that they are the one that deserves to be born into a better life. 
Throughout the musical, most of the cats are invited to the Jellicle ball, but one cat, Grizabella (Jennifer Hudson), is shunned for her age and her appearance. She attempts to join the dance but she's sent away. When she makes her pitch for rebirth, singing about her past, no one is there to hear her. At last, she makes one last plea, in the form of "Memory", and she is finally embraced.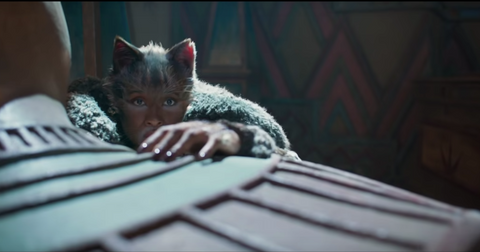 It is decided by Old Deuteronomy, as well as all of the other cats, that Grizabella is the one that is most deserving of ascending to the Heaviside Layer. It's a story of understanding that, no matter what someone looks like, no matter how different they may appear, they are deserving of love and kindness. A universal concept, just told in the rather strange form of humanoid cats.
Cats is in theaters December 20.