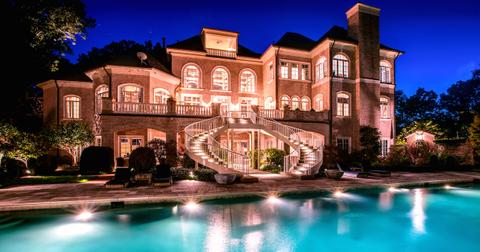 Here Are Some Next-Level Celebrity Homes for a Little Design Inspo
By Lizzy Rosenberg

Updated
Everyone wishes they could live large like a celebrity, and now, you can — TopTenRealEstateDeals.com has done us all a massive favor by rounding up some of the top celebrity homes for sale right now.
If you want to wake up feeling famous every day, these celebrity homes are for sale.
And although you may not be able to shell out for one of these babies at this moment in time, feel free to set aside for future design inspo — it'll be our little secret.
1. Brad and Jen's Former Estate — $44.5 Million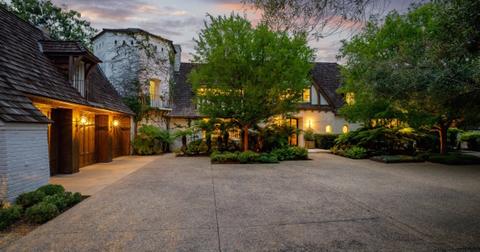 The former power couple bought a massive Beverly Hills mansion in 2001 after getting married in Malibu, and added a tennis court and guest house before separating. The house sold in 2006 to a hedge fund executive who is just now putting it back on the market.
2. Pharrell's Dream House — $16.95 Million
Pharrell Williams' Beverly Hills-area mansion is currently on sale for $16.95 million and guaranteed to make anyone "happy." The house predominantly consists of glass, it's super contemporary, and boasts 10 bedrooms, over 17,000 square feet and gorgeous city views, per Top Ten Real Estate Deal.
3. Loris Loughlin and Mossimo Giannulli's Bel Air Estate — $28 Million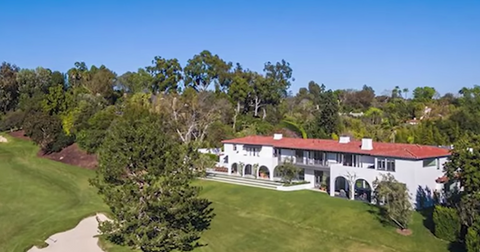 Amidst her massive USC lawsuit, Lori and her husband, Mossimo, have put their giant Bel Air estate on the market. Apparently, it's 12,000-square-feet, has six bedrooms, and nine whopping bathrooms. If you can shell out just under 30 million, why not?
4. Rosie O'Donnell's N.J. Palace — $6.375 Million
Rosie O'Donnell's six-bedroom abode in Saddle River, New Jersey has been on the market a few times now, according to Top Ten Real Estate Deal, but now it's on sale again for $6 million, a little less than what she originally tried to sell it for. It's a bargain!
5. Kelly Clarkson's Tennessee Lake House — $7.49 Million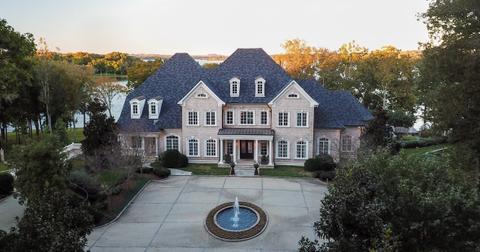 Ten years after winning American Idol in 2012, Kelly bought a gorgeous lake house in Hendersonville, Tenn., just 25 miles north of Nashville. It's currently on sale, though, if you want to "Breakaway" for the holidays and spend some time on the water.
6. JFK's Georgetown Abode — $4.6 Million
JFK lived at his 1800s era home from 1949 to 1951 when he was a U.S. congressional representative, according to Top Ten Real Estate Deal, and rumor has it he first met Jackie O at a nearby dinner party when he was living there. Now it's on sale for $4.6 million.
7. Cheryl Tiegs' Balinese-Style Abode — $18.5 Million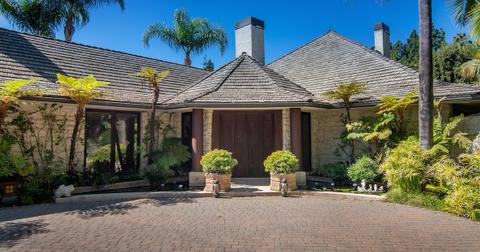 Deemed "America's first baby-boomer supermodel," Cheryl is famous for her extensive modeling career. With all of her modeling money, the now 72-year-old blonde bought — and is now selling — a unique Balinese-style home in Bel Air. Seriously, it's up for grabs to anyone who can shell out just under $20 million.
8. Joe Pesci's New Jersey Mansion — $6.5 Million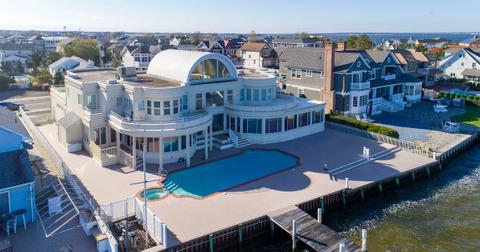 Between My Cousin Vinny and Home Alone, it comes as no surprise award-winning actor, Joe Pesci, has a gigantic mansion. His modern waterfront castle on the Jersey Shore is now on sale, though as he's looking to relocate to sunny California full-time.
9. Suzanne Somers' Palm Springs Hideaway — $9.5 Million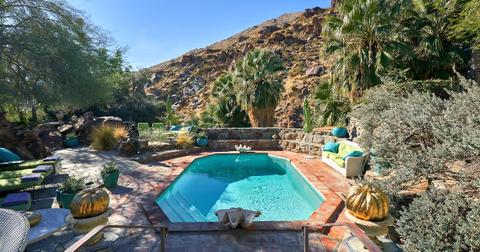 Suzanne has been living her romantic dream life in a hilly hideaway above Palm Springs with her husband, Alan Hamel, for the last 40 years. The two are still together (forever) but recently decided to put their home on the market for just under $10 million.
10. Adam Lambert's Hollywood Hills Home — $3.35 Million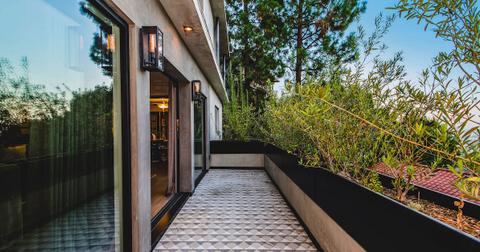 From American Idol to being Queen's new frontman, Adam Lambert is doing the most. With his massive earnings, Adam bought a mansion overlooking the famous Sunset Strip in Los Angeles back in 2009. Now it's on sale, though, so start saving that cash.
11. Meghan Markle's Colonial-Style House — $1.75 Million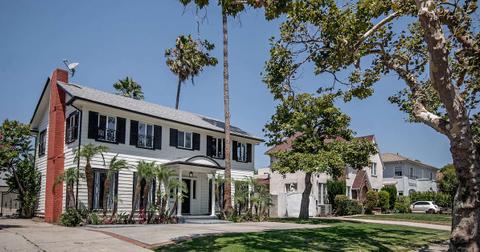 Back when Meghan was married to Trevor Engelson ages ago, they rented an adorable Colonial-style home in Los Angeles' Hancock Park. Live like a princess and buy it before someone else does.
12. Oprah's Jeff Bridges Home (NOT FOR SALE)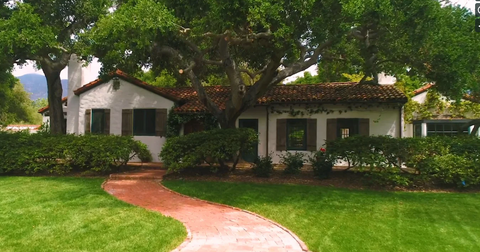 Oprah bought one of her six homes from none other than her former neighbor, Jeff Bridges, about five years ago. It lies within the Montecito neighborhood in sunny Santa Barbara, sitting on lush greenery with top-notch mountain views.
13. Alicia Keys' Razor House (NOT FOR SALE)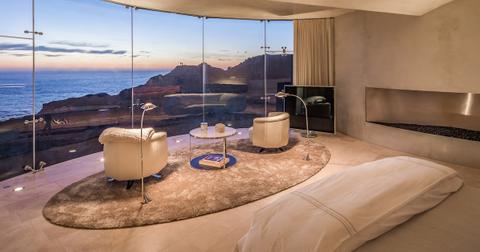 Earlier this year, Alicia bought her contemporary-style home in La Jolla, Calif. for $20.8 million. It has gorgeous Pacific Ocean views, and the home itself was designed by none other than Wallace E. Cunningham.
Wishing you could trade in your tiny New York City apartment for one of these babies right now? Don't worry, you aren't alone — I totally have my eye on Brad and Jen's old spot. Buying one of these is totally within my five-year plan.