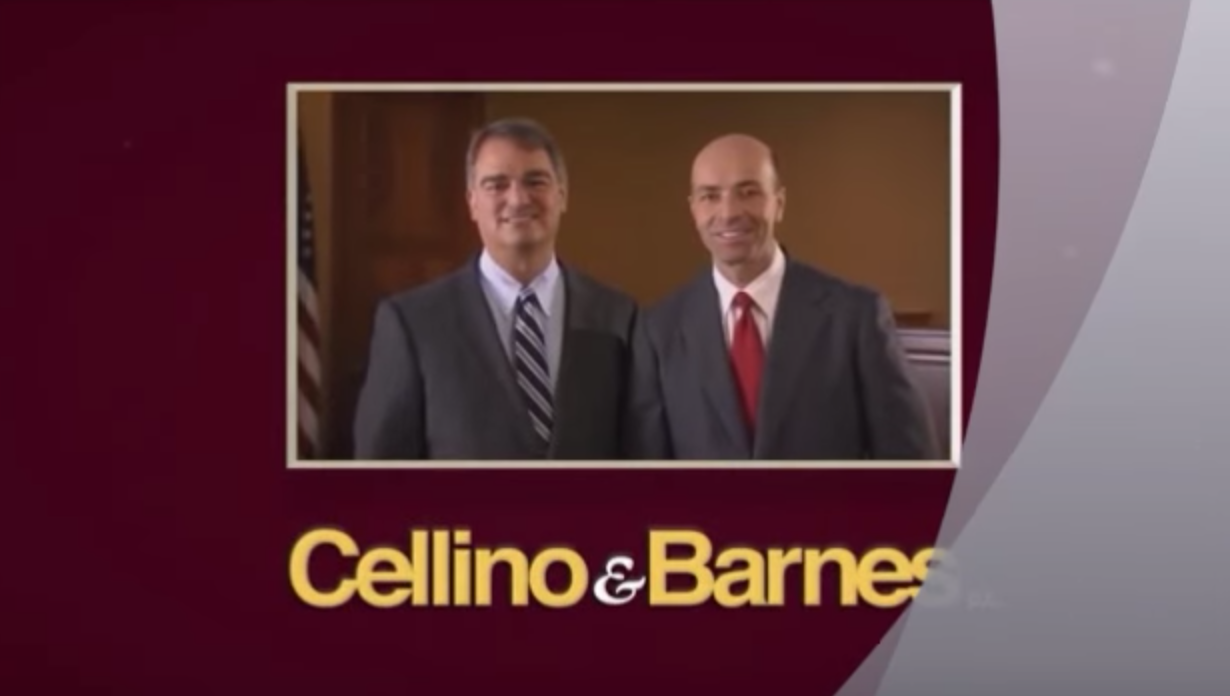 Remember the 888-8888 Jingle? Here's What Happened to Lawyers Cellino and Barnes
If you've heard the famous Cellino & Barnes jingle ("800-888-8888! Don't wait, call 8!"), chances are, you'd probably also heard about the famous feud between the two lawyers. Especially if you live in New York or California (which is where the personal injury lawyers had their offices). Ross Cellino and Stephen Barnes called their partnership quits back in May 2017 (and the battle became more and more dramatic), but that doesn't stop us from wondering whatever happened to these two and why they decided to start suing each other.
Article continues below advertisement
What happened between Cellino and Barnes?
May 10, 2017 was the day Cellino officially sued Barnes, his business partner. The two had been doing business together for 25 years, so it came as a shock to the community. The very next day, their firm posted a statement basically saying business will be conducted as usual as the the two lawyers figure things out. "As the administrative issues in question are addressed, we can confidently state that the firm intends to sustain its positive growth track and the substantial momentum we have achieved in recent years," the press release stated.
Article continues below advertisement
It continued with, "Mr. Barnes and the firm plan to aggressively oppose the dissolution papers filed by Mr. Cellino; however, we reiterate that regardless of outcome, the firm will continue to do business in many markets we serve."
Article continues below advertisement
A month later, Cellino and Barnes jingle fans learn that the partnership had been a turbulent one for quite awhile. The injury attorneys had trouble agreeing about...pretty much everything. Gothamist states that Cellino and Barnes fought over "managing the business, employees' compensation, which clients they take on, expansion, how to practice the law, and 'marketing.'" It's unclear why they fought about any of those things, but marketing? Their jingle was ICONIC.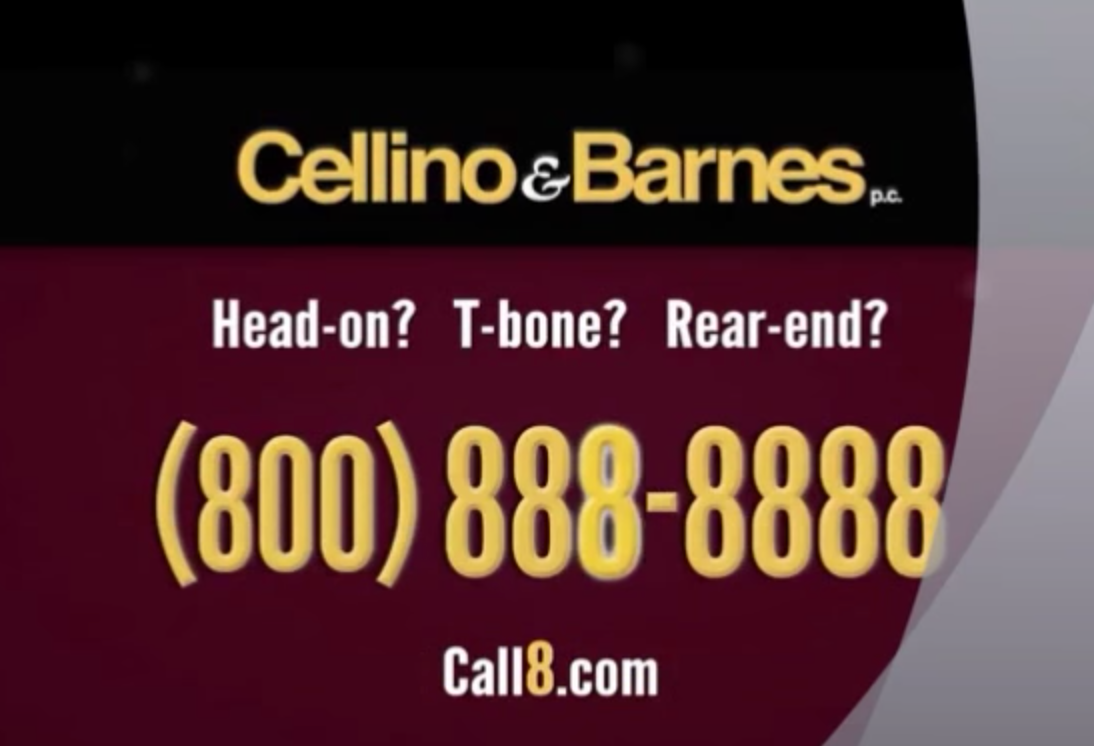 Article continues below advertisement
Another major topic the two fought over? Barnes didn't let Cellino hire his daughter even though "Barnes's girlfriend and brother both work at the firm." This intel comes from a petition which Cellino's attorneys in State Supreme Court filed.
The Cellino and Barnes fight eventually escalated to a restraining order.
Things got very real when, in July 2017, Barnes requested a restraining order against Cellino. Why? He stated that Cellino tried to "poach" and "pirate" lawyers from the firm. Barnes also alleged that Cellino was "engaging in a pattern of conduct which has caused and continues to cause catastrophic damage to C&B, its reputation, and its brand." Apparently, Cellino was telling employees that it was better for their careers if they worked for a firm called simply "Cellino," since "Barnes" wasn't as catchy of a name.
Article continues below advertisement
"Another statement that Ross made to the attorneys and employees during his pitch was that the 'Cellino' name was 'better' than the 'Barnes' name — analogizing our firm to Harley-Davidson and telling people 'no one ever calls their motorcycle a Davidson,' " Barnes apparently wrote in court papers. Rude!
Article continues below advertisement
Another issue that Barnes brought up was that, due to Cellino's behavior, upset clients were calling the firm and fretting over how their ongoing cases would be treated. On top of this, Cellino apparently attempted to stop the firm from wiring or transferring funds, which would mean employees wouldn't be able to get paid.
Cellino tried stopping Barnes from using the famous jingle.
In August 2017, Cellino tried to legally prevent Barnes from using the Cellino and Barnes jingle for Barnes's California business. Barnes apparently owned three offices in the state of California (in Los Angeles, San Diego, and Oakland). According to one of Barnes' attorneys, "There was a legal action to that effect filed by Mr. Cellino in the Delaware courts, and we are in the process of responding to it. We feel the legal action he filed in Delaware is baseless."
Article continues below advertisement
Cellino stated that Barnes used funds from the partnership's joint firm to "benefit his California offices without telling Cellino." Apparently, the California firm didn't reimburse the original Cellino & Barnes firm for using the (800) 888-8888 phone number and jingle.
Article continues below advertisement
The Cellino & Barnes offices in California finally change names.
The lawyers finally made their split a bit more official (and permanent). In October 2017, Cellino was able to get Barnes from using the original firm's name as well as the 888-8888 number. The Cellino & Barnes firm simply became The Barnes Firm (and the number became 800-800-0000, which is arguably even cooler), but we'll get to that in a sec! The Barnes Firm still exists (it hasn't grown outside of those three cities), and you can hire an attorney for your personal injuries today!
Article continues below advertisement
As for Cellino? He stayed in New York, as he no longer was a stockholder in the California offices. "It would have been unethical for them to continue using my name. I wish Steve well in California. I am happy to stay in Buffalo, Rochester and in the New York City area," Cellino stated.
Cellino said he wanted to burn Barnes's offices to the ground.
Plot twist, much? In November 2017, Cellino stated, "I don't give a f*ck, I will burn the place to the ground and start over with one lawyer. I have the resources. F*ck it, f*ck Steve and f*ck [COO] Daryl. Let all these f*cking lawyers spend the next 20 years with Steve." This is after someone sent a package of mystery powder to Cellino & Barnes in Buffalo (could it have been Barnes?!). Nothing was actually wrong with the package, and it was unclear who sent it.
Article continues below advertisement
Years later, Barnes sued Cellino this time.
In June 2019, a local news station reported that Barnes was now suing Cellino. According to Barnes, Cellino's new law firm, Cellino & Cellino (Cellino's wife and their two daughters ran it) was too close to Cellino & Barnes and its likeness is an obvious attempt at leveraging the original firm's authority and brand identity. Barnes even took issue with the new Cellino & Cellino phone number (888-2020) because it's a mashup of the Cellino and Barnes current and former numbers.
Annmarie Cellino (Cellino's wife) and their daughters responded with an official statement:
"We are aware of the lawsuit that was filed by my father's partner, Steve Barnes' against our firm Cellino & Cellino LLP.
We are confident the lawsuit has no merit. The claims are a desperate attempt by Steve Barnes to unreasonably interfere with our representation of our clients and our right to practice law.
In essence, Steve Barnes is attempting to bully my mother, my sister, and me from practicing under our own name notwithstanding the ethical rules which require attorneys in New York State to use their name.
We are one of the few all female firms in Western New York, and we are proud and excited to continue to grow this new law practice. We will let the Court and our attorneys handle this frivolous lawsuit and are going to strictly focus on the people we represent and growing our business."
Article continues below advertisement
Finally, in January 2020, the Cellino and Barnes divorce became official.
What an emotional rollercoaster! In an affidavit filed January 3, 2020, Cellino states, "Barnes now accepts the reality of this situation and...will consent to a dissolution of Cellino & Barnes P.C." The two are now officially free to open up their very own law firms, free of each other once and for all.
Article continues below advertisement
"In light of respondent Barnes' capitulation, and ongoing negotiations between us regarding issues involves in the windup process, respondent Barnes and I are each making plans to be prepared in the very near future — i.e. within the next 30 days — to open our own separate law firms," he continued.
In a local news report published January 22, 2020, we learned that Cellino and Barnes have finally decided on their new firm names. Cellino's is now Cellino Law, and Barnes' is the Barnes Firm. But the drama isn't over, because...
Article continues below advertisement
Barnes' girlfriend then brought a lawsuit against Cellino.
Article continues below advertisement
In October of 2020, Steve Barnes died in a plane crash.
Things then took a tragic turn. In October of 2020, Barnes was piloting a small plane on his way to his mother's birthday party when it crashed. Barnes died in the crash, as did his niece, Elizabeth D. Barnes.
Cellino made a public statement following the crash, calling Barnes a "fearless advocate for his clients" and saying that his death was "a significant loss for the legal community." He was a bit more emotional in an interview with The Buffalo News that took place a few days after Barnes' death.
Article continues below advertisement
"It's funny how all the crap that Steve and I went through over the past three years – all the posturing, arguing and insults – just disappeared from my mind when his plane crashed," he said. "We argued very aggressively against each other in court, that's what lawyers do. But now that he's gone, all I can think about is the good times, all the milestones I passed with Steve."
"Despite everything that happened over the past three years, I always have considered him a friend, almost like a brother. I respected Steve Barnes. He was a great lawyer. He was my friend and partner for 25 years, someone I spoke to almost every day. We built something together, we analyzed and tried cases together, we helped our clients. I'm very proud of what Steve and I accomplished."
Article continues below advertisement
Today, Cellino still practices law (his firm is called Cellino Law and it does not have a catchy phone number). The Barnes Firm is also still taking cases — Steve's brother Rich is the Barnes at the helm these days. Despite the ultimately tragic end to the Cellino and Barnes feud, at least that original jingle will live on in the memories of people for years to come.