Mom Shares Pictures of What Happens to a Child When They Swallow a Battery
The frightening photos show the burns that can occur inside human tissue should a child swallow the shiny, small objects.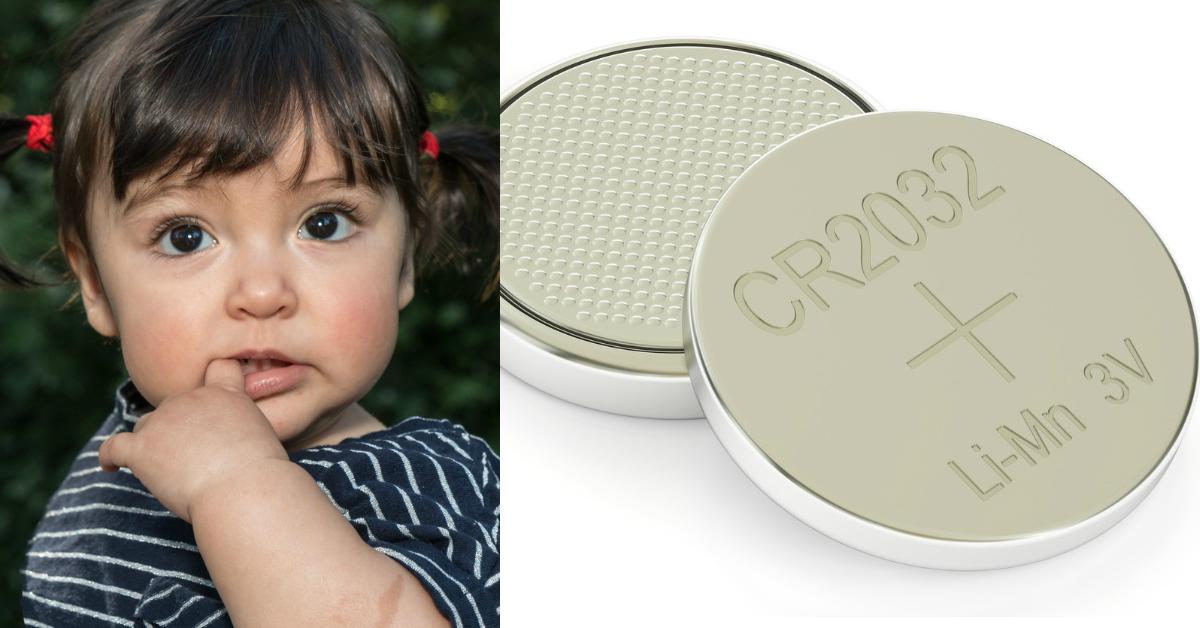 A mother shared some scary pictures of what could happen to your child if they swallow a coin-sized battery when you're not looking.
Anyone with babies or toddlers knows the struggle of stopping them from putting every single darn thing into their mouths.
Whether they're picking food off of the floor, chewing on toys, or just licking the grossest of surfaces — yes, I'm talking toilet seats — the struggle of keeping them from killing themselves is real.
Article continues below advertisement
And while it is nasty when they start putting their lips and mouths on random windows or bathroom countertops, the scariest is when they pick up tiny, inedible objects and start ramming them down their throats like they've got some kind of death wish.
Seriously, it feels like a constant battle against natural selection when you're chasing your child down to pry something from their fingers or gums. Then they have the gall to cry like you wronged them in some type of way. Unbelievable.
Of all the horrifying items a kid could potentially swallow, however, small, shiny button cell batteries are probably some of the scariest and for good reason.
For starters, they're ubiquitous. Tons of small devices in our homes pack these little power cells. Then there's the fact that they're shiny. I haven't been a baby for a long time, but I'd imagine if I was prone to swallowing things I shouldn't, these would be at the top of my list.
Article continues below advertisement
It's one thing if a kid swallows a bead that they manage to pass down their esophagus and into their digestive tract. They'd probably just poop it out and that'd be the end of it.
But when they swallow a battery, well, sadly, it's not as simple as that. As you probably know, batteries are highly corrosive, and putting them in a stomach full of digestive acids is bad, bad news.
Article continues below advertisement
Sarah Hunstead is a concerned mother and founder of CPR Kids, a Facebook group dedicated to protecting children from choking hazards and other common dangers. She posted some gnarly photographs of what would happen to a child if they swallowed one of these small batteries.
And the images aren't pretty.
Article continues below advertisement
To demonstrate, Sarah grabbed a chicken breast and put one of the button-sized batteries in it. She documented what happened to the inside of the filet in 30-minute increments, and the results were very, very scary.
The battery corroded the flesh, leaving burn marks in the fillet.
It's not like the battery "ran out" and stopped burning after a while, either. After four hours, the inside of the filet was almost completely charred, leaving behind a scorched piece of flesh. One could only imagine the complications that would arise inside a human body if one were to ingest a battery like this.
Article continues below advertisement
Sarah wrote that this shows "just how corrosive button cell batteries are. The first was taken just 30 minutes after exposure... the second after only four hours. It really demonstrates how swallowing this small object should be deemed a medical emergency.
Article continues below advertisement
The comments section of Sarah's post revealed that a ton of parents have dealt with this nightmare-scenario. Some even questioned why children's toy manufacturers continue to put these bite-sized energy cells in their products.
Article continues below advertisement
Young children under the age of 4 are at the greatest risk, and swallowed batteries can burn a hole in your kid's esophagus in just 2 hours. If they aren't removed immediately, they can cause life-threatening injuries, according to Poison.org.
Article continues below advertisement
If your child swallows a battery, here's what you should do:
"Call the National Battery Ingestion Hotline at 800-498-8666, immediately. Prompt action is critical. Don't wait for symptoms to develop. If the battery was swallowed, don't eat or drink until an x-ray shows the battery is beyond the esophagus. Batteries stuck in the esophagus must be removed as quickly as possible as severe damage can occur in just 2 hours. Batteries in the nose or ear also must be removed immediately to avoid permanent damage."

It also helps to never place batteries in your mouth temporarily around your kids while you're loading electronics up with them. In fact, don't manipulate or do any work involving small batteries around your kids full stop. If they see you placing them into remotes or toys, they'll know how to open the device and might try getting to the batteries themselves.