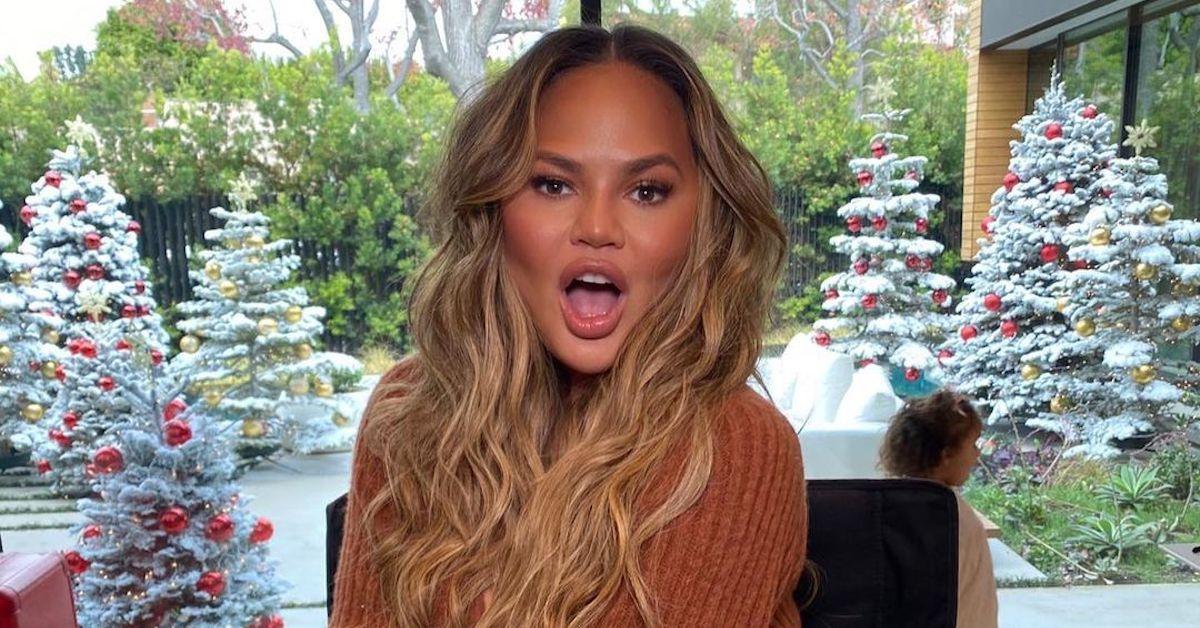 Is Chrissy Teigen Jewish? The 'Cravings' Author Cooked Her First Shabbat
Those who adore her (or hate her) know that Chrissy Teigen — with her 13.5 million Twitter followers and 33.7 million Instagram followers — is basically social media royalty. Her quirky musings and witty clap-backs are endlessly entertaining. And although she's an open book in many respects, the model / cookbook author / wife of John Legend doesn't often discuss religion.
So when she posted about celebrating a Jewish holiday with latkes, people were definitely thrown for a loop.
Article continues below advertisement
Is Chrissy Teigen Jewish? What religion does she follow?
The short answer is: No, Chrissy Teigen does not seem to be Jewish. In fact, it doesn't appear as if she identifies with any formal religion at all, according to what she wrote on Twitter in January 2017.
"I went to the women's march. I successfully escaped the escape room. I went to Saturday Night Live. Yesterday was A DELIGHT," Chrissy tweeted at the time.
In a reply to this, a follower asked, "Is Jesus shaping your personal culture or is the culture shaping you?? Just wondering."

Article continues below advertisement
Chrissy responded with, "Jesus isn't shaping my anything."
After the commenter warned that culture uses celebrities "like a rag doll," Chrissy dismissed her with a simple, "OK."
Of course, this was four years ago at this point; so her views about religion may have changed since then.
People wondered if Chrissy Teigen was Jewish following an Instagram post about Shabbat, a weekly day of rest.
In January 2021, the Lip Sync Battle host shared an Instagram post that left some people scratching their heads. Here's the thing: Although Chrissy isn't Jewish, her cookbook co-author, Adeena Sussman, is.
Article continues below advertisement
"Cooked my first Shabbat last night and it was perfect. with my perfect friends and the perfect menu and the help of perfect people like @adeenasussman, @doctorberlin and @dralyssadberlin!" Chrissy wrote. "I am one lucky bubbie (ok I'm not a grandmother yet but the word is just *chefs kiss* perfect)."
Article continues below advertisement
Chrissy took some flak for wearing a lace headscarf, with some even labeling it cultural appropriation. However, she clapped back at the idea via Twitter, writing, "the 'thing' on my head would have been worn by my *Jewish* grandmother. thank you."
Article continues below advertisement
In December 2020, Chrissy had also shared details about how she celebrated a Jewish holiday. "So wonderful to spend my first Hanukkah with @adeenasussman," she captioned an Instagram post featuring a couple of videos of the festivities.
Article continues below advertisement
Chrissy continued, "We had the most beautiful night full of gut laughing, 1000 hour brisket and latkes both eaten and ubered around the city (@jenatkinhair and @mrmikerosenthal are they not PERFECT???) - applesauce is my new jam (HAHA get it) and I successfully memorized all the sides of the dreidel."
In the other clip, Adeena was shown whipping up some latkes as Chrissy exclaimed, "Oh my gosh! Why have I not been doing this?! Christmas, what the heck?!"
Article continues below advertisement
Chrissy Teigen has Jewish roots.
As Chrissy confirmed via Twitter in January, her grandmother was Jewish. Chrissy's December post also included a video call with her father while lighting candles on the menorah, as well as a dedication to her father's mother.
"And we got to FaceTime dad in! Man. Just a beautiful night. Thank you thank you @adeenasussman — I will never forget this," she concluded. "Dedicated to my grandmother, Ruth Schaefer!"
The bottom line? No, Chrissy Teigen isn't Jewish — but she does have Jewish roots. And certainly has a healthy appreciation for the food and traditions surrounding Jewish holidays, too.