Church Unsuccessfully Tries to "Boycott" Home Depot for Not Donating to Charity Event
A representative from a Church was blasted online for trying to call out a Home Depot that wouldn't donate to a charity event it was throwing.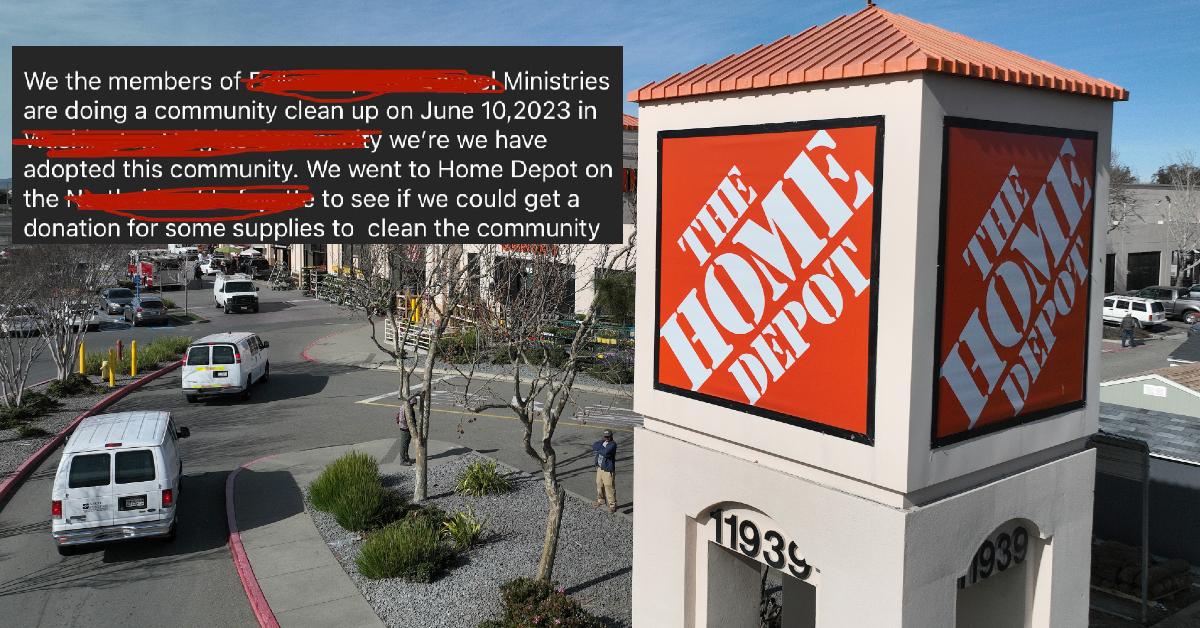 If you run a non-profit organization, like a charity, or a house of worship, people are going to expect you to ask for donations. It's just the nature of how these operations work.
Article continues below advertisement
Now you might take the George Carlin approach to houses of worship always looking for money, but there are probably a lot of people who would think that it's bad form to, during let's say a visit at a church gathering, to call the priest or representative from said house of worship for being a money grubbing con person because asking for alms.
Call it reading the room, call it situational awareness, or call it just not wanting to rock the boat at that particular moment in time, but there's certain decorum that society dictates and causing a stink right in the middle of a church service probably won't earn you too many friends.
Article continues below advertisement
On the flip side however, if you are representative from a house of worship that's looking for donations, and somebody refuses to cough up whatever charity you're asking for, it's not a very good look to go and put that person on blast, right?
Article continues below advertisement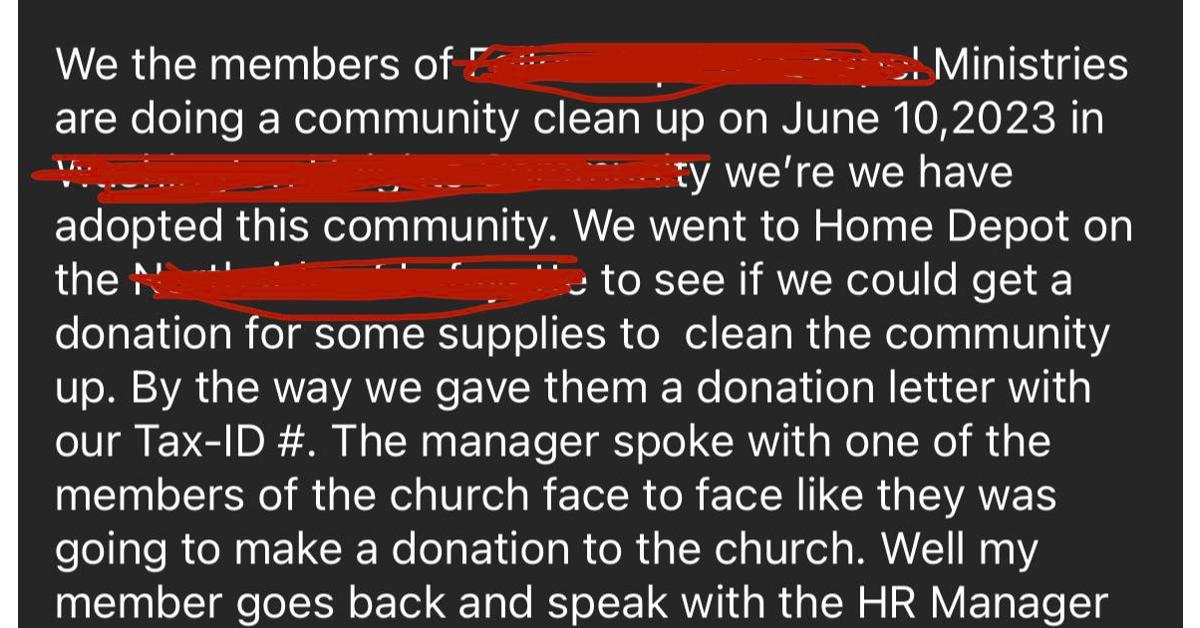 According to the Redditor and judging from what the church wrote in the post, it would seem that the church was asking the business to donate to a charity event it was hosting.
Article continues below advertisement
The Home Depot didn't seem to keen on donating to the event for whatever reason, and the church did not like that. The house of worship decided to call out the retailer on social media writing: "We the members of [redacted] Ministries are doing a community clean up on June 10,2023 in [redacted we're we have adopted this community."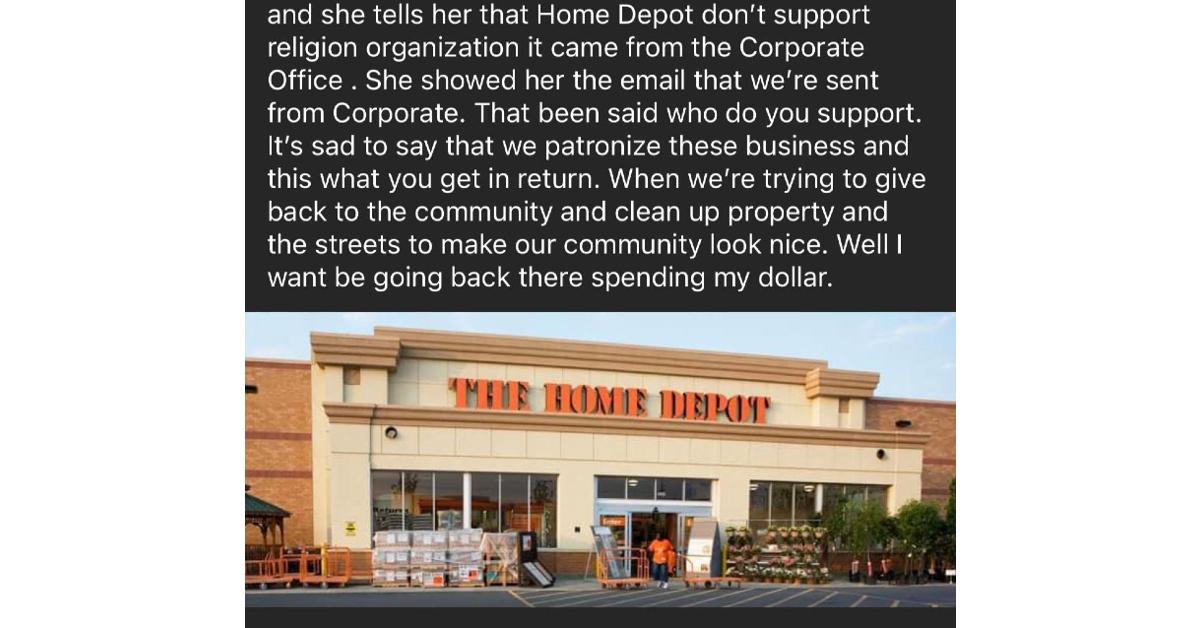 Article continues below advertisement
The post continued, "We went to Home Depot on [redacted] to see if we could get a donation for some supplies to clean the community up. By the way we gave them a donation letter with our Tax-ID #. The manager spoke with one of the members of the church face to face like they was going to make a donation to the church."

Article continues below advertisement
However, upon following up on the matter, it turns out that the local Home Depot said that, in accordance with corporate policy, they couldn't make donations to religious organizations, which appeared to make the representative from the church posting online plenty upset.
So upset, that they vowed to never shop at the home improvement store ever again: "Well my member goes back and speak with the HR manager and she tells her that Home Depot don't support religion organization it came from the Corporate office. She showed her the email that we're sent from Corporate."
Article continues below advertisement

The post went on: "That been said who do you suppport. It's sad to say that we patronize these business and this what you get in return. When we're trying to give back to the community and clean up property and the streets to make our community look nice. Well I want be going back there spending my dollar."
Article continues below advertisement
The Redditor added in a caption for the post, explaining why they didn't understand the Church's stance, and that they wouldn't apply the same logic to folks not donating to their volunteer animal rehab facility: "Volunteering is cool but when volunteering people shouldn't feel entitled to donations for their volunteer work. Lemme just cancel all the feed stores in the area bc they don't donate to my volunteer animal rehabilitation facility that I decided to create"
Other Redditors blasted the Church's online call-out of the business, with one person writing: "If they can take donors' money, but then get materials and labor donated too, they can pocket the money and still look like a hero."
Article continues below advertisement
Another person who said that they worked for Human Resources, explained why some charities were excluded: "I worked for HR. We had a matching donations program. It supported some charities like Habitat for Humanity but excluded churches and sports teams. We tried to help people but not look like we played favorites or support people`s hobbies."