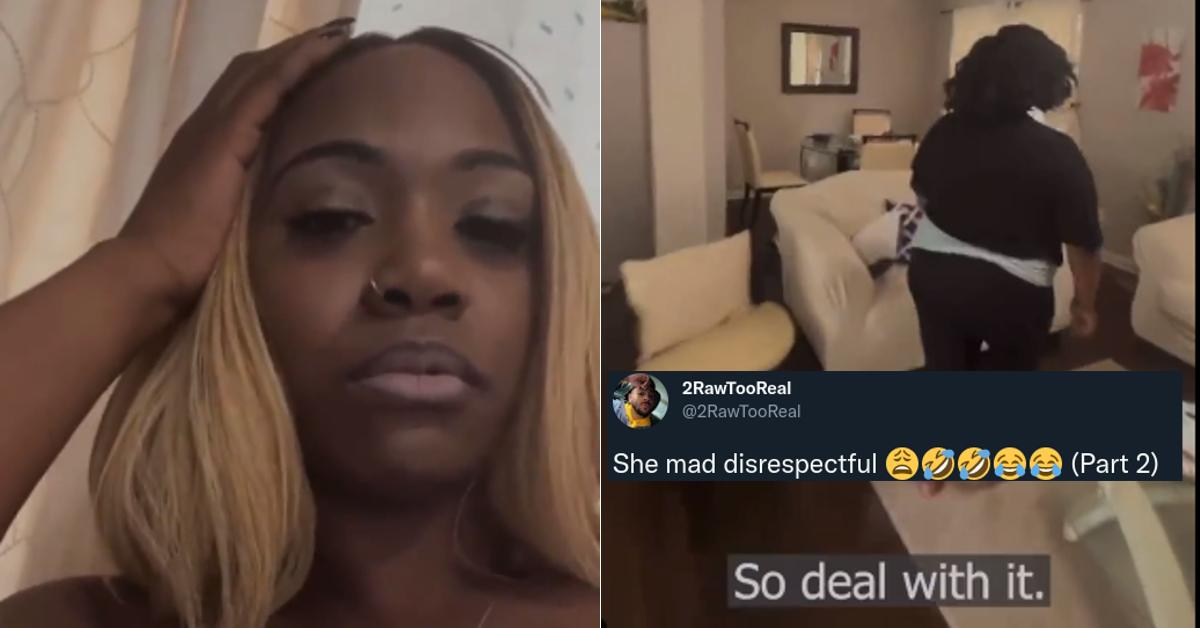 Tenant Refuses to Leave Home of Woman Who Rented Her a Room While on Vacation
A homeowner stuck with a woman who was supposed to stay temporarily in her home expressed her frustration in trying to get her to leave.
In what appears to be a plotline lifted straight out of a movie, one woman took to social media in order to vent her frustration over a temporary tenant she rented a room to as an "Airbnb" who will not leave her home.
In a clip that was acquired and posted to the @2RawTooReal Twitter account, the homeowner warns people in a video not to "trust no f***ing Airbnbs."
Article continues below advertisement
It's unclear whether or not the woman booked the listing through the popular home-sharing application, but she says that she posted an ad online for someone to temporarily live in her home while she was on vacation.
The original agreement, according to the homeowner, was that the tenant was supposed to be gone three days prior to arrival from vacation.
However, she said that her housekeeper told her that the woman she rented the premises to was still on the property, not only overstaying her welcome but what the original duration of her stay was supposed to be.
While she's recording the video, the tenant in question ambles into the kitchen and tells OP: "I ain't going nowhere. Deal with it."
Article continues below advertisement
The incredulous poster goes on to say that she informed authorities and has been going through the process of trying to get the woman evicted but has had difficulty in having her removed from the premises.
In a follow-up video, the tenant dares OP to call the police and says that if the woman approaches the room she agreed to rent out, that she will call authorities on the homeowner.
Article continues below advertisement
OP said that she decided to rent out a room in her house as a means of helping her pay her mortgage and as of now, it appears that she has a housemate she wants nothing to do with. The second video ends with the woman approaching the housemate, outraged that she would light a cigarette in the home's living room area.
Article continues below advertisement
She says, "Y'all, don't trust no f***ing Airbnbs. Okay, so, I can't even talk right now I'm so f***ing pissed off...I didn't know this s**t could f***ing happen but this s**t is really going on. God damn."
Article continues below advertisement
Some folks were shocked that an Airbnb renter would take such liberties with their rental and noted that tenant laws probably wouldn't protect them from eviction.
Airbnb has posted policies for hosts to consider before doling out long-term rentals to individuals on their property, noting that typically speaking, anyone who stays in a place for less than 30 days usually don't receive tenant's rights.
Article continues below advertisement
"In most states and localities in the United States, guests who stay in a home or apartment for one month or longer—the exact number of days depends on jurisdiction—may establish rights as a tenant. Generally, this means that local tenancy laws could protect them, and you may not be able to remove them from your property without proceeding through required eviction processes in court."
Article continues below advertisement
The application continued, "For example, in California, Illinois, and New York, a residential tenancy may be created after 30 consecutive days of occupancy. Someone who stays with you for fewer than 30 days generally does not have the rights of a tenant unless there is a written agreement to the contrary, but every state is different. Local laws may differ from state laws regarding residential tenancies. We encourage you to review your local rules and regulations before accepting a long-term reservation."
Article continues below advertisement
Airbnb goes on to say that guests refusing to leave a property are "incredibly rare." OP does reference Airbnb in her post, however, there were some commenters who believed she was referencing the app due to its popularity and believe that because she referred to posting an ad for the apartment online, she may have used another service in doing so.
Article continues below advertisement
Some people suggested that OP "turn up the crazy" while the tenant was there to intimidate her into leaving, while others thought the entire interaction was fake.
There have been similar "tenant horror stories" posted online that are wild enough to make folks not want to ever let someone stay on their property, no matter how much they're being paid.