Boss Scorched Online After Asking Employee About New Job Salary "for HR Reasons"
A former McDonald's worker shared how their ex-manager tried to find out information on their new job "for HR reasons."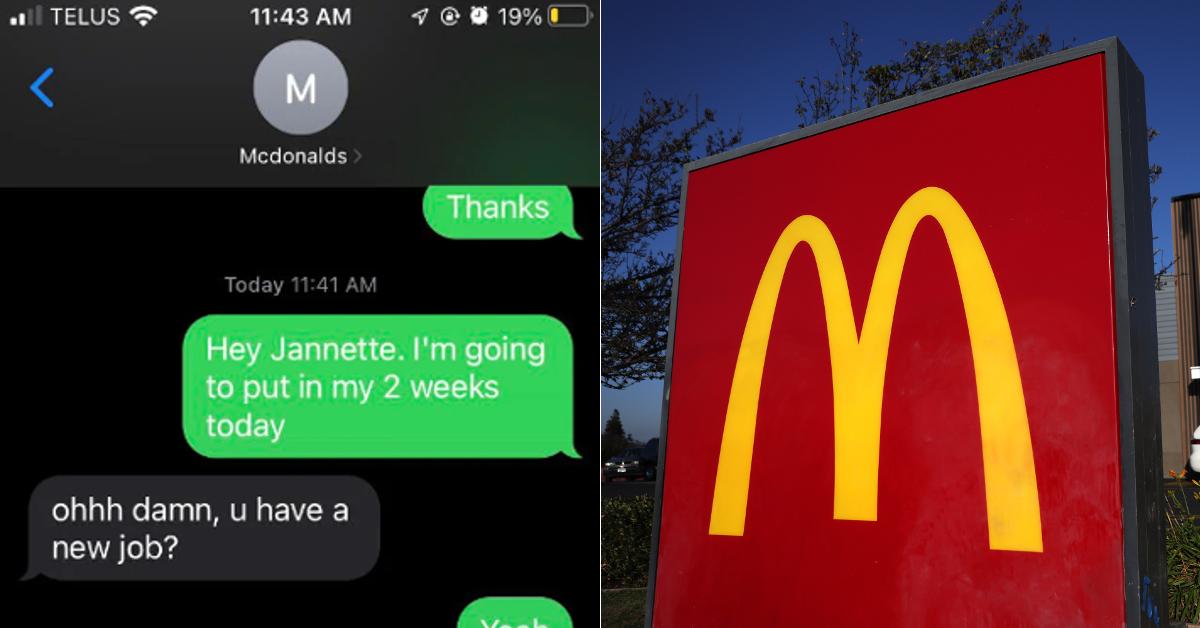 An anonymous McDonald's manager got reamed on Reddit for asking an employee who put in their 2 weeks notice about the salary in their new position "for HR reasons."
A screenshot of the text message was uploaded to the social media site's /antiwork sub where it quickly went viral, amassing over 45,000 upvotes and 7,000+ comments from users on the platform.
Article continues below advertisement
The text exchange went as follows:
"Hey Jannette. I'm going to put in my 2 weeks today"
'ohhh damn, u have a new job?'
"Yeah"
'Alright, I just need to know where and how much you're gonna make for HR reasons :) thanks!'
Article continues below advertisement
The rest of the screenshot doesn't show any further correspondence between the employee and manager, but the exchange set off a slew of responses from commenters who highlighted that there is no obligation on the Redditor's part to disclose her info.
Some users offered up response templates that the employee could send their manager, while others just commented on how grimy they thought the whole situation was.

Article continues below advertisement
Then there were those who believed OP's boss was fishing for information so they could apply for a new job there themselves.
"They can ask but you don't have to tell them."
"Company policy, i cant discuss wages"
"Ask how much they're making for hr reasons. Fight fire with volcano"

Article continues below advertisement
While a lot of their responses were meant in jest, there were some commenters who offered up ways for OP to reply to their manager to salvage any type of relationship they had while simultaneously answering their question.
Many Redditors remarked in the comments section that by beefing up their salary at other locations, they might influence McDonald's managers to offer their own employees a bit more. Some remarked that even when they weren't looking for work, they would tell job recruiters hitting them up that they earn more than the maximum salary cap for their position in order to "fudge" the numbers in workers' favor.
Article continues below advertisement

"I'd respond with "about a 34% increase in pay for a similar role."
"about a 34% increase in pay for a similar role, but it was tough to make the switch because my supervisor/manager/coworker [Insert cool, day-1 homie, co-worker name] made for a great work environment"
Article continues below advertisement

Turnover rates for McDonald's is a bit of a tricky subject, and that's because there's been some scattered reporting on how many workers the chain must replace every year in order to maintain operations. Totalent.eu states that the global fast-food franchise doesn't publicly release its turnover figures.
Article continues below advertisement

The same article stated that employee turnover is around 150% for the fast food industry. This means that if some locations need to have 20 positions filled, they're going to hire 30 people, because they know 10 of them will inevitably quit.
Article continues below advertisement

UKDiss however says that a McDonald's senior executive placed the employee turnover rate for the company at 44%. Whatever the actual figure is, in December of 2021, a few outlets reported on the chain implementing Artificial Intelligence in its hiring process in order to determine whether or not prospective employees would be able to successfully fill their roles.
Article continues below advertisement

While it might sound like something straight out of Minority Report or 1984, the technology culminated in a 22% reduction in employee turnover. Comparably also stacked McDonald's retention score against companies of similar sizes, structures, market reach, and service types: Starbucks, Wendy's, Denny's, and Burger King.
McDonald's ranked second in employee retention when compared to these other 4 businesses (Starbucks beat them out with holding onto its employees).