Taco Bell Worker Posts Massive Uber Eats Order, Sparks Debate About Driver Pay
A Taco Bell employee shared a huge Uber Eats order they received, which launched into a debate about driver compensation on Reddit.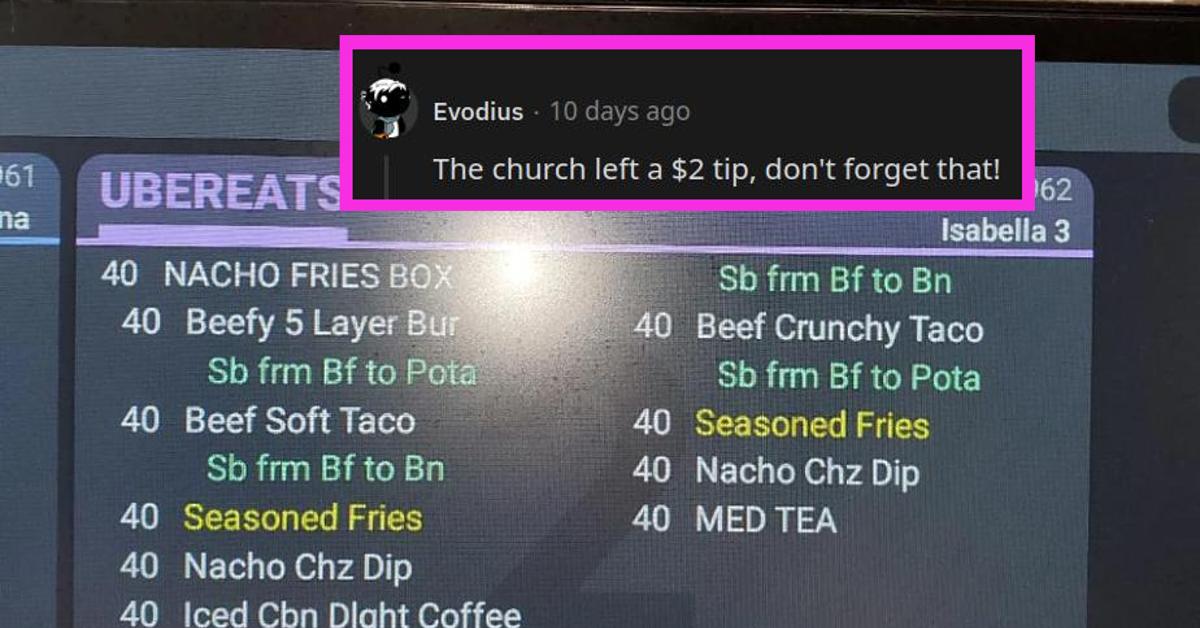 Ginormous fast food orders aren't as uncommon as people would think. Remember the time a McDonald's employee had to put together a 6,400 item order with their crew? It's a staggering number to even try and think about, not to mention the logistics of putting everything together, getting it ready for transport, and making sure that there's enough stock to fulfill the order and all of the other hungry patrons you've got coming into your restaurant.
Article continues below advertisement
One would think that a separate catering department or extra employees would be kept on hand for such large orders, or purchases of that size would necessitate a call at least 48 hours ahead, but in the case of the particular Mickey D's order above, a call was made on the same day, leading to an exceptionally stressful day at work for the employees at hand.
At least in the case of this McDonald's order, the onus of the food's delivery was ultimately placed on the shoulders of the person who purchased it to begin with.
And while this massive Taco Bell order, which was uploaded by a Taco Bell employee was a fraction of the total item count, people were still freaking out that a single deliverer was expected to complete it.
Article continues below advertisement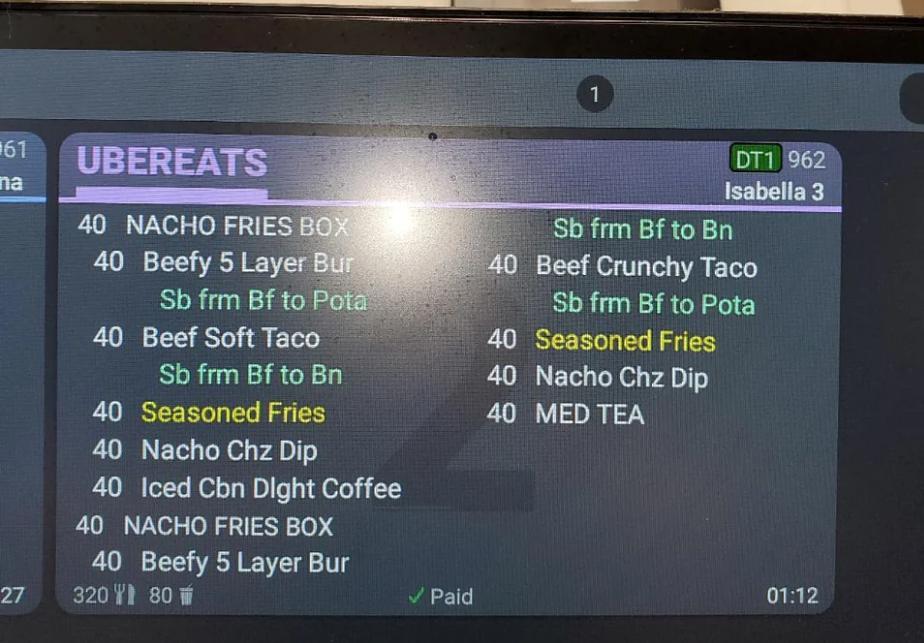 The Reddit user who works at the popular fast food chain uploaded the post @JustABoredCitizen says was ordered by a local evangelist church that places massive food orders and "do their stupid tax exemption on it."
The entirety of the order included:
80 Nacho Fries
80 Beefy 5 Layer Burritos
40 Beef Soft Tacos
80 Seasoned Fries
80 Nacho Cheese Dips
40 Beef Crunchy Tacos
40 Medium Teas
40 Medium Cinnabon Delight Iced Coffees
Article continues below advertisement

Redditors who saw the order were not only shocked at the massive quantity of food, and had some questions about washing down Taco Bell with Cinnamon-flavored sweetened iced coffee, but the bigger problem was managing the transportation of some 80 drinks.
Article continues below advertisement

While putting a bunch of bags of food in one's trunk is manageable, especially a trunk organizer, having a bunch of drinks sloshing around isn't exactly an easy prospect. And then you run the risk of a customer leaving a negative review or complaining to Uber Eats if one of them spills in the car. Not to mention now you've got to clean up a bunch of artificially sweetened, sticky ice coffee syrup from your whip.
Article continues below advertisement

"If I did Ubereats there is no way I would pick up that order like how the hell are you going to move 80 drinks???" one user wrote.
"I'm door dash and they'd have to pay me at least $50 to even try lol," another wrote.
The bigger question most people had, however, was how much the driver was paid for completing such a large order.
Article continues below advertisement

There were some folks who speculated that the Uber Eats driver probably didn't get paid that much despite the order being huge.
There was one DoorDasher in the comments section (not OP) shared an anecdote about a huge Frisch's order they had delivered that seemingly corroborates the low base payouts delivery drivers receive despite how large an order is.
Article continues below advertisement
Reddit user @emihana talked about picking up an order which contained some "$800 worth of food, including 50 drinks, half of which were coffees with those lids with the holes in them."

Article continues below advertisement
Emihana stated that they thankfully didn't spill any of the drinks, but that their base pay for the order was only $8, even though it "took an hour to prepare and load everything into [their] car."
They said that the tip was hidden from them, but they saw after they completed the order they were given a generous gratuity of $250.

"To date, it's been the highest I've ever been tipped on something. Screamed when I saw the number. Have yet to replicate it."
DoorDash, for instance, claims that 15% of customers on the platform don't tip drivers, and some speculate that's because many customers confuse the surcharges that often appear on the application