TikToker Shocked After His $20 Buffalo Wild Wings Order Ends Up Costing $53 on Doordash
A now-viral TikTok shows a couple in disbelief after they just spent $53 on a Buffalo Wild wings order that would've otherwise cost them $20.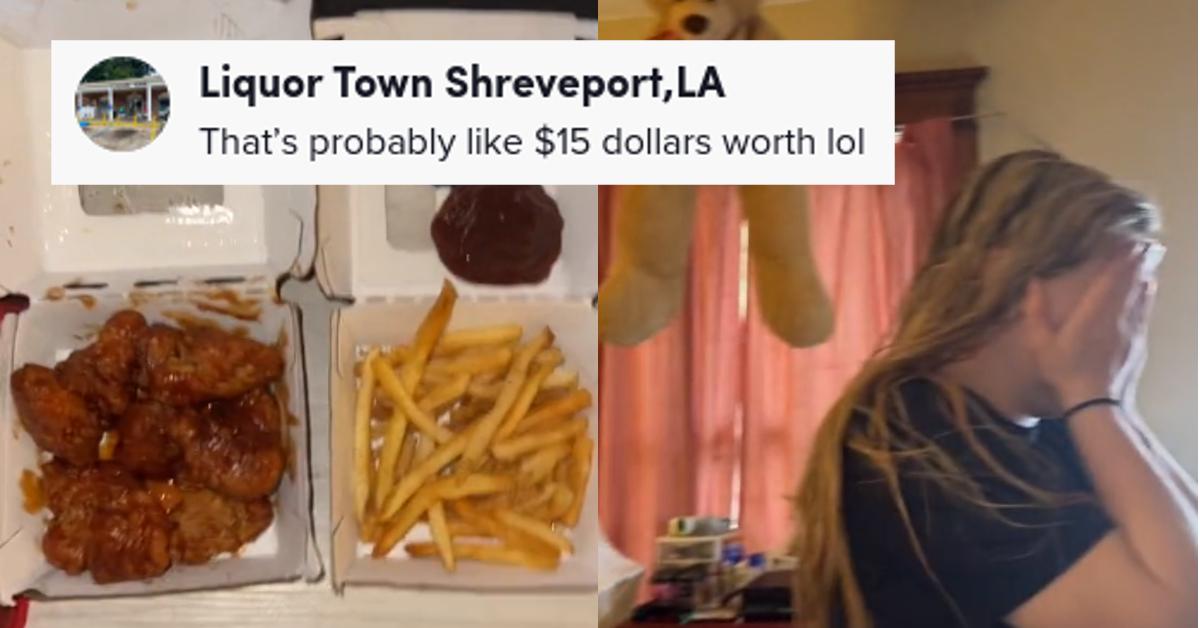 DoorDash is no stranger to "pricing" drama in different forms. Whether it's drivers on the platform teeing off on the algorithm's "low" payouts for long delivery trips (even if they're in error) to accusations of "tip baiting" or customers complaining about the jacked-up prices of food that they pay in order to have the convenience of restaurants that don't typically deliver to homes brought right to their doorstep.
Article continues below advertisement
Some would argue that it's unfair to expect that the amount they pay for a meal at McDonald's that they pick up themselves should cost roughly the same as it would to be delivered to their home. DoorDash, despite collecting fees per order that are placed through its service, has yet to make a profit once.
And then there are other factors to consider: like the fact that many DoorDash deliverers drive gas-powered cars to complete their orders. With the rising cost of inflation combined with a chip shortage and increasing fuel costs, they need to earn sizable tips in order to make working for the platform worth their while.
Article continues below advertisement
But even folks who understand that struggle are finding it difficult to justify why a $20 Buffalo Wild Wings order came out to $53 for a couple who placed two orders of wings and fries on DoorDash.
Article continues below advertisement
TikToker Preston Walker recorded him and his girlfriend's reaction to the cost of the DoorDash order after they received their food. In the clip, his girlfriend can be seen covering her face in disbelief as he shows off the amount of food they ordered. It appears they both received a $10 boneless wings and fries combo.

Article continues below advertisement
Preston can be heard saying in the viral TikTok: "Me and my girlfriend just ordered DoorDash...don't cover your face, and guys we paid $55 dollars, right babe 55 dollars?"
His girlfriend then chimes in and says, "Yeah $53." He continues, "53 dollars for this, oh yeah!"

Article continues below advertisement
He then walks over to the kitchen counter to open another paper bag that came with the order, "Oh yeah my bad my bad," he dumps the contents of the bag out, which shows two containers of ranch and two plastic utensils + napkins combo. "We got some ranch and forks too."

Article continues below advertisement
Many TikTokers found it difficult to sympathize with the couple, as the application does show the total cost of an order before users confirm, so it isn't like they didn't know what they were going to be charged.

Article continues below advertisement
"Y'all just don't know how to order right," one commenter said.
"Price of being LAZY."
"I almost ordered BWW when I was careless and was $30 for 10pc and fries without tip. Canceled order real quick and made a quesadilla"
Many other commenters referred to the "shadow markup" on food items, noting that oftentimes many restaurants will price their menu items at higher rates for delivery than they do inside of their restaurant. This is a known practice that others have commented on in the past and is more than likely done in order to offset the costs of the commission percentage (typically 15%) DoorDash takes from restaurants.
Article continues below advertisement

Others also voiced their frustration with the application and surcharges from food delivery applications in general:
"I ordered door dash one time in 2020. It cost more for delivery and tip than the food. No thanks I'll go get my own"
"i cant justify delivery apps anymore. it's cheaper to order from places that offer their own delivery. i tip their drivers well and still save a ton."
"Woulda cost $20 if u picked it up"
Article continues below advertisement

Someone else mentioned that if you use DoorDash a lot, the only way it's "worth it" is if you sign up for the app's monthly subscription service:
"I use DD a lot and unless ur on their monthly subscription for the pass it's not worth the extra fees."
DoorDash advertises that its "Dash Pass" pays for itself in just two orders. Some of the features it offers are "$0 delivery fees on eligible orders" and "5% DoorDash credits back on Pickup orders."
It costs $9.99 a month and if you're prone to using the application a lot and there are participating restaurants in your area that participate in the program it might be worth checking out.
Have you ever experienced bill shock when using a food delivery service? Or do you steer clear of them altogether?