Ranch Says Woman Is "Too Fat" to Ride Their Horses, Sparks Debate After She Calls Them Out Online
A TikToker called out a New York horse ranch for implementing a weight limit on horseback riding, however,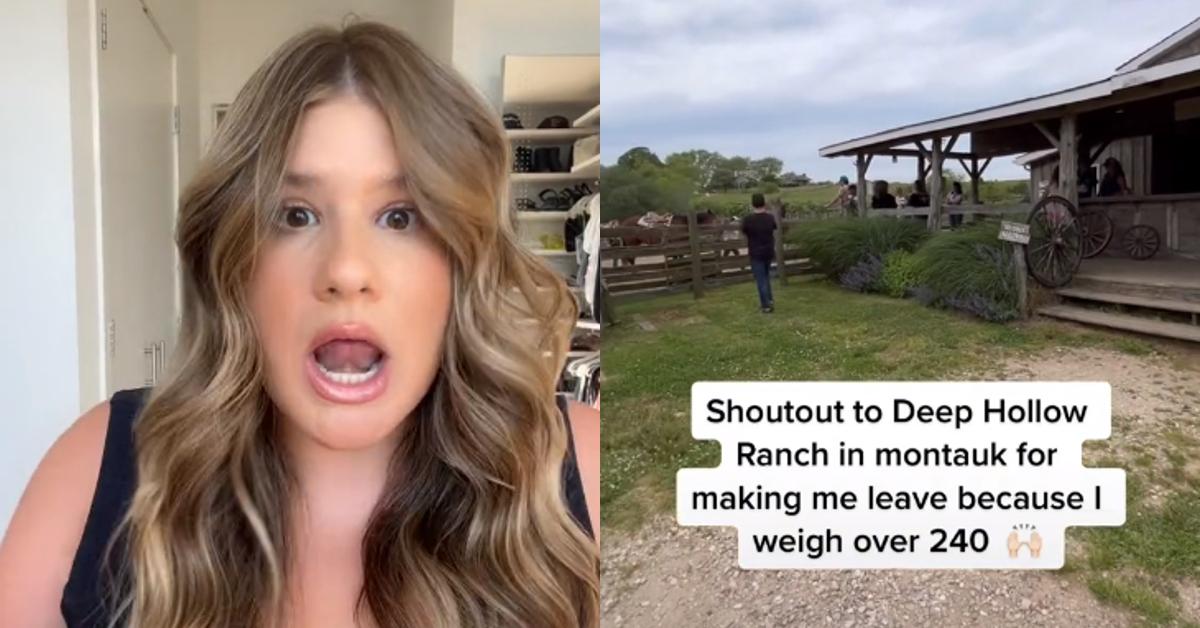 A TikToker blasted Deep Hollow Ranch, a Montauk, NY. horseback riding business for purportedly not allowing her to get on their horses due to her weight. Remi Bader, who lists that she is a Curve Model and content creator on her TikTok account that has over 2.1 million followers, writes in a text overlay on her now-viral video: "Shoutout to Deep Hollow Ranch in Montauk for making me leave because I weigh over 240."
Article continues below advertisement
The clip is set towards the popular Rocky theme song "Gonna Fly Now" and shows the exterior of the ranch as other folks are seen looking at the horses.
Remi writes in a caption for the video, "I've rode horses before and have never had this issue. Please advertise this on your signs for the future."
Traveling to Montauk, especially during the summer months can be a time-consuming process. There aren't many roads that lead to the more desirable parts of the hamlet, which is situated in the Hamptons, and it's not uncommon to sit for hours in traffic to the exclusive destination. In fact, there are local businesses that offer helicopter rides to Montauk, SAG Harbor, and the Hamptons because road congestion is such a common occurrence.
Article continues below advertisement
So arriving at Deep Hollow Ranch to go horseback riding, only to find out that you can't is understandably frustrating.
Remi's TikTok influenced a series of responses, with many folks citing that ranches typically have weight limits for riding horses, as they are living creatures not designed to bear heavier loads of weight for extended periods of time.
Article continues below advertisement

"I book reservations for a trail ride, we do have weight restrictions on riders especially if the trail is muddy."
"While they should have made the policy known. Most rental barns have a base weight limit across the board."
Others blasted the TikToker for not knowing this policy: "I can't believe this ranch has rules"
Article continues below advertisement

And there were some who expressed that she was making a big deal over nothing: "me, being 6'3" and weighing 300lbs, having missed out on multiple things for my large size... just say "Ok" and move on. Not a big deal."
Article continues below advertisement

Dr. Deb Bennett, a PhD holder who founded the Equine Studies Institute and has dedicated her life to the study of horse biomechanics stated unequivocally that exceeding a particular weight limit on a horse could kill the animal or change its life for the worse indefinitely.
Article continues below advertisement

National Riding Stables quoted her as saying, "Total weight of rider plus tack must not exceed 250 lbs. There is no horse alive, of any breed, any build, anywhere, that can go more than a few minutes with more weight on its back than this. Not even the U.S. Army ever packed a mule heavier than this."
Article continues below advertisement

The outlet continued, "Putting too much weight on a horse – any horse – can quickly lead to both short-term and long-term problems. Short-term problems include rub-sores from the saddle, strained muscles, and pinching of nerves, any of which can sideline a horse for a few days to a week. Consistent over-loading of a horse can lead to permanent damage such as a 'sway back,' deteriorated muscle function, joint problems, and arthritis.
Article continues below advertisement

The same article went on to call overloading a horse's back "a matter of safety" and that over-stressed animal could ultimately "forget its manners" and act erratically culminating in injuries to both the rider and itself.
Article continues below advertisement
A response from one of the employees on TikTok was reposted by Remi. In it, a worker for Deep Hollow looks into the camera and says, "When you're not a fat b---- you can ride at Deep Hollow Ranch". Their video reply is spliced side-by-side with Remi, who smiles into the camera as she wears a bath towel.
Article continues below advertisement
Commenters were outraged by the reply from the business. Some other followers on the platform pointed out the company was getting review-bombed on Google (as of this writing, it appears that many of the negative reviews have been removed.) Others said that the man in the video effectively ruined Deep Hollow Ranch's reputation.

However, some still maintained that the issue at hand was the care for the horses, and not Remi's weight and the workers' attitudes towards it: "These are living breathing animals is anyone not taking this into consideration? They are not an amusement rides! They are someone's babies!"