Confused TikToker Kept Getting Free DoorDash Meals Delivered to His House Every 2 Hours
A TikToker posted a hilarious series of clips in which he received free DoorDash meals from a mystery purchaser and he didn't know what to think.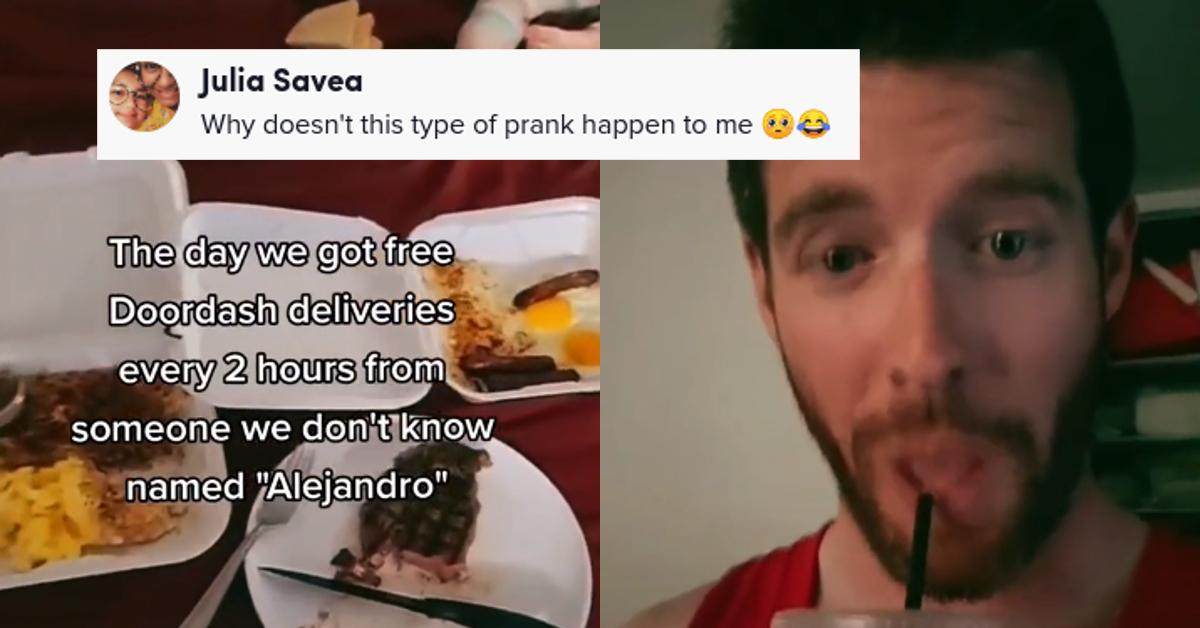 Meal delivery services like DoorDash and Uber Eats are immensely popular. Yes, there's tons of drama and criticism surrounding the way pay structures, from both customers and drivers, work on these applications. There is also a slew of other practices, like alleged "tip baiting" that have become infamously associated with these services.
Article continues below advertisement
But that hasn't stopped people from using them to get meals from their favorite places delivered straight to their homes proving once again that no matter the industry, convenience is king (remember when people thought Netflix and other movie streaming services would fail because folks liked heading into rental stores for that experience?)
What's more is that there have been reports of people getting free food from these applications due to system errors, like this one TikToker who bragged about getting free steak from a local Outback restaurant that erroneously listed the prices of one of its meals as $0.
Now, another TikToker claims they got a bunch of free food through DoorDash, and all on another customer's dime.
This is the tale of Alejandro, the serial DoorDashee.
Article continues below advertisement
The TikTok account @hdfamilytreasures uploaded a clip with a text overlay that reads: "The day we got free DoorDash deliveries every 2 hours from someone we don't know named 'Alejandro.'
In the clip, the TikToker says, "When you open up your door to free food, you eat it. I don't know who's DoorDash this is but it's mine now."
Article continues below advertisement
The clip opens up on a young girl munching away on some delivered food as a container of what appears to be steak, eggs, sausage, hashbrowns, and a variety of other meals before her.
The TikTok clip's caption reads: "not what we expected our first post to be but...this was too funny and weird."
Article continues below advertisement
The video transitions to a man in a red tank top talking into the camera saying that their first round of free food started with breakfast. He then went out to the gym, came back home, and then found yet another delivery of food waiting at his front door. "Is somebody f***ing trolling me right now?!"
Article continues below advertisement
He then says in the morning the steak and eggs he received were exactly how he would've cooked them and then for lunch, he received an order of baked mussels and snap peas. He then sends a message to whoever keeps getting free food delivered to his house, asking them to "space" the orders out because he's stuffed.
Article continues below advertisement

The free food train didn't stop there, however, as he mentions that a random box of donuts just showed up at his house out of nowhere. He looks into the camera and can't believe that the grub just keeps on coming. A knock at the door reveals yet another food order, "You're kidding" he says after spotting the bag.
Article continues below advertisement
He brings the food inside to reveal what's inside: a Red Robin burger, two orders of garlic fries, and a strawberry lemonade. "I seriously feel like this has to be some sort of joke being played on me. It's delicious," he says before taking a sip of the drink. "I really can't keep eating all this food. I'm throwing half of it away," he says.

Article continues below advertisement
And then another knock at the door reveals four separate smoothies and this is where his good fortune takes a theoretical dark turn, he asks the camera: "What if there is j**z in everything that's getting sent to me?!"
A final late-night order from the mystery deliverer, "Alejandro" reveals an order of loaded potatoes, Chicken Alfredo, a cheeseburger, fries, and wings.
DoorDash caught wind of the post and told the TikTok account to just enjoy the bounty of the free meals: "Honestly, live your best life! Cause when life gives you lemons, drink the lemonade or whatever they say."
Article continues below advertisement

Others had their own theories as to what could've been happening: "Plot twist the door dasher is just getting the door number wrong."
"plot twist he let his kid play on his phone and the kid keeps ordering random stuff"
Article continues below advertisement
Others felt bad for Alejandro: "meanwhile Alejandro is PRESSED that his food never showed up"
"Alejandro wondering why he's not getting his food after 2 hours of trying to order"
So what was the total damage for Alejandro? In the comments section, OP stated that he received orders at 10AM, 12PM, 2:30PM, 4:30PM, 7PM, and 10PM.
And that was just day one. Throughout this article, we've embedded several other clips that show the TikToker in question continues to receive free meals on Alejandro's dime.
Article continues below advertisement

DoorDash has clear policies for users who place orders but never receive their food. What do you think happened? Did Alejandro's kid order the food and send it to a random address?
Or do you think that Alejandro had a bunch of DoorDash credits that were going to expire and thought to himself, "Hey, why not make a random person's day?" Or do you think that this is all a prank, either on behalf of the TikToker as part of a viral media marketing campaign, or Alejandro, causing comedic chaos at will?