Man Lists His Rented Property on Airbnb for Extra Cash, Only for the Landlord to Find Out
A TikTok user ruffled some feathers after he revealed that he Airbnbs a property that he rents from a landlord.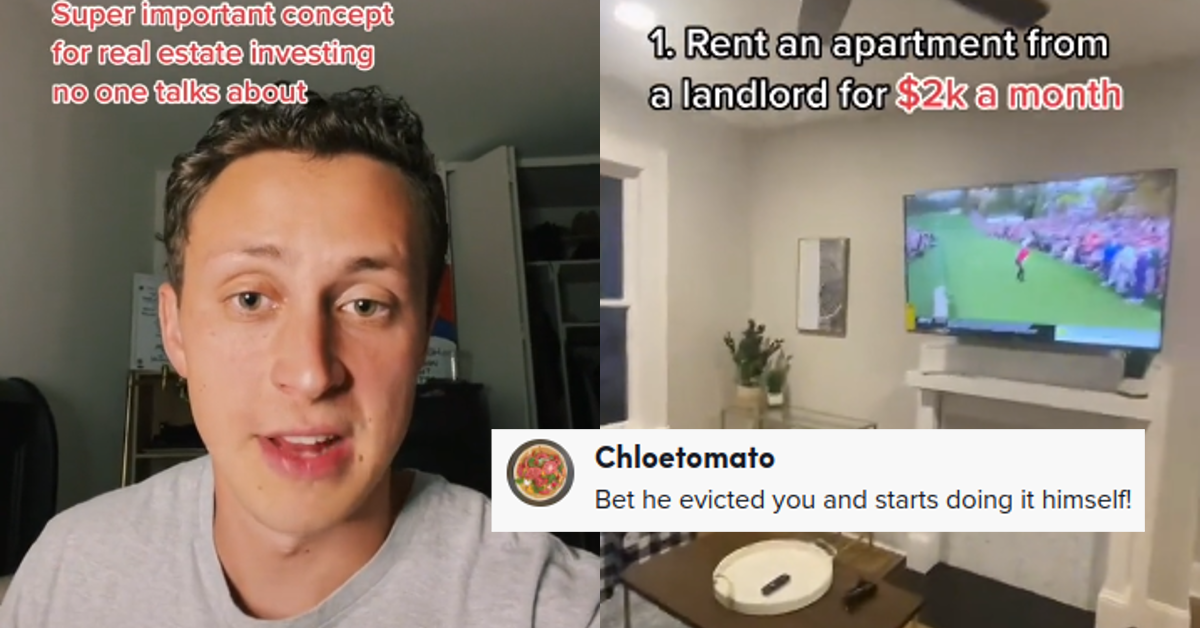 Owning property in the United States is becoming a dream that's more and more difficult to realize for many citizens, depending on where you live. While the COVID-19 pandemic has seen a boom in property values, there are still some parts of the country where you could nab some land and build your own dream home for a fraction of the cost in more well-established and densely populated areas.
Article continues below advertisement
COVID has become a double-edged sword for this, as many more jobs that were once office only have become fully remote positions once companies realized that employees working from home were more productive and they could reduce their overhead costs.
But up and moving yourself to another area entirely isn't always an option for everyone, and if you happen to have roots in an area that's being bought up by property gobblers, things can get really frustrating.
Especially when you consider how much of a "scam" renting is. You dump the majority of what you earn into living in a place where you build zero equity in. Sure, making your rental payments on time will result in a slightly more favorable credit score, but unless you've got a great landlord who takes care of all the things you'd otherwise be paying out of pocket for in a home you've got a mortgage on, you're really not maximizing your income potential.
Article continues below advertisement
And if you do own some property, one way to maximize your earning potential is with apps like Airbnb. But what if you don't actually own the property, but are renting it from a landlord. Can you sub-let/lease to other people like this TikToker who says that they make around $3k in passive income on a home that they rent?
Article continues below advertisement

Jeremy Werden went viral for posting a TikTok about how his landlord discovered he was renting out his home on Airbnb. In the video, Jeremy says that his landlord was actually OK with the fact that Jeremy was earning money, perhaps because he didn't care since they were getting their money either way.
Article continues below advertisement

Depending on what your rental agreement states, sub-lets and leases and using one's home or apartment as a hotel for strangers may or may not be kosher. Airbnb has been receiving a lot of negative press over the years and there have been plenty of articles about folks "cracking down" on the popular housing application.
Article continues below advertisement

Some have said that the application is partially responsible for removing affordable housing solutions from the market. Others have stated the land developers have been gobbling up homes and units that they have no intention of living in, only to Airbnb them out to folks who have no long-term vested interest in the neighborhoods these properties are located in.
Article continues below advertisement

Many TikTokers were shocked that Jeremy's landlord was OK with the fact that he was renting out the apartment. Some commented that they would've evicted him and the TikToker should consider himself lucky.
Article continues below advertisement

Others stated that it was "scummy" for someone who is renting a property to second-hand rent it to someone else. Others argued that whoever was salty over his post was probably upset that they weren't industrious enough to make some secondhand income and that there was nothing wrong with it since his landlord clearly didn't have an issue with it.
Article continues below advertisement

And then there were those who said Jeremy is also taking on some risk by allowing strangers to live in the unit he's renting, so if any damage is done to the home, he'll have to foot the bill for his landlord.
What do you think? Is it lame of Jeremy to rent out a rental or does it not matter if the land-owner doesn't have a problem with it?