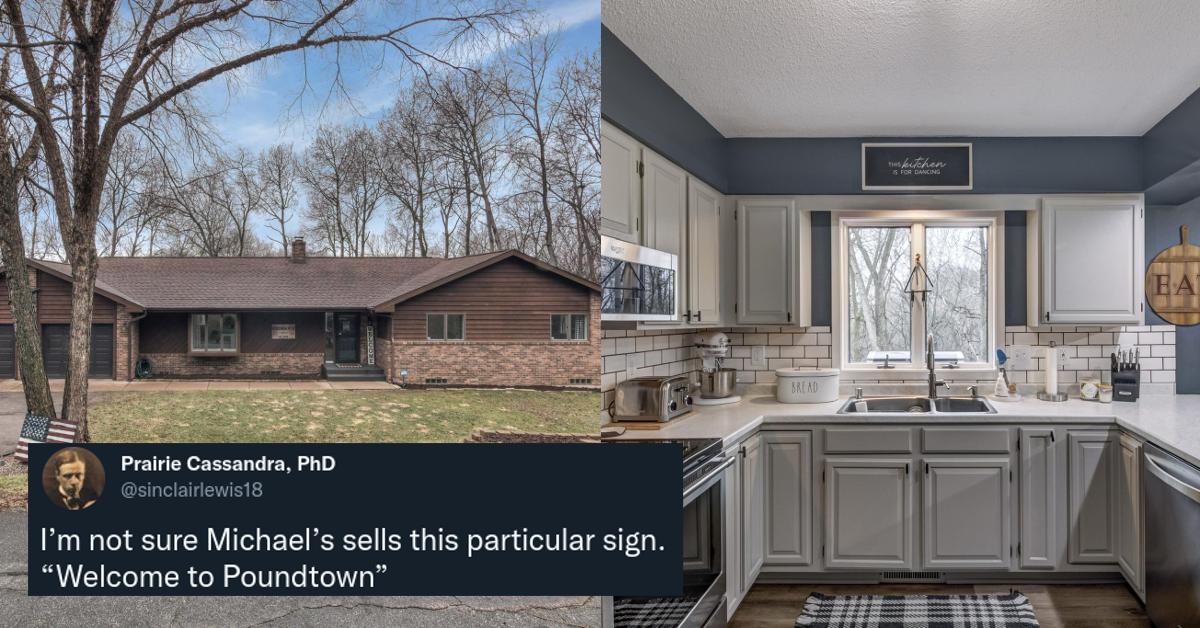 Mom's Hilarious Bedroom Sign Goes Viral on Zillow and People Are Cracking Up
Flipping houses can be big business in America, especially since the COVID-19 pandemic has caused some incredibly drastic changes in the housing market since 2020. In fact, property values are increasing so much that counties can't update their taxes fast enough, which is great news for homeowners. If you were fortunate enough to own some property, you could've easily turned it into a profit in recent years.
Article continues below advertisement
Finding property for a price that wasn't astronomical was difficult, however, depending on how much money you earned with other "flipping" ventures, you could buy plots of land or big fixer-upper projects and get to work. Where you're really going to turn a profit is if you take care of some of the handy work yourself and leave some of the more delicate and demanding procedures up to the professionals.
And if you're like Lauren Hegenbarth, you're going to want to take the reins on the interior design of any and every bit of property that you sell which means that you'll not only save a few bucks on this part of the renovation process but that a bit of yourself is imbued with every home you sell.
And it seems that a bit of what Lauren left in this Onalaska, Wis. got a lot of people laughing on Twitter.
Article continues below advertisement
In a viral Tweet that was posted by the Zillow Gone Wild account, Lauren's house got razzed a little bit by the abundance of signs and messaging in the space. The 3,600 square foot, 4 bedroom, 3 bathroom house sits on 1.53 acres and sports a decor that some users on the platform compared to a "Karen" haircut.
Article continues below advertisement
The combination of slate blue, muted white, and grey isn't what got people talking, however, nor was it the number of signs in the home, but rather a particular one in the master bedroom.
If you didn't see it in the tweet by now, then just take a gander at the message right above the bed.
Article continues below advertisement
"Welcome to Poundtown" it reads. And no, this isn't an allusion to a popular UK-based Dollar Store, but the presumed poundings that often take place in the bedroom.
Article continues below advertisement
After the tweet went viral, Mel Magazine spoke with Lauren about the sign and the home it resides in. As it turns out, Lauren crafts the signs herself.
"I never in my life thought I'd go viral for anything. I don't even use Twitter, and my home is trending there today. Like, what the heck?" she told the outlet.
Article continues below advertisement
Lauren does indeed call the now-viral home "The Poundtown House" and says "I've always loved decorating and design, and I just kind of started winging it when we started flipping homes since we do most of the work ourselves."
Article continues below advertisement
It doesn't seem like Lauren believes she's decorated the homes with too much signage, however: "People are saying that I went overboard with the signs and that I need to lay off Michael's even though I never go to Michael's. If I go to a store it's Hobby Lobby or TJ MAXX, but I mainly make my own signs!"
Article continues below advertisement
Lauren said she surprised her husband with the sign, who thought it was hilarious when he saw it hanging over their bed. While Lauren said it was always a dream of hers to be featured on the Zillow Gone Wild page, she never knew how to even go about getting home on there.
It turns out putting a Poundtown sign in a bedroom is a good way to accomplish that goal.
Article continues below advertisement
As for how she feels about her home decor being looked at as a joke, again, Lauren doesn't seem too concerned with that: "I'm just taking the positive out of this experience and running with it while ignoring anything negative — like the fact that I've already gotten a bunch more orders for new 'Welcome to POUNDTOWN' signs!"