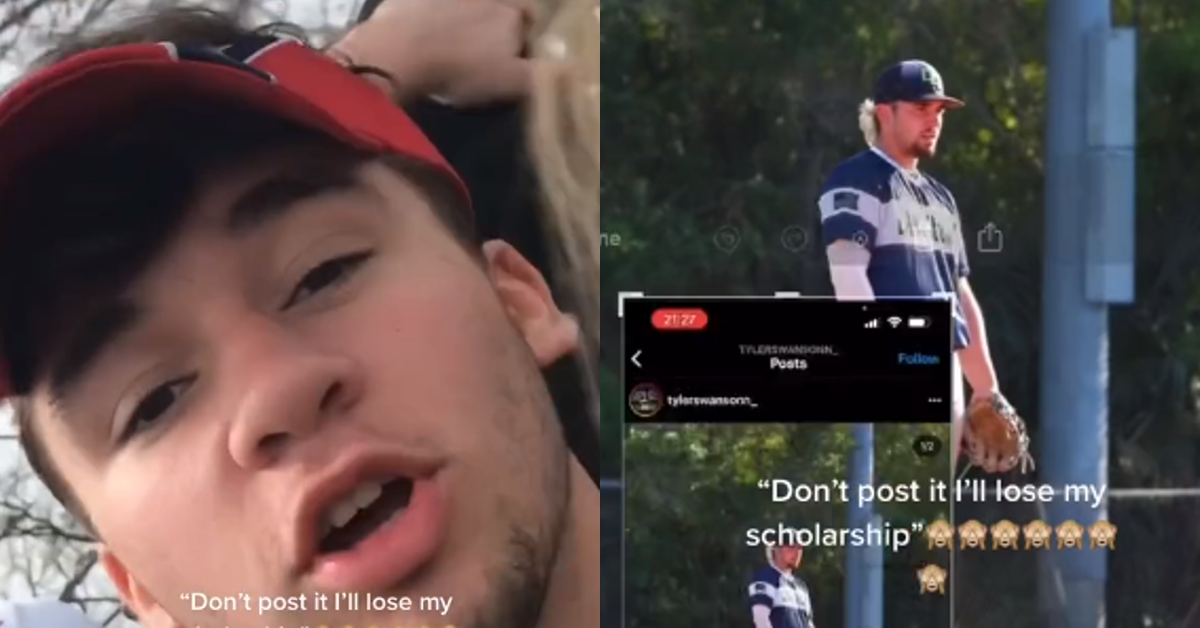 TikToker Exposes College Baseball Player for Wearing Confederate Flag Hat, Sparks Debate
If you're planning on having a career or putting your life out on social media for the entire world to see, then you need to be prepared to face some criticism.
Like, if you're a fitness influencer, you just know there's going to be folks in the comments section who are going to talk crap about your workouts and your overall physique.
Article continues below advertisement
If you're a gamer or prospective fighter, then people are going to throw up challenges all day and question your abilities. If you're a singer or recording artist, then folks are going to call your voice/music awful and you just need to handle those slings and arrows and deal with them in a way that's charming and is ultimately helpful to you and your aspirations.
But there is some criticism that goes beyond your vocation/hopes and dreams, and those critiques are based off of personal viewpoints and decisions that you make as well. And that's when the dreaded "cancellation" comes into play: because if you do share or express thoughts, or include imagery in your posts that are deemed offensive, insensitive, or bigoted, then folks are going to come after you.
Something that this college baseball player by the name of Tyler learned the hard way.
Article continues below advertisement
The bleach-blonde mullet rocking ball player was posted in a video of him rocking a Confederate Flag hat as he holds his hand out to whoever is recording as if to tell them to stop. While there would be some Confederate Flag supporters who would argue that the symbol isn't one of hate, but of heritage, many largely disagree with that viewpoint. Historically speaking, the Confederacy fought to secede from the United States for a litany of reasons.
Article continues below advertisement
For many, the primary struggle between the Union and Confederacy boiled down to a single human-rights issue: slavery. And for different states in the confederacy, like Mississippi, Georgia, and Texas, this was referenced greatly in literature urging these individual states to secede from the Union.

Article continues below advertisement
Essentially, to support the Confederacy is to support the institution of slavery, not to mention treason and for many the flag is a symbol of that.
So why would someone proudly display this flag on their head, knowing that it not only is a reminder of one of the most painful periods in America's history, but also of the subjugation and violence a huge demographic of individuals were subjected to solely based on their race?

Article continues below advertisement
TikToker @yaaszss believes they have identified and "outed" the person in question as a college baseball player in a now-viral TikTok. They captioned the video: "Don't post it I'll lose my scholarship. The way he didn't want to be seen with it yet he was wearing it."

Article continues below advertisement
Several commenters applauded the TikToker for "outing" the ballplayer, saying that they were "doing God's work." A large number of commenters on the video supported the idea of exposing the fact that the athlete knowingly wore a symbol in public that they know many would find in poor taste.

Article continues below advertisement
However there were others who didn't appreciate the TikToker's video, citing both the man's young age and potential career/academic prospects as a reason to not vilify him on the internet for the hat he wore.

Article continues below advertisement
This viewpoint received some pushback from other TikTokers in the comments section, stating that it was probably better that Tyler learned this lesson on earlier in life, rather than later on.

What do you think? Is there more to this story? Should people mind their own business instead of worrying about whether or not an individual should be canceled? Or is it Tyler's own fault for wearing the hat in public?