Mom Builds 8-Foot Fence to Stop "Creepy" Neighbor from Harassing Her Children — "Fort Knox Level"
A mom built a massive fence after learning of the "creepy" behavior her neighbor was engaging in around her children.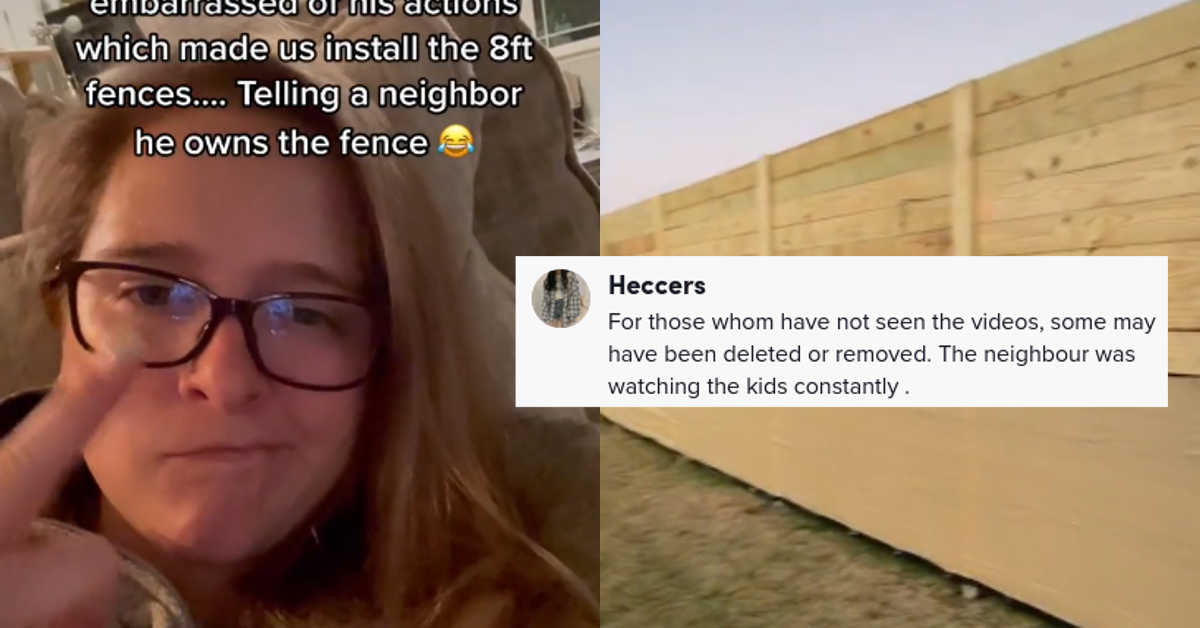 While a lot of social mores have changed over the past few decades and centuries, there's one that's more or less remained constant across all cultures, creeds, and belief systems: you don't harm children.
For the most part, kids are sacred and folks who are found guilty of harming and/or abusing them are treated with extreme prejudice, just as maximum security prisoners.
Article continues below advertisement
And parents do the best that they can to ensure their children are protected from predators who attempt to groom or harm them in any way. There's a plethora of literature available to folks who want to teach their kids effective ways of staying away from creeps, too, like if a stranger is attempting to kidnap them, teaching your kids to scream, "I don't know you!" repeatedly or calling for their parents is an effective tool.
While one would think this mostly happens when they're on vacation, shopping in a department store or as they're walking through a crowded location, one TikToker, @highnooncallgirl actually encountered an alleged child predator right in her very own backyard. Or rather, the house adjacent to it.
Article continues below advertisement
The mom accused her neighbor of predatory behavior towards her children, including asking them inappropriate things, and filming them when they were out in their backyard.
Article continues below advertisement
In the comments section of the now-viral TikTok, she called her neighbor a "Peeping Tom that likes to watch/video kids while touching themselves."
Article continues below advertisement
In order to curtail his behavior and keep her children safe, she built an 8-foot wall out of wood that cost her around $4,000 to build in order to stop her neighbor from recording and interacting with her kids.
Article continues below advertisement
What's more is that she even went so far as to say that the neighbor intentionally removed a portion of her fence to spy on her children.
In the comments section, other users on the platform praised her actions.
Article continues below advertisement
Many TikTokers also encouraged her to take legal action and report his behavior to authorities along with handing over any footage or evidence of his alleged acts.
Article continues below advertisement

Some urged her to take things a step further by putting up fliers to post in her neighborhood alerting other families to his actions.
While the thought of anyone creeping around anyone's children is enough to send anyone into a fit of rage and righteous indignation, there are some particular legalities when it comes to recording someone else's property.
Article continues below advertisement

Nelly's Security writes: "For the most part, your neighbor is legally allowed to have security cameras installed on their property, even if those cameras are aimed at your property. However, your neighbor does not have the right to record you or anyone else without consent in areas with reasonable expectation of privacy."
Article continues below advertisement

So while those laws pertain to security cameras, if the TikToker in question has proof that her neighbor was going out of their way to record her children, then she could have a strong case on her hands for a restraining order.