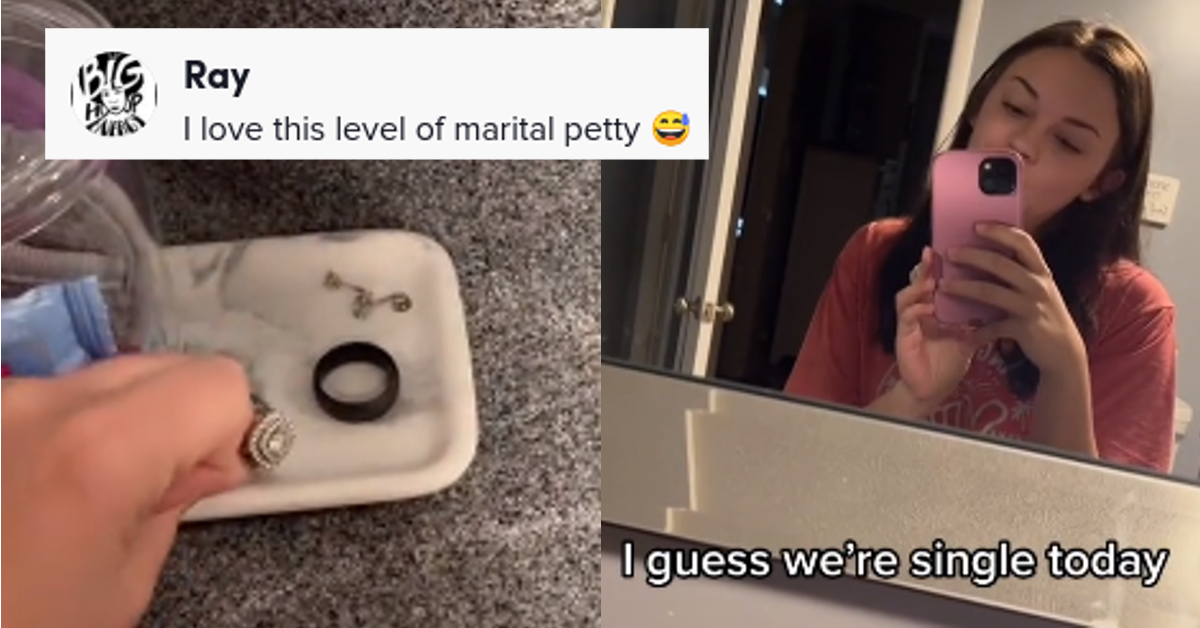 Woman Calls out Husband for Leaving Wedding Ring Home in Viral TikTok
Less than 10% of mammalian species are monogamous but for some reason, human beings are married to the idea of well...marriage. Or at least "marriage-like" relationships where individuals are entirely devoted to one person as best friends, lovers, life partners, etc. That's not to say there aren't a slew of practical benefits to being married, but who the heck wants to talk about practicality when it comes to love?
Article continues below advertisement
There is something unbelievably romantic, however, about the idea of finding "the one." That one person you can't imagine living life without and being so enamored with them and the way you light up upon seeing them enter a room or counting down the days until you're going to get to see them again.
So it would make sense that we would create a series of traditions and symbols of our love because our species just loves to come up with gestures and demonstrations of how special we are. Take wedding rings for example, a practice that dates back to as early as the 1300-1400s.
Exchanging rings is a practice that's supposed to represent unity, but it can also signal that "hey, this person is taken."
This could be why this TikToker was upset her husband wasn't rocking his band.
Article continues below advertisement
User @sferell3 is shaking her head in a clip while looking in the bathroom mirror and showing off the fact that her husband left his wedding ring in a dish on the restroom's counter. So she rolls her eyes and takes off her own ring and places it on the dish as well.
Article continues below advertisement

While many commenters took this act as a light-hearted joke, there were some people who remarked that just because someone who is married isn't wearing their wedding ring isn't necessarily a sign that they're trying to do you dirty behind your back or on the sneak tip.
Article continues below advertisement

Many stated that either they or their partners constantly forget to rock their rings. Some also mentioned that they aren't fans of wearing jewelry and only really rock their finger bling on special occasions or when they're appearing in public with their S/O.
Article continues below advertisement

Others also referenced "the wedding ring effect," namely the fact that people who are wearing wedding bands tend to get hit on more or flirted with than when they're not.
Article continues below advertisement

There are more than a few pieces published about this "effect" and whether or not it's true, but there does seem to be a consensus among some relationship commentators/analysts that folks tend to seek out potential partners who've had more experiences in relationships.
Article continues below advertisement

And that could be for a variety of reasons: perhaps they want folks who've had more emotional development from being in relationships, or maybe if someone is going after a married individual they think, on a base level that there's at least one person who's willing to put up with them so much that they'll devote the rest of their lives to them. Meaning they're somewhat of a hot commodity.
Article continues below advertisement

What do you think? Is it a problem if a spouse isn't wearing their wedding ring all of the time? Does it necessarily mean that they're planning on creeping? Or is it just a case of "I don't feel like wearing my ring today?"