Bodybuilder Calls Out Fitness Influencer for Shaming Person Who Couldn't Lift Weight
Bodybuilder and TikToker Joey Swoll castigated a gym-goer for shaming someone who couldn't deadlift 135lbs with a show-off chest press.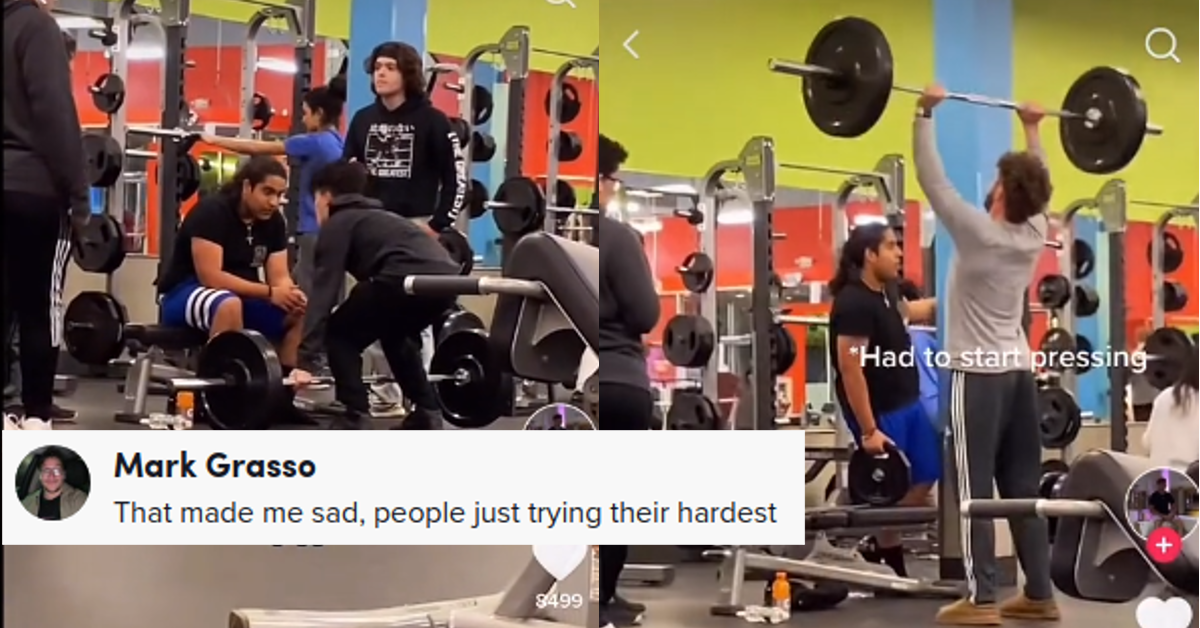 Working out in a public setting can be really intimidating for some people, especially if you're a bit timid about entering the world of fitness in the first place.
Not having someone to support and guide you or assist with your exercise form and movements can make an already scary situation that much worse.
Article continues below advertisement
This is especially the case when you're at a membership gym that's filled with a bunch of folks who are physically stronger than you or perhaps rock a physique that you're trying to attain yourself.
It can be really disheartening to see someone out rep and outlift you with a weight that you're struggling with.
And while most bodybuilders aren't really paying attention to other people in the gym and are just trying to get their workout in, there are some people who go out of their way to "flex" on others, which is a pretty crummy thing to do to a person who may already be self-conscious about working out in the first place.
This is probably why Joey Swoll (@thejoeyswoll) has a problem with what transpired in a now-viral TikTok clip.
Article continues below advertisement
Joey was responding to a video posted by @nick_monahan. In the clip we see a man attempting to deadlift what appears to be 135 lbs. He's surrounded by a group of people who are encouraging him to lift the weight, which he fails to do. A text overlay reads: "I saw bro struggling with his PR."
Article continues below advertisement

Shortly after, Nick can be seen walking into the frame wearing slip-on furry moccasins. He writes, "So I asked if I could hop in" in a text overlay and proceeds to clean and press the barbell right in front of the group. This could be pretty demoralizing, considering it's way more difficult to jerk and press heavier weight than it is to deadlift it.
Article continues below advertisement

Joey commented on the clip, writing in the caption: "Being bigger or stronger than others does NOT make you better." He went on to address Nick in the video, saying, "One of the things that upset me most in the gym is people thinking they're better than others simply because they're bigger or stronger; you're not."
Article continues below advertisement

He continued, "Just because you can lift more, doesn't give you the right to treat people poorly. You saw an opportunity to shame him and embarrass him for likes and attention on social media."
Article continues below advertisement

He capped off his message by telling Nick to "be better" and to not engage in "toxic gym culture": "You could have done two things: you could have gone over and helped him, encouraged him, helped him with form or you could have simply minded your own business. Be better than that."
Article continues below advertisement

Tons of commenters applauded Joey's message, decrying the fact that there was someone who was showing up an individual who was "trying their hardest" something that the bodybuilder wholeheartedly agreed with.
Article continues below advertisement

Others also mentioned that the video definitely took a turn and thought that the man was going to help the person struggling with their PR with their form instead of just using it as an opportunity to stunt on him.
What do you think of the "Gym Rat's" actions and Joey's subsequent call out?