Bodybuilder Corrects Fitness Influencer Who Recorded and Shamed Man's Workout
A TikToker recorded a guy at the gym to make fun of his workout, but a bodybuilder chimed in to educate her on the movement.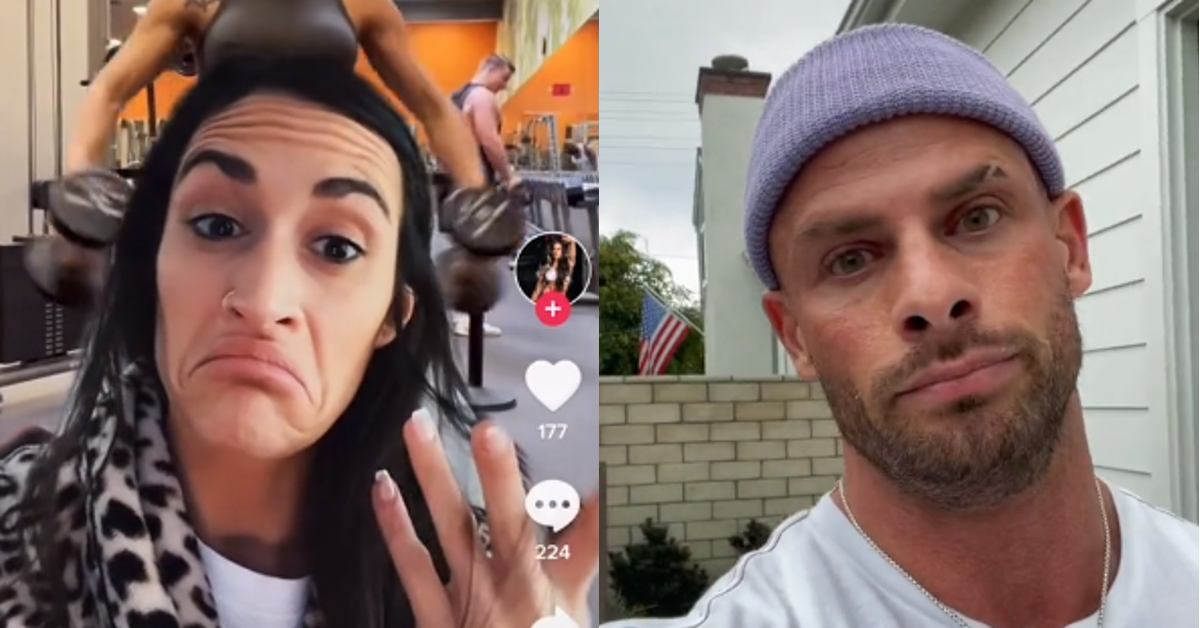 The rise of social media has allowed anyone and everyone to create an account and share their opinions...for better or for worse. While there are plenty of folks who demonstrably contextualize specific concepts in a clever and enriching way, there are some who pretend like they're authorities on a subject and are succinctly shut down in the face of facts, like this one woman who once said that Ancient Rome didn't exist.
Article continues below advertisement
And one phenomenon that appears on social media platforms like TikTok is that of a virtual high school cafeteria of sorts: there are definitely some "cool kids" who rock particular genetic gifts and trendy clothes who receive tons of followers for mirthlessly dancing in front of a camera all for the sake of "content" and locking in brand deals.
But that cool kids trend can even extend to self-aggrandizement-by-putting-others-down, like this one fitness Influencer, TikTok-er @nikkii_fitness who recorded a man at a gym performing an exercise she's never seen before.
Nikki is an award-winning female bodybuilder and health coach with a TikTok account. A quick look at her TikToks shows that she clearly knows her way around weight training.
Article continues below advertisement
However, a video that she uploaded seemed to ruffle a few people's feathers, as she recorded someone at the gym (presumably without their knowledge) as she performed her own exercises in front of the camera.
In the clip, she points to the man and asks with a furrowed brow: "What do you think he's doing? What do you think he's working? I don't know either."
Article continues below advertisement
The man in question is holding two dumbbells at his side and is lifting them up with his elbows popped out.
Bodybuilder Joey Swoll saw her clip and responded with a clip of his own: "What he's working is his biceps - he's doing what's called a drag curl."
Article continues below advertisement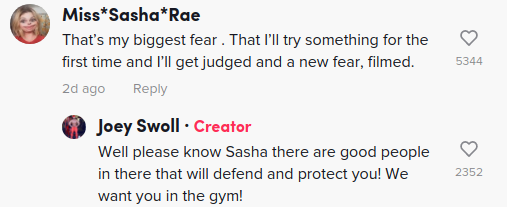 "Now granted most people do them with a barbell, he's doing them with dumbbells, so it may look a little strange, a little awkward, but it is a great movement. It's actually a great workout."
Joey begins his video by explaining the movement in a clear and concise manner, but he ends it by suggesting that folks should mind their own business in the gym.
Article continues below advertisement

"But what's most important, what he's doing and working most of all, is minding his own business. The fact that people at the gym take videos of other people to try and make fun of them blows my mind. Be better than that."
His clip received a ton of praise from users in the comments section, with many TikTok users stating that fear of ridicule and being under constant scrutiny is a big reason why they don't go to the gym.
Article continues below advertisement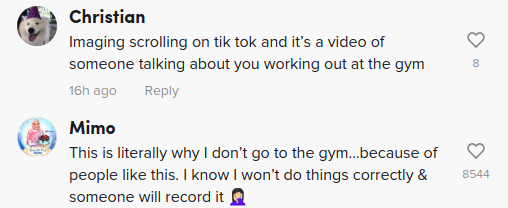 "This is literally why I don't go to the gym... because of people like this. I know I won't do things correctly and someone will record it."
Someone else wrote, "That mans pays his membership just like anyone else."
"The way your main focus of your video was education. Here for that."
"That's my biggest fear. That I'll try something for the first time and I'll get judged and a new fear, filmed."
Article continues below advertisement

Joey encouraged the user to keep working out and to not be dissuaded by individuals who may or may not be judging them: "Well please know Sasha there are good people in there that will defend and protect you! We want you in the gym."
Article continues below advertisement

Recently another fitness Influencer came under fire on TikTok for applauding a man who didn't stare at her behind as she performed repetitions on a hack squat machine, many folks in the comments section of that now-viral video remarked that it was wrong of her to record someone without their knowledge.
Article continues below advertisement