Fitness Influencer Blasted for "Thanking" Man for Not Watching Her Squats
A fitness Influencer sparked a TikTok debate after thanking a man at the gym for not looking at her butt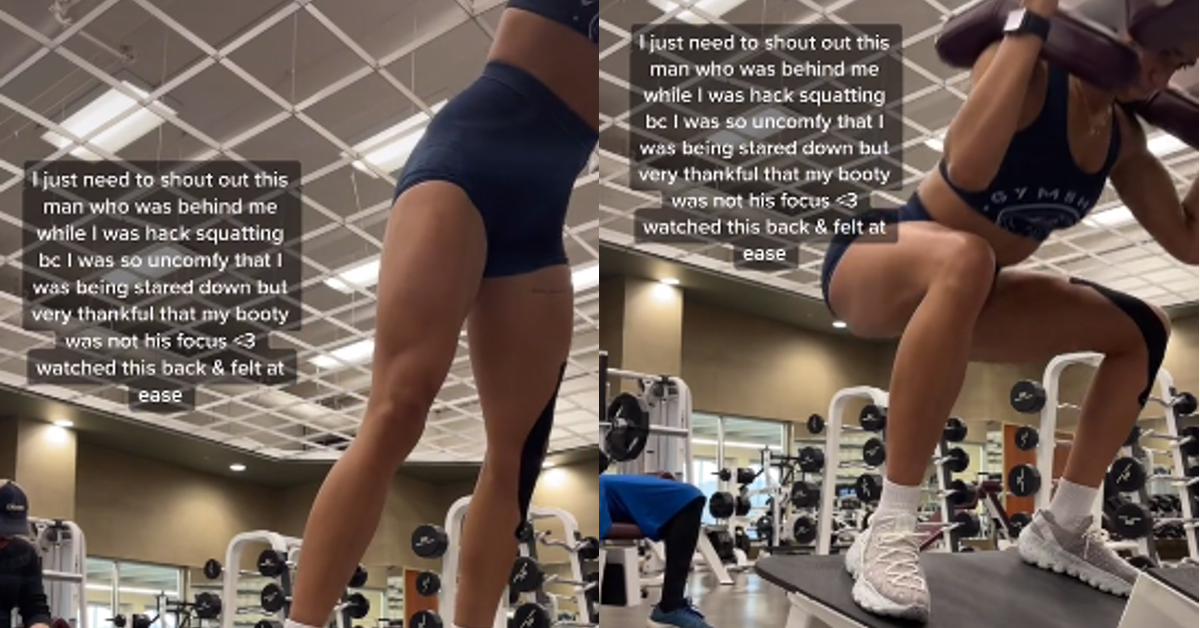 There are plenty of recorded instances of dudes creeping on girls at the gym. It's not uncommon for many fitness centers to have private, smaller-scale exercise rooms reserved just for women so they feel like they can work out without the fear of someone staring them down or invading their personal space.
Article continues below advertisement
It's an awful feeling to worry about someone following you to your car or memorizing your workout schedule if they're obsessively checking you out or pestering you while you're just trying to stay healthy, however, there are some other gym behaviors, while not as bad as this, that tick off gym-goers as well.
Thanks to the advent of social media and a rise in "fitness influencers" gaining prominence in trying to promote their own personal brands across various platforms, that means there's a lot more recording going on in gyms than there used to be. This means that there are tons of folks who may not want to end up on someone's IG or TikTok feed who are making cameos they didn't expect to be in.
Article continues below advertisement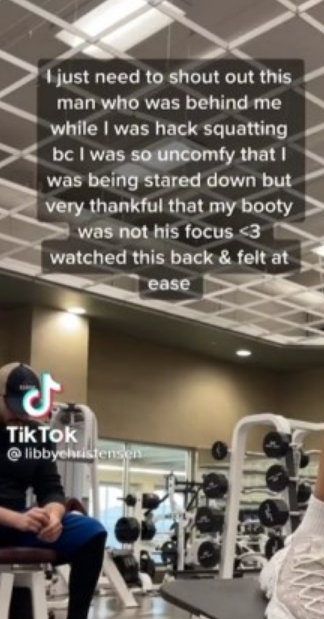 Which is something fitness Influencer @libbychristensen came under fire for while recording herself using a hack squat machine at her gym.
The device was positioned directly in front of a bench that a male gym-goer was using, meaning that she'd be squatting directly in front of him, which could definitely be uncomfortable if you're worried about someone ogling your behind as you bust out repetitions of an exercise.
Article continues below advertisement


Article continues below advertisement
Libby posted a video expressing her appreciation and delight in the fact that while recording herself doing this exercise, the man at the station kept his head down and was looking at the floor the entire time. In the video of her working out at the machine, she included a text overlay that reads: "I just need to shout out this man who was behind me while I was hack squatting."

Article continues below advertisement

She continued, "bc I was uncomfy that I was being stared down but very thankful that my booty was not his focus <3 watched this back and felt at ease."
Libby received a ton of criticism for her post, with many users accusing her of trying to "trap" the man into looking at her body so she could post about being ogled at the gym.
Article continues below advertisement


Article continues below advertisement
Libby was also criticized by female and male posters for wearing tight-fitting shorts and an athletic crop top at her gym. Many also said that she was "cocky" for thinking that people were more focused on staring at her body than their own workouts.

Article continues below advertisement

There were also a lot of other commenters who remarked that it must have been "uncomfy" for the man to be recorded without his consent while he was at the gym. Others also mentioned that him going out of his way to look at the floor while she worked out was something they practiced themselves in order to make women at gyms feel more at ease and so they aren't accused of being a creep.
Article continues below advertisement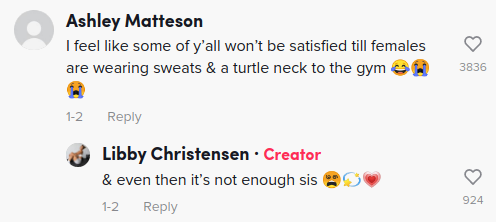 What do you think? Was Libby attempting to "bait" someone into being a creep so she could have a viral video on her hands? Or do you think she's being unjustly vilified for praising an individual who just so happened to end up in her shot while she recorded herself working out? She is a fitness Influencer after all, so it would make sense for her to get as much content of herself making those gains as possible.