Chick-Fil-A Employee Exposes How Its "Fresh" Lemonade Is Made
A Chick-Fil-A worker caused a bit of a kerfuffle online after posting a clip of how the chain's lemonade is made.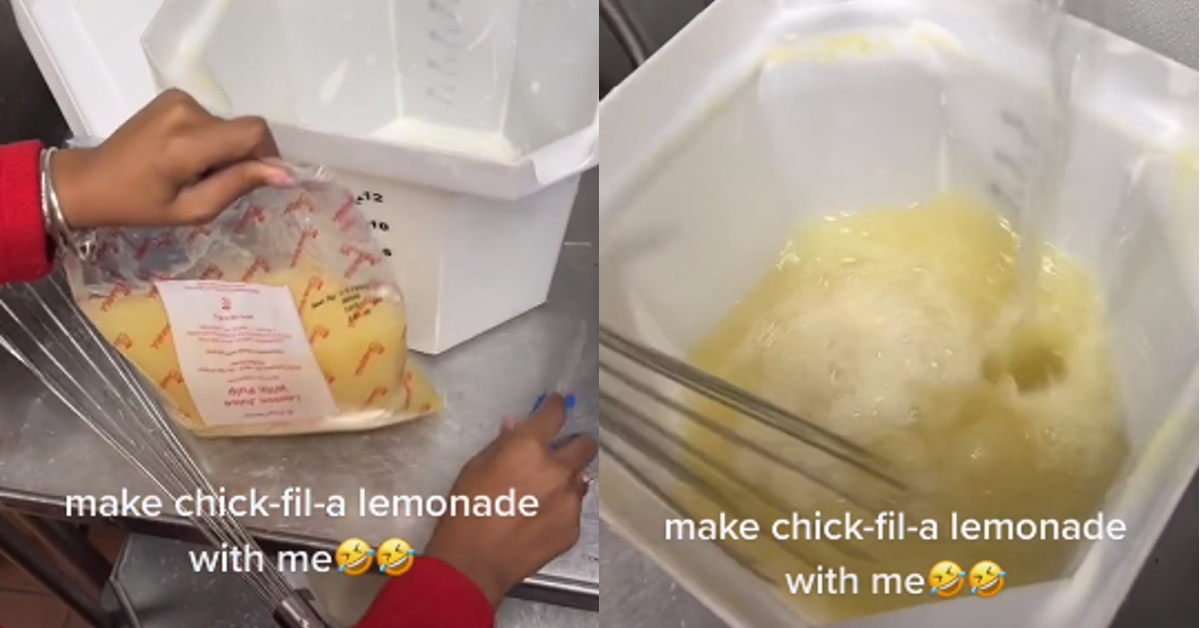 It's hard to imagine that anyone would be able to get "fresh" grub when it comes to fast food locations. Perhaps the best one can hope for is "fresh fluid" which to an extent many chains are able to pull off. Wendy's beef patties are never frozen: the meat's refrigerated before being placed on a grill and served up to hungry customers.
Article continues below advertisement
McDonald's uses real eggs in its breakfast sandwiches, and Culver's is just a godsend/paragon of culinary excellence all of the world's eateries need to emulate.
Chick-Fil-A is also heralded as being "top-tier" when it comes to fast-food chains, and it consistently ranks at the top of lists for cleanliness, customer satisfaction, and never being open on Sundays.
The franchise follows a very simple but effective formula: make the best chicken it can in its trademark style as consistently as possible. And while tons of people have their favorite menu items, there are some that are more popular than others. And when it comes to beverages, Chick-Fil-A's trademark lemonade is probably the most beloved of the bunch.
Article continues below advertisement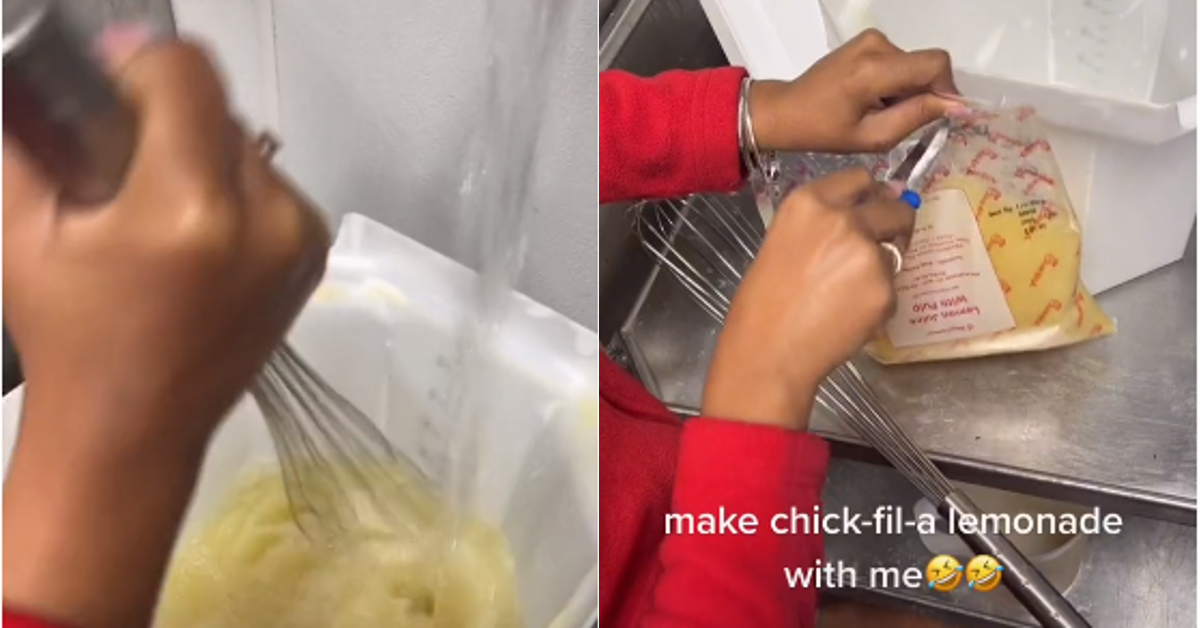 The light, crisp, and refreshing taste is so good that even its sugar-free Splenda counterpart doesn't feel like you're making any flavor concessions, which leads a lot of folks to think that it's made from fresh-squeezed lemons right behind the counter.
But a viral TikTok from user @bigniyyyyy reveals exactly how the lemonade is created. And it doesn't involve juicing sour yellow ovals.
Article continues below advertisement
In the video caption, the user writes, "y'all love chick fil a lemonade🤢🤢." It's presumed that the barf emojis exemplify just how this Chick-Fil-A employee feels about making a batch of the drink, which appears to come from a bag of concentrate before being poured inside of a large white container with water and sugar added to it.
Article continues below advertisement

The worker can be seen whisking the water and its contents, which put off many viewers who didn't like the fact that it was being made with tap water.
"Only thing wrong is the sink water."
"I thought it was fresh."
"The sink water tho..." OP commented.
Article continues below advertisement

However there were some people who didn't really take issue with how the lemonade was created with one person writing, "I don't understand what's wrong with it … lemonade mix, water and sugar, is that not how [someone] make[s] it."
A ton of folks claiming to be Chick-Fil-A employees defended the use of the "sink" water and said that the taps in their restaurants are filtered, so it's not like making a pitcher of Kool-Aid in your home's bathroom sink.
Article continues below advertisement

"That water spout is purified lol, it's used to make the biscuits in the morning, too….or maybe that was just my store."
"Yeah everyone is saying it's a faucet but the faucet at my location was distilled filtered water and it was a tube attached to it."
And then there were a lot of other people who were shocked that there were folks who thought the lemonade was made fresh with hundreds if not thousands of lemons needing to be squeezed every day.
Article continues below advertisement

"Oh [for real]? I thought y'all was fresh squeezing a thousand lemons and using Fiji water in the back."
"Oh no! Who would've thought lemon juice, water and sugar go in lemonade."
"Y'all complaining about sink water. U thought they was finna crack open 30 water bottles."
Article continues below advertisement

As it turns out though there are actually a lot of Chick-Fil-A workers who said that their specific locations actually freshly squeeze lemons to make their lemonade too. And there were even other people who said that using the lemon juice packets wasn't exactly "cheating" either as they do contain squeezed lemon juice, but they're placed in pre-measured bagged containers to help workers more efficiently make lemonade.
Article continues below advertisement

"They are fresh. In the pack she opened was lemon juice. At my [Chick-fila-A], our[s] wasn't more than a day old."
"No it's like fresh squeezed lemonade juice, they just come in refrigerated packs so we don't have to measure it."
Article continues below advertisement


There are also several outlets that confirm the lemon juice used in Chick-Fil-A's lemonade is freshly made every single day. So what do you think? Is the employee making a big deal out of something that really isn't worth getting in a tizzy over? Or do you think Chick-Fil-A is doing everyone dirty?