TikToker Claims Instacart Shopper Charged Personal Groceries on Their Account
An Instacart customer claims a deliverer for the application added tons of items to their order and never got her the groceries to her home.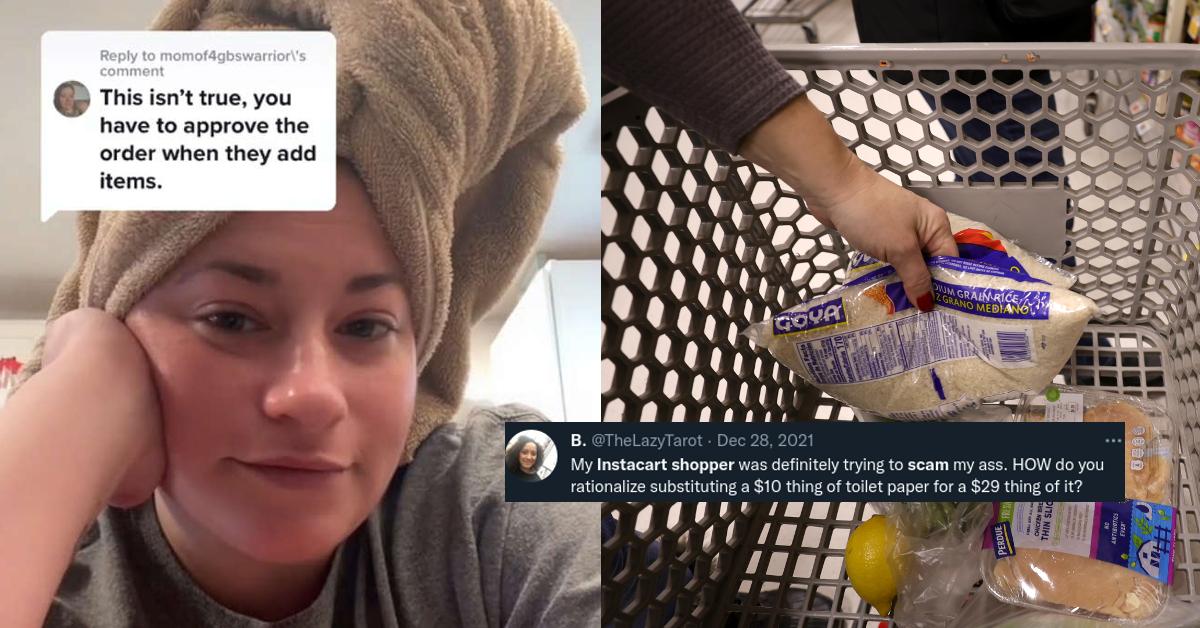 While third-party delivery services like DoorDash, GrubHub, Uber Eats, and Instacart have been around for a long time, they really experienced an uptick in users ever since the onset of the COVID-19 pandemic. And like any business, when you've got more customers to deal with, you've got to plan to deal with more customer service issues.
Article continues below advertisement
And since folks are more likely to talk about the problems that they experienced when working with a specific company or delivery app and maybe forget all of the instances where it worked without a hitch, there has been a huge uptick in gripes people have expressed online. Both employees and customers have lit up their respective social media accounts with situations that can be a real bummer.
From some delivery drivers experiencing "tip baiting" to customers outright not receiving their orders, if you peruse TikTok enough you're bound to find posts about people's unsavory experiences using delivery applications.
And this one Instacart experience shared by TikToker @lizkate7 (Katie) is no different. However, her claims sparked a viral debate.
Article continues below advertisement
In a now-viral TikTok post, Kate claimed that she placed an order through Instacart that totaled some $37. If you aren't familiar with the application, it's basically a delivery service where customers pay a fee to personal shoppers who go to grocery stores, load up their bags with item requests, and deliver them to an address set by the end-user.
Article continues below advertisement
She says in her video, "For anyone that uses Instacart. Check your orders because the girl that was just shopping mine took my $37 order to $190. When I messaged her saying 'excuse me, I'd never ordered toilet paper, what's happening?' she said 'take it up with customer support'. She then said my order was delivered and never delivered it."
Article continues below advertisement
There were throngs of other TikTok users who stated that similar things have happened to them in the past, noting that deliverers will sometimes add items that they never requested, or put things in carts that they didn't say they wanted added to their order.
Article continues below advertisement
Other people have mentioned that there were some Instacart shoppers who've bought themselves lunch on the customer's dime.
However, there were more than a handful of folks who found Katie's post a bit strange and didn't really believe her claims.
Article continues below advertisement
Some mentioned that the way Instacart works would make it nearly impossible for a customer to have additional items added to their order without approval. Anything that is significantly above the amount of money allotted for an order requires confirmation from the end user.
Article continues below advertisement
"Umm a $37 order would only be authorized to about $45 so I think you're lying," one TikToker remarked.
Katie responded to the claims that she was making up the story in a secondary video where she went into further detail about how she was "scammed" adding that her order was marked as delivered despite the fact that she never received any of the items she paid for.
Article continues below advertisement
Again, there were more folks in the comments section who said that similar things have happened to them while using Instacart, including folks who claim to work for the app. The TikTok users mentioned that what happened to Katie "is 100% possible" on the app.
As of this writing, Katie's TikTok account is now private.
Have you ever used Instacart and had something similar happen to you?